Stockton is Growing!
Stockton continues to provide more educational opportunities for the region. On the main Galloway campus, the Academic Quad progresses with the addition of a new science building and a new Health Sciences Center. As pictured here, the Academic Quad provides a visual entrance to the Campus Center and replaces some parking with walkable green space. In Atlantic City, Stockton has started the Gateway project, expanding its presence in Atlantic City, in addition to other facilities including the Carnegie Center, Dante Hall, and the Noyes Arts Garage.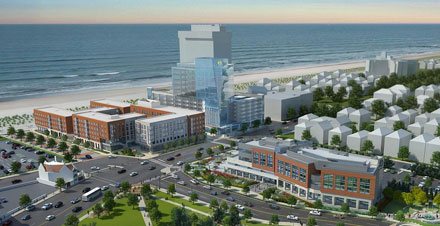 Atlantic City Gateway Project
A residential campus is planned to expand Stockton University's presence in Atlantic City, benefiting students and contributing to the city's renaissance.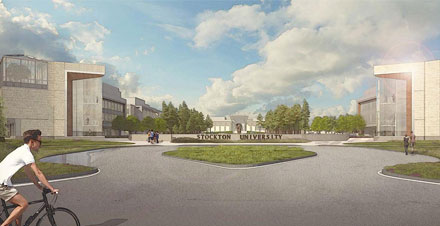 Future Academic Quad Expansion
Construction that will create a distinctive entrance on the Galloway Campus is nearing completion. The new buildings are scheduled for a soft open in Spring 2018.