Institutional Strategic Plan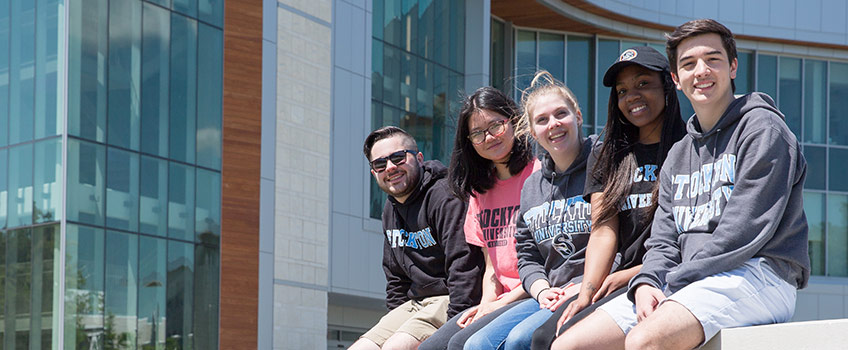 Strategic Plan 2025 Choosing Our Path builds upon essential themes from the University's mission, vision, and values statements, and focuses on inclusive student success, diversity and inclusion, excellence in teaching and learning, strategic enrollment management, financial sustainability and campus community and shared governance. The Stockton community will continue contributing to the plan, as it did in the drafting phase, through the implementation process.
Team Charge Statement
Teams will be up-to-date regarding the changing external environment, and will gather and review internal and external data relevant to the team's Area of Focus in order to do so.
Teams will annually propose goals related to their Area of Focus that are specific, measurable, actionable, realistically achievable, and associated with a timeline (SMART).
Teams will engage in an iterative process with the Umbrella Committee to recommend 2-3 goals related to their Area of Focus. The Umbrella Committee, comprised of the 12 team co-chairs and two umbrella co-chairs, will serve as a recommending body to Cabinet.
Teams will review regular reports from Cabinet members on progress toward goals and make recommendations about changes in goals. In other words, teams will assess the progress on the implementation plan and recommend modifications as needed.
As part of a communication plan developed by University Relations and Marketing, teams will play an integral role in communication to the campus community about the work of their team.

Teams will align their work with that of existing structures and committees where appropriate, and the Middle States Accreditation process.
Team Leaders
Umbrella Team: Lori Vermeulen and Laura Zucconi
Inclusive Student Success: Chris Catching and Amee Shah
Diversity and Inclusion: Valerie Hayes and Robert Olsen
Teaching and Learning: Michelle McDonald and Kristen Jacobson
Strategic Enrollment Management: Robert Heinrich and Manish Madan
Financial Sustainability: Michael Angulo and Tina Zappile
Campus Community, Communication, and Shared Governance: Peter Baratta and Norma Boakes
Strategic Plan Implementation Team Roster, 2019-20 academic year
Fall 2019 Updates:
In October 2019, Strategic Planning Implementation Team rosters will be posted. Team updates and working document templates will be posted here in the future.
Strategic planning is about preparing for the future.
For Stockton, contemporary planning efforts began in May 2017 with the launch of new mission, vision, and values statements. These statements, prepared by a shared governance task force, reviewed, edited, and endorsed by the Stockton community, and approved by the Board of Trustees, helped to define the University's future aspirations.
Now, Stockton is preparing a multi-year strategic plan to fulfill these aspirations.
The planning process has been ongoing for more than six months, facilitated by an all-volunteer Strategic Planning Steering Committee, comprised of more than 40 students, faculty, and staff.
"Our goal is to develop something that will improve and build Stockton's future," said Dr. Donna Albano, Associate Professor of Hospitality and Tourism Management Studies and steering committee co-chair. "Collaborating with Stockton's diverse stakeholders has allowed people to understand more, collaborate, and work toward a future worthy of their commitment."
"These are Stockton's guiding principles - now and into the future," said Peter Baratta, Stockton's Chief Planning Officer and steering committee co-chair. "The new strategic plan will support these principles by turning our intentions into reality."The draft strategic plan incorporates essential themes from the University's mission, vision, and values statements, such as student success, excellence in teaching, diversity, and engagement.
The plan also articulates a clear commitment to the Stockton Idea, according to Greg Janks, principal of DumontJanks, Stockton's consulting-firm partner.
"The Stockton Idea provides a clear and compelling ethos which has guided the University for its first fifty years and which must shape its future," Janks said. "The new strategic plan seeks to define the necessary preparations Stockton must undertake to ensure it can sustainably fulfill these commitments moving forward."
More than 200 students, faculty, and staff have attended open forums, met in small-group sessions with DumontJanks, and have submitted individual suggestions.
"The fact that so many people have contributed ideas and remain engaged in the planning process is a testament to what Stockton means to all of us," Baratta said.