Mr. Andy Dolce, Vice Chair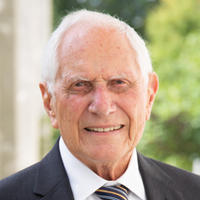 Andy Dolce is the Founder and Chairman Emeritus of Dolce Hotels and Resorts. Amongst Andy's many accomplishments, he is most widely known for elevating the meeting and conference center model to reflect clients' needs for environments that inspire creativity and learning. Andy also holds the distinction of being named one of the "25 Most Influential Executives" in the meetings and travel industries by both Meeting News and Business Travel News magazines.
Andy studied economics at Iona College B.A. degree and later earned a master's degree from Cornell University in Applied Economic Management where he wrote and published a book on economics for the food industry. In 2019, he received an Honorary Doctorate degree from Iona College. Andy also served in the U.S. Marine Corps and retired with the rank of Captain.
Past president of the International Association of Conference Centers (IACC) and Mel Hosanksy Awardrecipient, the highest honor in the conference center industry, he also was most recently awarded IACC Global distinguished service for his work on putting IACC Global together. Andy also serves on the Iona College's Legal Board of Trustees. He served as Executive in Resident at Cornell University Hotel Schools. He has served as Chairman on the Levenson Institute for Gaming, Hospitality and Tourism and currently serves as a Legal Trustee of Stockton University. Andy is currently involved with Operation Smile Medical Missions in Central and South America.
Andy began his career in the meetings and hospitality industry at the American Management Association, where he managed 600 conferences a year throughout the U.S. During his tenure with the AMA, Andy experienced the insufficient services and often counter-productive facilities that permeated the meetings and conference market. Shortly after, Andy started working for Harrison Conference Centers as the Executive Vice President and improved the company's brand by pioneering the first "Complete Meetings Package" for the conference industry.
Andy was one of the original founders of the Houstonian serving as Chief Development and Operating Officer from its start up thru development and he was responsible for the overall operations. The Houstonian is credited as the first fully integrated hotel, conference center, luxury spa, and preventive medicine and fitness center. It currently enjoys the number one market position in Houston, TX.
In 1981, Andy founded Dolce International and turned it into the world's leading hospitality organization specializing in delivering an exceptional hospitality experience. To prepare the company for even greater success, in mid-2008, Dolce International changed its name to Dolce Hotels and Resorts to more accurately reflect the breadth and caliber of services and amenities offered to its guests and to broaden its appeal to both the leisure and transient markets. On January 30, 2015, Andy and his partners at Broadreach Capital sold the company to the Wyndam Hotel Group.