Mr. Ike Ejikeme, Student Trustee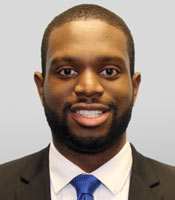 Mr. Ike Ejikeme serves in the role of Student Trustee for Stockton University. He was born in Jersey City, and currently resides in central New Jersey. Originally, Ike attended New Jersey City University, majoring in Criminal Justice. In fall 2014, he enrolled at Stockton University in a Dual Degree Master's program, which consists of a Homeland Security track. More specifically, Ike has taken interest in research, policy/data analysis, and security.
After completing his Master's Degree, Ike hopes to pursue a career within the Federal government or private sector. Previously, Ike worked with the Middlesex County Office of Emergency Management and worked on projects with the Atlantic County Courts. Most recently, he interned at the United States Department of Transportation in Washington DC. Ike later plans to pursue a doctorate degree in a field relating to security studies and/or risk management.
Ike is a member of Iota Phi Theta Fraternity, Inc. He serves as the Regional Graduate Affairs Coordinator and was named the 2017 Regional Brother of the Year by his organization. During his time at Stockton, he founded the I-Phi Food Drive, an initiative dedicated to collecting canned goods to be donated to the Atlantic City Rescue Mission.
As a 2011 American Legion Jersey Boys State Alumnus, Ike is committed to community engagement and still dedicates his summers to volunteering with the program. In 2016, Ike received the Stockton University Greek Leader of Distinction award. In addition, Ike was named the Stockton NAACP Chapter's Outstanding Male Leader of the Year in 2015.
Ike served two years on the Student Senate, as a member of both the Finance Committee and the Government Affairs Committee. He works at Stockton University in the Office of Admissions as a Student Ambassador, and is currently a Graduate Coordinator for the Office of Event Services and Campus Center Operations.
Ike is honored and excited to serve in the position of Student Trustee, and truly hopes to make a difference in the Stockton community, while continuing to make positive contributions to the Board of Trustees.