Ms. Liliana Morales
Ms. Liliana Morales, a Bridgeton High School graduate is beginning her senior year at Stockt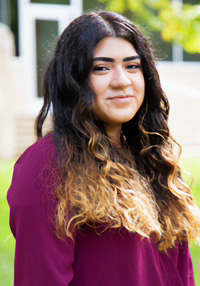 on, pursuing a degree in Social Work with a minor in Childhood Studies and Public Health.
During her time at Bridgeton High School, Liliana was an active member of the community, participating in various clubs and volunteering. This involvement gave her a real sense of accomplishment, allowed her to have a voice and make a positive difference in the lives of others. It was through her community work that she discovered that studying social work would be a perfect fit for her.
Upon completing her bachelor's degree, Liliana plans to pursue both a master's and doctoral degree in social work and then gain additional experience working with individuals from diverse populations This experience will allow her to reach her goal to become a professor of social work.
Liliana has served on the Student Senate since her first year at Stockton and is currently the public relations officer for the Victimology Club and a liaison for the Residential Hall Association (RHA). She is honored to serve as a Student Trustee and will continue to advocate for her fellow students in this role.