Stockton University Simulation Initiative (SUSI)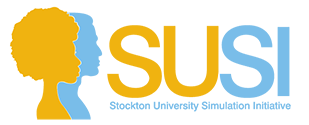 What Are Simulations?
Simulations, also known as standardized patients are a method of teaching and learning that allows individuals to practice skills in a real world environment. Actors are used to create situations / scenarios learners may be confronted with in the working environment.
Simulations Can Assist In:
Comprehension and refinement of lessons taught in class
Interaction skills with clientele
Interpersonal communications
Decision making & critical thinking
Practical application of learning
Hands on experience
Having a safe environment to practice skills

Due to the nature of the preparation needed for simulations and the need to recruit actors, it is required that all of this information is prepared and submitted to the Simulation Coordinator at least 1 month before the first day of the simulation.
Planning Tips for Successful Simulations:
Clearly identify learning outcomes
Create a description of the planned scenario
Provide background information and expectations for the actors
Determine the number of actors needed
Determine an estimate of the length of each simulation
Identify the number of learners participating in each simulation
Select the date(s) that it will take place
Submit all information to Simulation Coordinator at least 1 month in advance
Contact Information:
Please feel free to contact us for more information.
What Faculty Say:
"This simulation allowed the students to have a near real life experience with a patient and parents and be able to practice their skills. It allows the students to have to think on their feet in a "safe" environment. It allowed them the time to use their critical thinking skills based on a scenario."
What Actors Say:
"I have a lot of experience in productions and such, but the simulations was a different method to hone my skills. Here at Stockton we have many opportunities to perform on the entertainment side of theatre, but this was a chance to apply our skills to something else."