Robert Heinrich
Chief Information Officer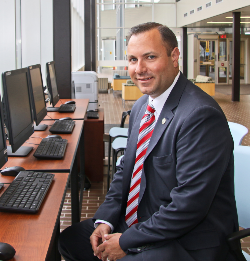 Since 1998, Robert Heinrich has spent his professional career as a committed member of the Higher Education community and is currently serving as the Chief Information Officer at Stockton University. Robert provides strategic leadership for the administration, implementation and planning of technology resources to advance the academic, administrative, research and outreach activities of the University. As a member of the senior leadership team, Robert works collaboratively with his cabinet colleagues to promote the use of data analytics to improve student achievement and support strategic decision making. As the University has recently expanded and grown, Robert has worked to increase and enhance institutional technology support resources to benefit all members of the community.
In support of Student success, Robert serves as co-chair of the ADA/504 steering committee, a moderator of the Campus Hearing Board as well as the Bias Response Team. Robert frequently represents Stockton University at regional professional conferences and regularly provides presentations on topics including Cybersecurity, Classroom Design Principles, and Strategic Technology Leadership. Robert is currently the co-chair of the New Jersey CIO Forum. Robert serves as an adjunct faculty member at Stockton University and Ocean County Community College. He regularly conducts technology workshops for Continuing Studies, ETTC/SRI, NJEA and NJEdge. Additionally, Robert serves as a member of the Atlantic County Technology Coordinators Board and serves as a member of the Atlantic County Institute of Technology Advisory Board.
Robert had the privilege of serving as a member of the Board of Education within the Little Egg Harbor School District for three years, including one year as Board President. Robert is a 2011 Fellow of the Leadership New Jersey Program. In addition to his role at Stockton University, Robert has served as a consultant for several K- 12 School Districts and other Higher Educational Institutions to assist with Technology and Infrastructure Planning.
Robert is working towards a Doctorate in Organizational Leadership. He earned a Master of Business Administration, as well as a Bachelor of Computer Science and Information Systems both from Stockton University.