Springing into 2021
Hello Osprey Family,
We're getting ready to close the chapter on a long winter, and head into spring - where hopefully energy gets renewed and we can enjoy the outdoors more comfortably.
As we dive into our favorite projects, whether it be creating a garden or working on a professional endeavor, be safe and enjoy your time. Maybe we'll even see each other on a walk around our beautiful Lake Fred!
As we begin this new semester, let's continue to keep our Osprey family safe, supported and engaged. The Center for Teaching & Learning Design offers a wealth of professional development and resources for faculty. The Stockton University Institute for Lifelong Learning is hosting several mini-courses for personal enrichment. Important information regarding COVID-19 continues to be updated on the University's website.
Spring is also an ideal time to help clean up our communities. This past November, myself and 50 Stockton students and employees joined community members for a Chelsea Neighborhood Cleanup in Atlantic City. The event, sponsored by the Chelsea Economic Development Corp., the Chelsea Neighborhood Association and Stockton, brought us all together in the spirit of giving back and beautifying our environment. I encourage you to look for ways to do the same, whether it be a beach cleanup or helping enhance a neighborhood in need. A perfect opportunity is participating in Stockton's annual MLK Day of Service; this year's event featured a variety of virtual and in-person projects. We are hoping to expand the clean ups to other Atlantic City neighborhoods, so let me know if you can suggest an area or help out.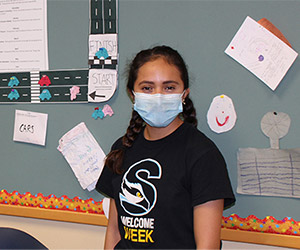 The need for academic support for our elementary and secondary school students is more important than ever before. Our Ospreys have been pitching in as tutors in Stockton's After-School Homework Completion Program. The program, offered online from 3-5 p.m. Monday through Thursdays by the Center for Community Engagement and Service-Learning, has operated for several years at sites in Atlantic City and Pleasantville. During the pandemic, it has gone virtual via Zoom and expanded its reach to students throughout South Jersey. Feel free to reach out via the link if you have younger students in need of homework help or tutoring.
Stockton's rowing program continues to grow, and I am so excited share one of our new initiatives with you: Stockton's Summer Youth Rowing Program! This free program, based out of the Atlantic City Boathouse, will provide a summer enrichment opportunity for underserved Atlantic City middle school students interested in developing the skills of rowing. Participating students will have the chance to grow into the future, building character, and honing their leadership and teamwork skills. Thanks to our generous community partners, the program will be offered at no cost to campers. The inaugural camp will run June 21 – July 30, 2021 and registration information will be available soon. If you would like to help fund this program, see our Elevate Stockton site.
And to our graduating Ospreys, you have persevered during unprecedented times and your Stockton family takes great pride in you. I cannot wait to see what you accomplish as you head out to spread your wings. The possibilities are endless, and you have the tools to succeed and make a positive impact in whatever you choose to do. But whatever it is you do, choose to stay involved with Stockton!