Dr. Susan Davenport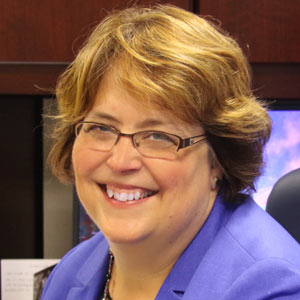 Interim Provost and Executive Vice President
For more than 30 years, Dr. Susan Davenport has devoted her career to the enrichment of higher education and she currently serves as Interim Provost and Executive Vice President. She is also Chief of Staff.
Dr. Davenport oversees the work of Stockton's seven Schools and numerous offices, centers, and institutes that support Stockton's academic mission, as well as all aspects of the Office of Development and Alumni Affairs, the Office of University Relations and Marketing, in addition to managing the operations of the President's Office and serving as the Assistant Secretary to the Board of Trustees. She maintains the University's policies and procedures and provides oversight to our internal audits. Moreover, she leads the University's efforts in advancing strategic initiatives, aligning academic affairs, enrollment management, university relations and development to implement a comprehensive institutional advancement program within the mission of the University.
During her tenure at Stockton, Dr. Davenport held other key leadership positions, serving as the Interim Provost, Stockton's chief academic officer. Two years prior to this appointment, Dr. Davenport established and developed Stockton's Office of E-Learning. She also served as liaison for the State of New Jersey to incorporate aspects of AASCU's Global Challenges initiative into the curriculum.
Prior to joining Stockton, Dr. Davenport was the Associate Provost of Graduate Programs and the Dean of the Heavin School of Arts and Sciences at Thomas Edison State College, where she led the development and implementation of undergraduate and graduate degree programs, the recruitment and development of faculty, and the assessment of institutional, and programmatic student learning outcomes. She has presented at national and regional conferences on topics including fostering global awareness, assessment of student learning, general education, and building leadership teams.
Dr. Davenport earned a Ph.D. in Educational Studies at the University of Nebraska - Lincoln, a Master's of Science degree in Psychological Services from University of Pennsylvania, and a Bachelor of Arts degree in psychobiology from Drew University.