Tait Chirenje
Professor of Environmental Science/Sustainability

EDUCATION
Ph.D. (Trace metal geochemistry): University of Florida,
Gainesville, FL
M.S. (Geochemistry): University of Guelph, Ontario, Canada
B.S. (Honors, Soil Science and Agricultural Engineering):
University of Zimbabwe, Harare, Zimbabwe


AREAS OF EXPERTISE
Trace metal chemistry, surface water chemistry, indoor air quality assessment, Brownfields characterization, Phase I and II site assessments, urban geochemistry.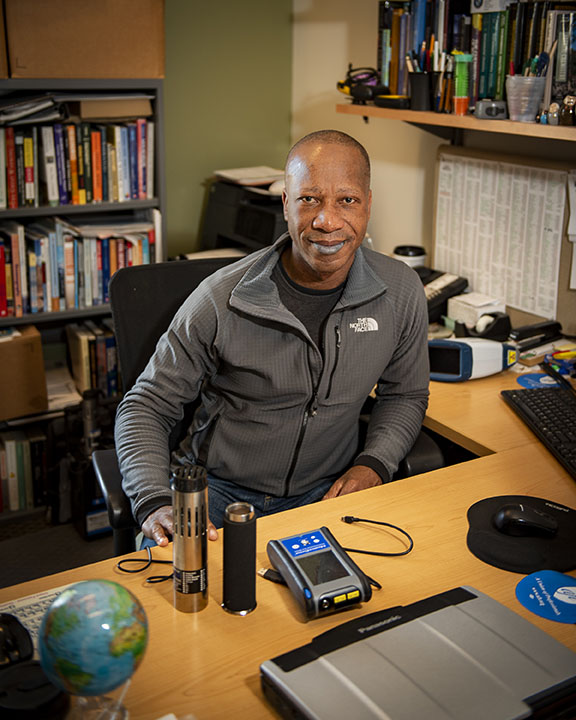 BIOGRAPHY
I grew up in Zimbabwe (southern Africa) and I went to Hartzell High School and the University of Zimbabwe (graduated 1993). I moved to Canada in 1994 and completed my MS at the University of Guelph (Ontario). After two horrible winters I moved south where I completed my Ph.D. in trace metal geochemistry at the University of Florida (Go Gators!). After two years as a post-doctoral research associate at the University of Florida (worked on trace element baseline concentrations in all 67 FL counties) I moved to New Jersey in August, 2003. I have been teaching at Stockton University ever since.
​My hobbies include traveling, hiking, dancing (salsa, bachata, and other latin dances). Recently I started doing more charity work (check out my Zimbabwe Book Project here). Life's short, do the best you can:).
COURSES TAUGHT
Environmental Sustainability (SUST 2100)
Global Environmental Issues (GNM 2475)
Intro to Environmental Pollution (GNM 2261)
Water Chemistry (ENVL 3334)
Environmental Pollution and Regulation (ENVL 3241) Environmental Toxicology (ENVL 3601)
Environmental Quality: Science and Law (ENV 4401)
Environmental Remediation and Biotechnology (ENVL 446)
International Sustainable Development (SUST 3701)
NW/SW Field Experience (ENVL 4502)
Environmental Quality (ENSC 5202)