Jessica Hallagan
Assistant Professor of Environmental Science
BIOGRAPHY
Dr. Jessica Hallagan grew up in Southern New Jersey and is a Stockton alumna. At Stockton, she majored in chemistry with a focus on environmental chemistry. During her years as a doctoral student at Virginia Tech, Dr. Hallagan was fortunate enough to spend a great part of her time hiking in the beautiful Appalachian Mountains. For her doctoral research, she studied soil science and examined inorganic soil biogeochemistry. Specifically, her graduate work investigated selenium geochemistry and bioavailability in phosphate mine soils in southeastern Idaho. She is eager to continue working with students through research and to instill the notion of the importance of soils and the environment through teaching.
In her spare time, you are likely to find Dr. Hallagan outdoors, either running, hiking, kayaking, fishing, or gardening.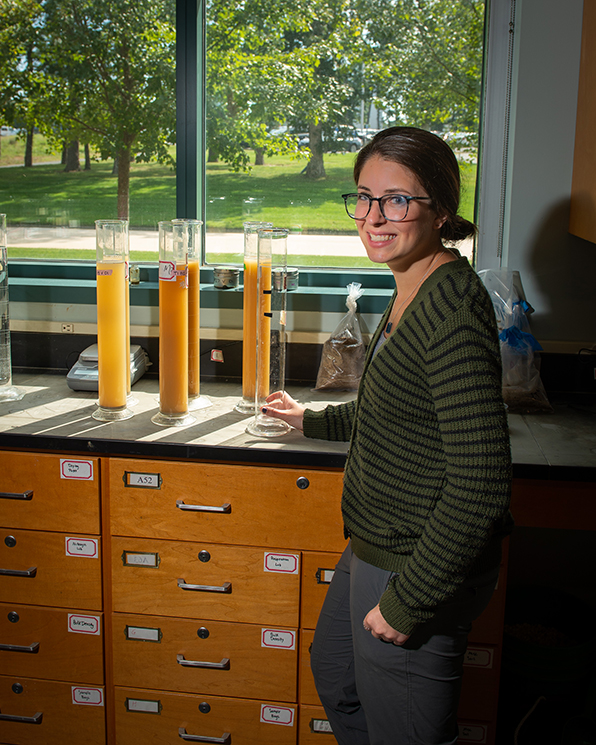 EDUCATION
Ph.D., Crop and Soil Environmental Sciences (Soil Chemistry), Virginia Tech
B.S., Chemistry (Environmental Chemistry), Stockton University


AREAS OF EXPERTISE
Soil science, soil biogeochemistry
COURSES TAUGHT
ENVL 1100 Introduction to Environmental Studies
ENVL 3432 Soil Science
---
RESEARCH INTERESTS
Soil biogeochemistry, mine soils, agricultural/viticultural soils, inorganic contaminant mobility, nutrient cycling, plant bioavailability, soil amendments
PUBLICATIONS
Favorito, J.E., M.J. Eick. and P.R. Grossl. 2017. Adsorption of selenate and selenite on ferrihydrite in the presence and absence of dissolved organic carbon. Journal of Environmental Quality. In Review.
Favorito, J.E., M.J. Eick, P.R. Grossl, and T.Z. Davis. 2017. Selenium Geochemistry in Reclaimed Phosphate Mine Soils and its Relationship with Plant Bioavailability. Plant and Soil 418. 541-555.