Judith Vogel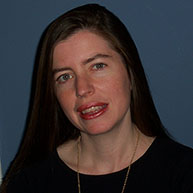 BIOGRAPHY
Dr. Judith Vogel is an alumna of Stockton University, graduating in 1993. She returned to Stockton as faculty in 2000 and currently holds the title of Associate Professor of Mathematics. Dr. Vogel's training is in Numerical Linear Algebra, and her Ph.D. thesis is titled FQMR: A Flexible Quasi-Minimal Residual Method. Dr. Vogel is passionate about teaching. She participates in grant work centered on K-12 teacher preparation and has focused research agenda in pedagogy.
Dr. Vogel is also an associate faculty in Holocaust and Genocide Studies. She is currently the coordinator the Holocaust and Genocide undergraduate minor, and she teaches courses directed at Holocaust Education.
EDUCATION
Ph.D. Temple University
MA Temple University
BA Stockton University


AREAS OF EXPERTISE
Theoretical Applied Mathematics, Children of the Holocaust


COURSES TAUGHT
Precalculus
Discrete Mathematics
Calculus I, II, III
Linear Algebra
Foundations
Computer Algorithms
Theory of Computation
Children of the Holocaust in Children's Literature
---
RESEARCH INTERESTS
Numerical Linear Algebra, Pedagogy, Community Engagement, Children of the Holocaust.

PUBLICATIONS
Betsy McShea, Judith Vogel, Maureen Yarnevich, "Harry Potter and the Magic of Mathematics." Exploring Mathematics through Literature. Invited for re-publication with supplementaty teaching aids. March 2013.

Bradley Forrest, Pamela Koscik, Judith Vogel and Chia-Lin Wu, "Mathematical Achievement of High Shcool Students through Community Partnership: A Read Balloon Initiative." Teacher-Scholar: The Journal of the State Comprehensive University, 4, no. 1 (2012) 29-38.