Jeffrey Webber
Associate Professor of Geology

BIOGRAPHY
Greetings, I originally hail from Bozeman Montana where I grew up surrounded by the Rocky Mountains and gained a curiosity for the local geology. During my undergraduate studies at Montana State University, I became fascinated with the deformation and metamorphism of crustal rocks and decided to pursue a Master's degree at The University of Vermont under the mentorship of Dr. Keith Klepeis. While at The University of Vermont, I was able to work on magmatic processes within the Coastal Batholith of central Chile and assisted research on deformation distributions in deep-crustal rocks of Fiordland National Park, New Zealand. After finishing my Master's degree, I began working on a doctoral project at the University of Massachusetts, Amherst. This project, advised by Dr. Laurie L. Brown and Dr. Michael L. Williams, focused on the role of deformation and metamorphism in controlling the spatial distributions of aeromagnetic anomalies in northern Saskatchewan, Canada. I am excited to continue with past research while starting new projects involving Stockton undergraduates.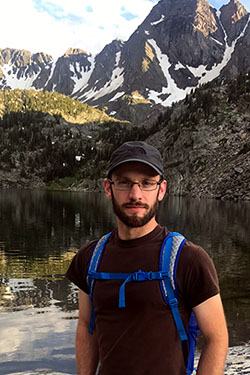 EDUCATION
Ph.D., University of Massachusetts, Amherst
M.S., The University of Vermont
B.S., Montana State University
AREAS OF EXPERTISE
Structural Geology, Tectonics, Metamorphic Petrology, and Rock Magnetics
COURSES TAUGHT
Physical Geology, Field Geology, Geophysics, Earthquakes, Mountains and Mountaineering, Physical Geography, and Environmental Geology.
---
RESEARCH INTERESTS
My current research interests incorporate many aspects of structural geology, metamorphic petrology, and rock magnetism within the context of field geology. I am interested in understanding the relationships between deformation and metamorphism at a variety of scales from thin sections to crustal exposures. These relationships provide the context for geochronological analyses that can be related to kinematic studies and metamorphic conditions including pressure, temperature, and oxygen fugacity. By determining the conditions of deformation and metamorphism, geophysical data derived from aeromagnetic and gravity surveys can be better interpreted with an understanding of the processes that influence rock properties such as magnetic susceptibility and density. I believe that this approach is instrumental in accurately reconstructing the kinematics, timing and rheology of crustal domains within polydeformed terrains. Ultimately, the information gained from this style of research furthers our understanding of modern tectonic processes and gives us insight to the geologic history of specific locations.


PUBLICATIONS
Webber, Jeffrey R., Laurie L. Brown, and Michael L. Williams. "Petrophysical constraints on magnetic anomalies associated with metamorphic reactions in northern Saskatchewan, Canada." Canadian Journal of Earth Sciences 56, no. 9 (2019): 895-911.
Bailey, Scott W., Donald S. Ross, Nico Perdrial, Michael Jercinovic, Jeffrey Webber, and Rebecca Bourgault. "Determination of primary mineral content and calcium sources in forest soils using electron probe microanalysis mapping and cluster analysis." Soil Science Society of America Journal 83, no. 6 (2019): 1830-1841.
Regan, S. P., M. L. Williams, L. Zieman, J. R. Chiarenzelli, M. J. Jercinovic, B. L. Cousens, J. R. Webber, and L. B. Aspler. "IN-SIMS zircon U-Pb geochronology from the Snowbird tectonic zone Large igneous Province (STZ LIP), western Churchill Province, Canada." Precambrian Research 377 (2022): 106751.

J.R. Webber, K.A. Klepeis, L.E. Webb, J. Cembrano, D. Morata, G. Mora-Klepeis, and G. Arancibia. Deformation and magma transport in a crystallizing plutonic complex, Coast Batholith, central Chile. Geosphere, 11(5), 2015.
L.L. Brown, J.R. Webber, M.L. Williams, S.P. Regan, and S.J. Seaman. Magnetism of the Lower Crust: Observations from the Chipman Domain, Athabasca Granulite Terrain, northern Canada. Tectonophysics, 624-625:66-74, 2014.