NAMS Symposium
Tuesday April 23, 2019,
4 p.m. - 6 p.m.
C/D Atrium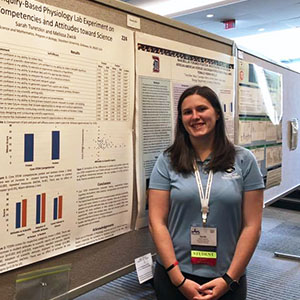 Majors in the school of NAMS are encouraged to conduct novel scientific research in collaboration with faculty mentors within their discipline. The NAMS Undergraduate Research Symposium is held annually and provides Stockton students the opportunity to present their work to the Stockton Community. Students present their work in the fields of Chemistry, Biology, Marine Biology, Physics, Environmental Science, Geology, and Mathematics. The symposium is held in the C/D Atrium on the Galloway Campus. Refreshments are provided and all Stockton students, faculty and staff are welcome to attend.
Instructions for Presenters:
Completed

abstract forms

should be sent to

Nams.symposium@stockton.edu

no later than 5:00 pm on Friday April 12th, 2019.
Posters should be composed in Microsoft Powerpoint™ and should be

no larger than 42" high and 36" wide

using the following

NAMS Symposium Poster Template.

Students should contact their faculty mentors for instructions for printing posters.

Faculty mentors should submit posters for printing to David Dimmerman (David.Dimmerman@stockton.edu). Please email posters as a PDF or PowerPoint attachment. For large files, please email a link (i.e. Dropbox).

All files must be received by April 21st to allow sufficient time for printing.

Posters will be printed at 42" x 42". Please trim the extra border prior to display at the symposium.
Please note: There will be Stockton photographers and videographers at the Symposium. If you do not wish to be filmed or photographed, please let the photographer/videographer know.