Vice President for Student Affairs
A Message from Dr. Christopher Catching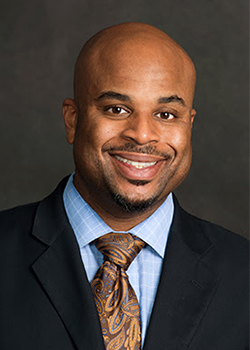 Hello, Ospreys! As the Vice President for Student Affairs and the Chief Student Affairs officer at Stockton, I am designated by the President of the university to provide leadership for many of the support and educational resources that impact your student experience. My colleagues and I are here to help you accomplish your goals and dreams.
Stockton is a great place to be! We are all members of the Osprey community, committed to providing a campus environment that is civil, safe, community oriented and respectful to everyone. We adhere to principles supporting the human right to be treated with respect, dignity and care.
Stockton encourages a campus culture that values and understands respectful interaction, and supports that through numerous programs, activities, offices and other resources. We strive to reinforce the values of a decent and honorable community by elevating the civil, respectful behavior and personal responsibility of every Stockton community member. You – our valued Stockton students—are our first priority and our most important partner.
A Culture of Respect is reflected in our shared commitment, goals, values and practices create an inclusive, affirming learning environment where all community members are safe, healthy, connected and excelling. I look forward to seeing you around campus.

Visit the Culture of Respect Web site for information and resources.
---
Mission
The Division of Student Affairs promotes inclusive student success by providing all students with transformative learning experiences that prepare them for life-long learning and engaged citizenship in a multicultural, interdependent world.
---
Strategic Priorities
The Division of Student Affairs supports inclusive student success by focusing on four strategic priorities:
Create a Safe and Healthy Learning Environment
Promote Belonging, Engagement and Development
Enhance Academic Excellence and Post-Graduate Success
Strengthen Strategies, Resources and Impact
---
Divisional Strategic Areas
The Division of Student Affairs, led by professional and student co-educators, works closely with University and community partners to ensure that all undergraduate and graduate students have access to transformative learning opportunities, programs and services that prepare them for life-long success. The Division is organized into three Strategic Areas to support students' formal learning in the classroom and formative learning outside of the classroom:
Student Health, Wellness and Safety
Student Engagement and Development
Student Transitions, Access and Retention
---
Contact the Vice President for Student Affairs at VPSA@stockton.edu or 609.652.4225.