Vice President for Student Affairs
A Message from Dr. Christopher Catching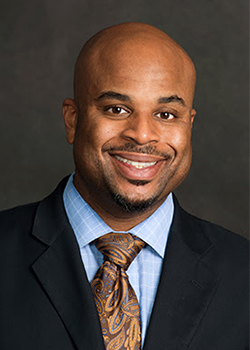 Hello, Ospreys! As the Vice President for Student Affairs and the Chief Student Affairs officer at Stockton, I am designated by the President of the university to provide leadership for many of the support and educational resources that impact your student experience. My colleagues and I are here to help you accomplish your goals and dreams.
Stockton is a great place to be! We are all members of the Osprey community, committed to providing a campus environment that is civil, safe, community oriented and respectful to everyone. We adhere to principles supporting the human right to be treated with respect, dignity and care.
Stockton encourages a campus culture that values and understands respectful interaction, and supports that through numerous programs, activities, offices and other resources. We strive to reinforce the values of a decent and honorable community by elevating the civil, respectful behavior and personal responsibility of every Stockton community member. You – our valued Stockton students—are our first priority and our most important partner.
A Culture of Respect is reflected in our shared commitment, goals, values and practices create an inclusive, affirming learning environment where all community members are safe, healthy, connected and excelling. I look forward to seeing you around campus.

Visit the Culture of Respect Web site for information and resources.
---
Mission
The Division of Student Affairs promotes inclusive student success by providing all students with transformative learning experiences that prepare them for life-long learning and engaged citizenship in a multicultural, interdependent world.
---
Strategic Priorities
The Division of Student Affairs supports inclusive student success by focusing on four strategic priorities:
Create a Safe and Healthy Learning Environment
Promote Belonging, Engagement and Development
Enhance Academic Excellence and Post-Graduate Success
Strengthen Strategies, Resources and Impact
---
Organization
The Division of Student Affairs is organized to provide comprehensive programs and services to undergraduate and graduate students, including approximately 3,300 residential students. These programs and services are intended to enhance campus life and enrich the academic programs of the University.
Reporting to the Vice President for Student Affairs are assistant vice presidents, a dean of students, an executive director and assistant deans of students who provide leadership to offices that encompass a broad spectrum of student life issues including community development, diversity, engagement, inclusion, retention, transition, wellness, residential life and more.
---
Contact the Vice President for Student Affairs at VPSA@stockton.edu or 609.652.4225.