Vice President for Student Affairs
Dr. Thomasa González, Ph.D., L.C.S.W.
Vice President for
Student Affairs [retired 1.1.18]

609-652-4225 (office)


NOTE: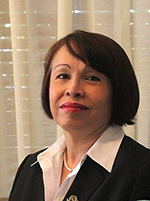 Dr. Thomasa González
Dr. Thomasa González is an accomplished higher-education administrator, educator and social worker, with an impressive career history and educational background, including a M.S.W. and a Ph.D. in Social Work. Presently, she leads divisional efforts as the Vice President for Student Affairs at Stockton University, Galloway, NJ, with a student body of more than 8,500 students. She has served the needs of Stockton students since 1986, working in various roles through the years including Director of Counseling and Health Services and Dean of Students. Today, she provides supervision and management of an administrative division with more than 160 professional and support staff.

Dr. González earned her Ph.D. in Social Work from the Union Institute and University Graduate School of Interdisciplinary Science. She received her Master of Social Work (M.S.W.) from the Graduate School of Social Work, Rutgers, The State University; and her Bachelor of Social Work from Kean University. Dr. González is an alumna of the Hispanic Women Leadership Institute and the 2009 Higher Education Resource Services (HERS) Bryn Mawr Summer Institute, the prestigious leadership development program designed to help advance women to senior leadership positions.

Dr. González has served as a member on many boards of directors and statewide committees. She is a member of the National Association of Social Workers (NASW)-NJ where she served as a unit chair for Atlantic, Cumberland and Cape May counties. She has also served as a delegate to the NASW National Assembly. She is a member of the National Association of Student Personnel Administrators (NASPA) and the Hispanic Association of Higher Education.

Dr. González is a proud founding mother of Lambda Theta Alpha, Latin Sorority, Inc., and remains active, continuing to serve as National advisor, teacher and mentor to member students, as she has for more than 41 years.

Dr. González's passion is to empower students to find within themselves the strength to take control of their lives to achieve their goals on and off campus. She is a strong advocate for leadership-skills education and diversity initiatives. She has been acknowledged for her generous contributions of community service and commitment to students by many organizations through the years.