South Jersey Economic Review (SJER)
Since 2006, the South Jersey Economic Review has provided the region's stakeholders and policymakers timely, high quality research that focuses on the regional economy.
The Review analyzes the region's key industries and tracks its most important labor force, wage, and demographic trends. The Review is published bi-annually under the aegis of Stockton University's William J. Hughes Center for Public Policy.
If you'd like to be notified of future Review releases, send an email to: sjer@stockton.edu with the subject line "sjer".
---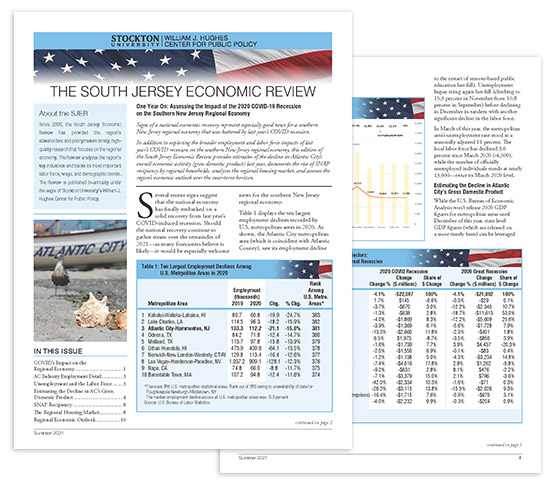 In this Issue:
Current Regional Economic Conditions
COVID Impact on Regional Economy
Atlantic COVID Recession & Recovery
Unemployment and the Labor Force
Housing Market in Atlantic City
Assessing New Jersey's Recovery from the COVID Recession
Ocean City, NJ
Previous Issues
About the South Jersey Economic Review
Oliver D. Cooke, Ph.D.
Associate Professor of Economics,
William J. Hughes Center Policy Scholar
School of Social and Behavioral Sciences
Stockton University
The SJER was created in 2006 by Oliver Cooke, Associate Professor of Economics at Stockton University. Dr. Cooke teaches courses in macroeconomics, ecological economics, and political economy. He has twenty-five years of experience conducting research on metropolitan area and state economies, labor and real estate markets, and public policies. He regularly consults for a wide variety of public and private sector institutions. He received his Ph.D. from the University of Massachusetts Amherst.
Please direct comments and questions to: oliver.cooke@stockton.edu