Stockton News - Dec. 9, 2022
WHAT WE'RE TALKING ABOUT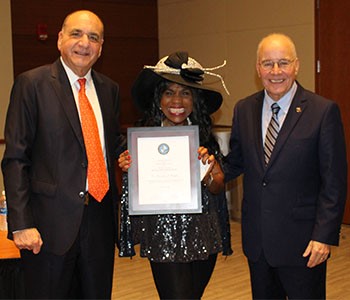 Stockton Offers Discount on Summer Tuition; Board Recognizes Professor Vaughn
Stockton will offer a discounted summer tuition and housing package for students who want to live, work and learn at the shore this summer.
Stockton will offer a 20% discount on undergraduate tuition and fees during the 2023 summer sessions for students who live in the Stockton Atlantic City Residential Complex for the summer.
The Board of Trustees approved the discount at the Dec. 7 meeting.
The goal is to give college students the opportunity to live and work in the Atlantic City area during the summer while also continuing their education.
President Kesselman also presented the Board of Trustees Distinguished Service Award to Music Professor Beverly Vaughn for her contributions to Stockton and higher education during her 40-year career at the University.
📰 In the News: The Press of Atlantic City
---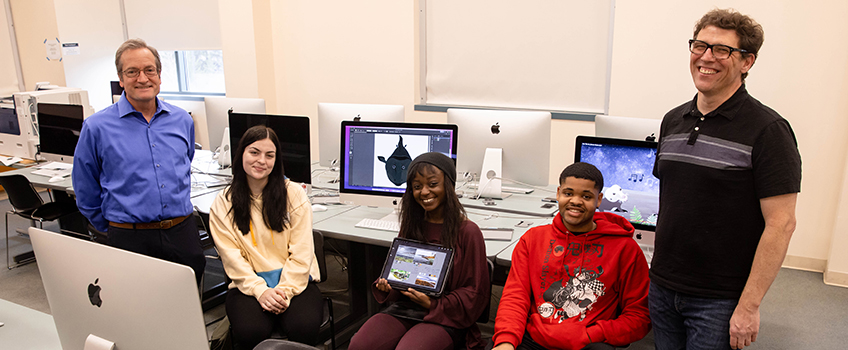 Stockton Biology Professor 'Inspired' to Create Music Album
You might think it's a little unusual for a scientist to also be a singer/songwriter.
But for Stockton Biology Professor Matthew Bonnan, the two professions don't seem that far apart.
"I enjoy being inspired by art," the Hammonton resident said. "Art is just as important as science because it's all part of what makes us human, and it's all part of what draws us together."
That sense of togetherness is one of the goals that Bonnan is trying to achieve with the release this month of a new album of 12 original songs titled "Once Upon Deep Time." Bonnan has used his primary field of paleontology to tell a story through music about how sound connects us to the past.
"There is some science content in there, but it's not supposed to be a K-12 lesson," he said. "It's supposed to get people to stop for a moment and go, 'I didn't know that. That's interesting.' Maybe that encourages some people to look into things further."
📰 In the News: Patch.com
---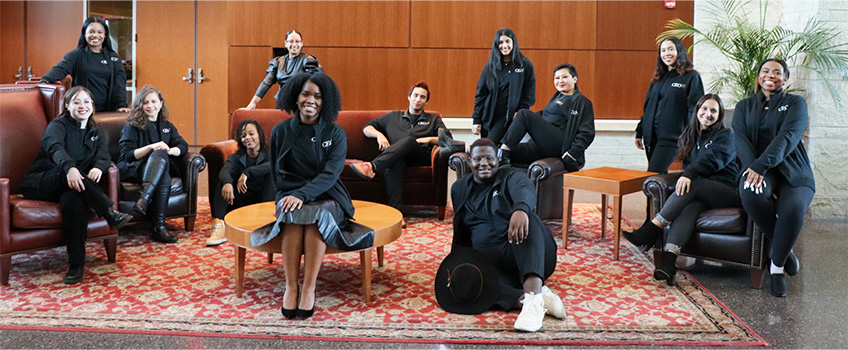 New On-Campus Internship Program Empowers Students
The first cohort of emerging leaders on campus known as Cultural Engagement Osprey (CEO) Interns will develop and implement the inaugural Inclusive Leadership Conference for the spring term.
The internship program, which was founded and supervised by Camden native and Educational Opportunity Fund alumna Ana Edmondson, interim assistant vice president for Student Transitions, Access and Retention, was created to give students real-world experience in creating, promoting and hosting a full-scale conference.
STOCKTON UNIVERSITY ATLANTIC CITY
Volunteers Sought for Stockton Community Day and Party in the Park Planning Committee
Volunteers are needed to help plan the 2023 Stockton Community Day and Party in the Park event being held on Saturday, April 22, 2023 – specifically plans for the neighborhood street cleaning and the planning of the afterparty in O'Donnell Park in Atlantic City.
An estimated 800 people are expected to volunteer for the street neighborhood street cleaning, and over 1,200 to enjoy the fun, music and food at the Party in the Park.
If you would like to serve on our planning committee, contact Brian Jackson, chief operating officer of Stockton AC, or Michael Cagno, executive director of the Noyes Arts Garage.
FRAME-WORTHY 🌲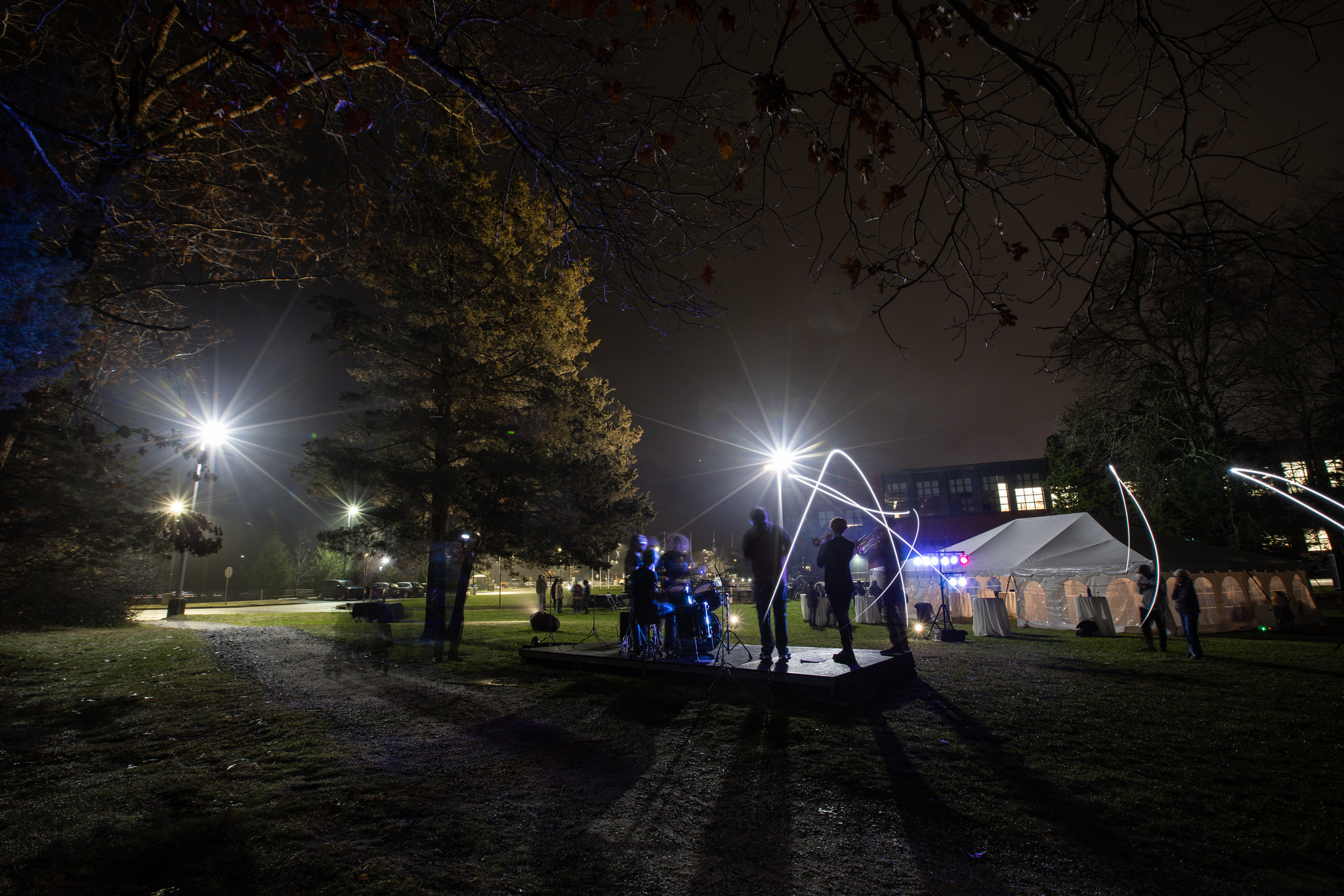 Second Annual Winter Tree-dition Branches Out
Gathered around the cedar tree, Ospreys past and present let their Stockton spirit shine Dec. 7 at the second annual Winter Tree-dition. The community came together to share their gratitude and celebrate the University's groundbreaking ceremony 52 years ago.
"I've never been before and I'm a grad student, so I thought it would be something new to do," said Miranda Paine, a member of the Stockton Entertainment Team that sponsored an ornament decorating craft at the event. "My favorite part has been seeing all the little kids and how excited they are to be here. It's been a lot of fun."
Over 150 attendees snacked on holiday treats and enjoyed the hot chocolate bar over laughs and crafts. Students cheered on their peers as the Stockton Dance Team performed and children danced as music from the Student Music Union rang throughout campus. Families and friends with big smiles held hands as they made figure eights on the synthetic ice skating rink.
📷 View more photos from the event here.
WHAT'S TRENDING

@ #STOCKTONU

Twitter: Who remembers the old osprey logo? Snag retro #StocktonU gear for the whole family this year.
Facebook: Who doesn't love a wonderfully decorated Christmas tree, especially when it's a part of an equally wonderful cause?
Instagram:Hallelujah! 🎶 HALLELUJAH! The voices of nearly 200 choir members and the resounding melody of 21 orchestra musicians filled the room and the hearts of the audience with joy at Handel's Messiah, led by the one and only Beverly Vaughn, professor of Music.
FROM THE SIDELINES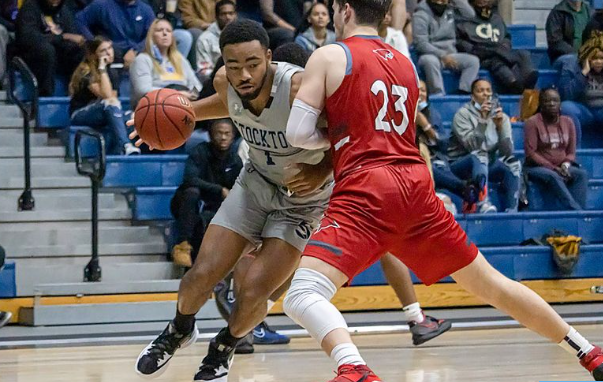 Ospreys Victorious Against Rutgers-Newark
The men's basketball team scored 16 of the first 17 points of the second half and ran by Rutgers-Newark by a 75-62 final on Dec. 7. DJ Campbell topped all players with 25 points, including 18 in the second half to lead the Ospreys.
The teams battled early in the first half, tied at 15-15 with 11:43 left until Jonathan Azoroh scored on a free throw for a 16-15 lead. Stockton would not relinquish the advantage for the rest of the game. Campbell added the exclamation points of the frame with a long three-ball at the buzzer to give the Ospreys the 39-30 halftime margin.
The women's team opened with a big lead but had to hold on for a 51-45 win over Rutgers-Newark that afternoon. Adriyana Jennings led the Ospreys with her sixth double-double of the season, registering a career-high 24 points and grabbing 13 rebounds. The Ospreys started slowly as the Scarlet Raiders jumped out to a 16-8 first quarter lead. The visitor's defense held Stockton to just 3-11 (27.2%), including an 0-4 mark from behind the arc to gain the margin.
🏀 Ospreys hit the court tomorrow, Dec. 10, against William Paterson.
---
Stockton Begins Indoor Season at TCNJ Winter Open
Stockton began the 2022-23 indoor track & field season by competing Dec. 3 in the TCNJ Winter Open at historic New York Armory. The Ospreys were among 14 teams at the meet, mostly from Division III and including fellow NJAC squads The College of New Jersey and Ramapo.
Stockton competitors won four events, two each on the men's and women's sides, with three of the victories coming from rookies. Senior Shahyan Abraham led the Ospreys by winning the weight throw (15.52m) and finishing second in the shot put (12.75m). Both events had fields of 16.
---
🗓️ View the full schedule of upcoming athletic events here
OSPREY NOTES
Season's Greetings from Stockton University
REMINDER – Join President and Mrs. Kesselman this afternoon at Stockton's Annual Holiday Party in the Campus Center. Festivities begin at 2 p.m. Please remember to bring a nonperishable food item to support our Student Food Assistance Program. This year's holiday message will debut at the event.
❄️ Please submit your office or department's holiday greetings to UniversityRelations@stockton.edu to be included on the holiday messages website.
---
🎭 Vote on Stockton PAC BroadwayWorld New Jersey Nominations
The Stockton PAC received multiple nominations from BroadwayWorld New Jersey that can be voted on through the month of December. The nominations are for the 2022 Regional Awards.
Category/nominations for the PAC include: Best Direction of a Play, Heidi Mae; Best Lighting Design of a Play or Musical, Daniel Wright; Best Sound Design of a Play or Musical, Justin Maciejewski; Best Performer in a Play, Tehilla Newman; Favorite Local Theatre, Stockton Performing Arts Center; and Best New Play, UHURU by Gloria Majule.
To cast your votes, visit here.
---
Winter Break Shuttle Schedule for Atlantic City, Galloway Campuses
The last full day of shuttle 🚌 service for Atlantic City and Galloway campuses will be Friday, Dec. 16.
The Galloway winter break shuttle schedule is as follows: no service Dec. 17-Jan. 12; and there will be limited service from 10 a.m.-5 p.m., Jan. 13-16.
For Atlantic City, Dec. 17-23, the shuttle will operate on the following schedule: AC departures, 9 a.m., noon and 3 p.m.; and Galloway departures, 10:30 a.m., 1:30 p.m. and 5 p.m.
There will be no service from Dec. 24-Jan. 2. For Jan. 3-16, there will be AC departures at 9 a.m., noon and 3 p.m.; and Galloway departures at 10:30 a.m., 1:30 p.m. and 5 p.m.
Full service for both campuses resumes on Jan. 17.
UPCOMING EVENTS