Stockton News - Dec. 23, 2021
WHAT WE'RE TALKING ABOUT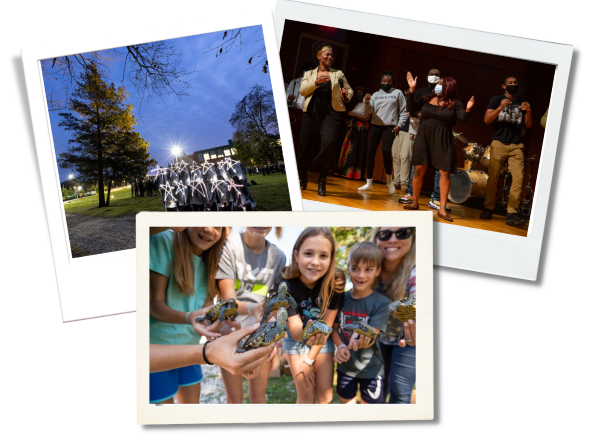 📸 A Look Back at 2021, One Moment at a Time
As we get ready to soar into the new year, here is a look back at 2021 in 21 pictures. Highlighted are a variety of significant moments for Stockton, including a new tree-dition, partnerships with area high schools and community colleges, commencements, Nest Fest and more.
---
Stockton Earns Doctoral/Professional Classification
Stockton University's increased number of doctoral programs has earned it the Doctoral/Professional classification in the Carnegie Classification of Institutions of Higher Education's 2021 update of some 3,900 two-year and four-year colleges.
The new 2021 classification recognizes Stockton's three doctoral programs: Doctor of Nursing Practice, Doctor of Physical Therapy and the Ed.D. in Organizational Leadership. The new listing includes 472 doctoral institutions nationally.
📰 In the News: Downbeach.com, ROI-NJ
---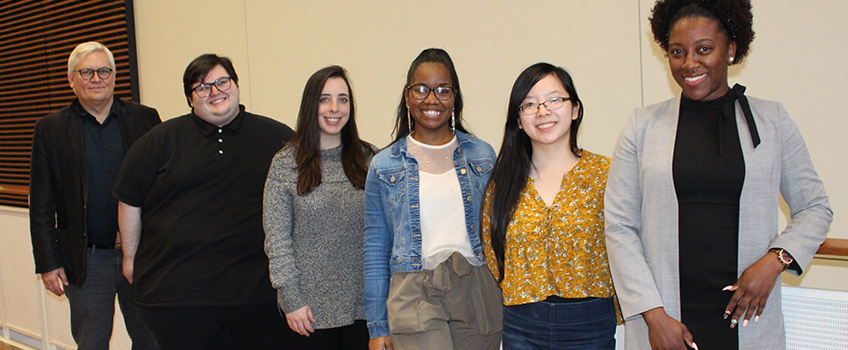 Four Receive Board of Trustee Fellowships
Four students were awarded Fall 2021 Board of Trustees Fellowship for Distinguished Students awards at the December board meeting. They are Alicia Jenkins, senior, Mathematics major, Africana Studies minor; Nichole Data, junior, Health Sciences Major, Pre-Communications Disorders; Anna Maria DiPhillipo, senior, Computer Science major; and George Quinn, senior, Political Science major.
---
Read the Fall 2021 Issue of Stockton Now
As 2021 winds down and we look ahead to 2022, we're taking the time to highlightjust a few of the Ospreys that make Stockton such a transformative place. Fifty years into teaching, Stockton University remains focused on students and preparing them for the challenges and opportunities of the future. Whether through hands-on experience in rocky terrains or embarking on careers in the developing recreational cannabis industry, our Ospreys, and the educators and mentors helping them along the way, are what make Stockton truly special.
You can also listen to the December 2021 episode of the Stockton Now radio show here.
FRAME-WORTHY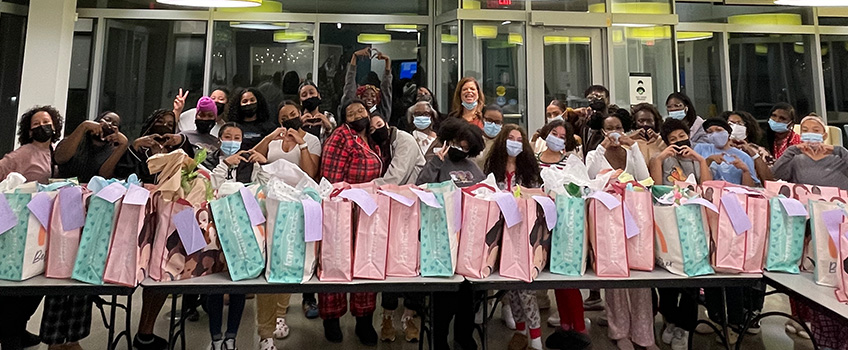 🎁 'Secret Sisters' Collect Gift Bags for Students
More than 30 female students of color started the winter break with gift bags of self-care and personal supplies provided by professional women of color at Stockton through the retention initiative TogetHER.
"What started out as a call for 15 professional women to sponsor 15 students grew into a wonderful response by 31 professionals from across divisions and departments," TogetHER co-advisor Ana (Rodriguez) Edmondson, director of Student Transition Programs, said of the Secret Sister Self-Care Bags project.
"I am so happy and thrilled to participate in this new special touch connecting our TogetHER sisters during the holiday season," said Associate Director of Admissions Services, Jessica Grullon, who participated in the project.
WHAT'S TRENDING @ #STOCKTONU

Instagram: Winter officially begins at 10:59 AM today. The Winter Solstice marks the day with the shortest period of daylight and the longest night of the year in the Northern Hemisphere.
Facebook: The Stockton University Richard E. Bjork Library is feeling festive!
Twitter: Ospreys in the Themed Living Communities (TLC) program hosted a series of events last month during TLC Week to connect with each other & the local community.
FROM THE SIDELINES
Stockton Wins Sixth Straight, 69-66
MEN'S BASKETBALL: Stockton University (10-1) extended its winning streak to six games with a 69-66 victory over Rosemont College (2-8) in the Ospreys' final game before the holidays. The win continued Stockton's best start since opening 11-0 in the 2014-15 season.
Jordan Williams led the Ospreys with a career-high 17 points, his third straight game in double figures. Williams made every shot that he took, going a perfect 7-7 from the floor including 2-2 on three-pointers plus 1-1 at the line.
🗓️ View the full schedule of upcoming athletic events here.
WE'RE HERE TO HELP
COVID-19 Information
NEW: 💉AtlantiCare will hold COVID-19 vaccine clinics in West Quad 103 starting in January. Details are in the Return to Campus FAQunder the "COVID-19 Vaccine Requirement" drop-down menu, and by then clicking "Where can I get vaccinated?"
👉 Employees who get a booster vaccine may now add that information to their vaccination status through the portal on the Stockton website at go.stockton.edu/employee.
Information on leave time allowed if a child's school closes is on the Return to Campus FAQ link for faculty, staff and student workers.
OSPREY NOTES
Day of Scholarship 2022: Call for Applications
Day of Scholarship applications are being accepted now through Feb. 25 and can be submitted by visiting here.
Day of Scholarship 2022 will be held in-person and virtually from 9 a.m.-1 p.m., Thursday, April 7. If you have any questions, email Ronnie Maiorino at ronnie.maiorino@stockton.edu.
---

Stockton memories, past and present . . .
"So many memories, so many amazing friends and people at Stockton. Some of my fondest memories come from the Student Development Office and Kappa Sigma. Good times!"
- Steven Couras '08
Have a memory you'd like to share in celebration of Stockton's 50th anniversary? Submit it here.
UPCOMING EVENTS