Stockton News - Feb. 19, 2021
WHAT WE'RE TALKING ABOUT
Rosenbergs Endow Second Scholarship in Parents' Memory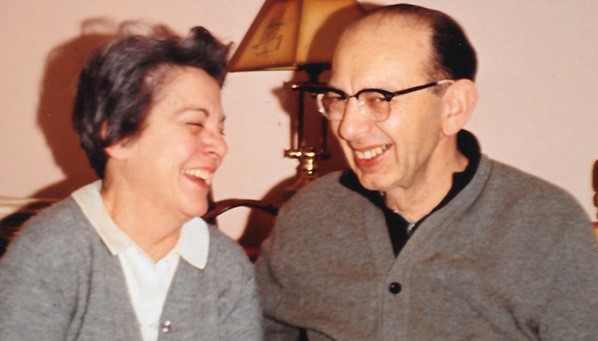 Howard Rosenberg spent a lot of time in his parents' small grocery store on the corner of Rhode Island and Melrose avenues in Atlantic City.
"I grew up working in the store," Rosenberg said. "People who shopped there (in the 1950s and '60s) didn't have cars. It was a neighborhood store."
Rosenberg's Market, originally founded by Howard's grandfather, Max, in the early 1900s, no longer exists. But, Howard said one of the lessons his parents, Leroy and Henrietta, taught him was the importance of education.
---
Mark Giannantonio to Chair LIGHT Advisory Board
Mark Giannantonio, president and CEO at Resorts Casino Hotel, Atlantic City has been named the new chair of the Advisory Board of the Lloyd D. Levenson Institute of Gaming Hospitality and Tourism (LIGHT) in the School of Business at Stockton University.
Giannantonio has been an active member of the LIGHT advisory board since its inception in 2010. His appointment as chair was approved by the board's executive committee and announced at the Advisory Board meeting Feb. 18.
---
Tune in for the fourth episode of Stockton Now, Saturday, Feb. 20 at 10 a.m. on WIBG 1020 AM and 101.3 FM, or 11 a.m. Monday, Feb. 22

on WLFR. In February's episode, Genesis Ramos Piris '23 speaks with Jacob Helmeczi, assistant director of Career Education & Development, about career planning and how students can get involved with the office; AmeriCorps Changebuilder Coordinator Paige Richards recaps the 17th Annual MLK Day of Service; Professor of Africana Studies and Communication Studies and Director of Strategic Initiatives Donnetrice Allison discusses the Africana Studies major and diversity and inclusion at Stockton; and Kevin McHugh, executive director of Athletics, provides insight about college sports in the time of COVID.
If you missed previous episodes, you can listen online at the Stockton Now archive page.
WE'RE HERE TO HELP
Resources Available to Staff, Faculty
There are many resources and best practices being made available to staff and faculty working remotely that can be found by visiting Information Technology's website. ITS will be sharing a tech tip weekly. This week's tip focuses on Zoom authentication.
🧠 In addition to assistance with the technology available from ITS, Stockton provides faculty and teaching staff with professional development, training, teaching ideas, resources and individual consultations via the Center for Teaching and Learning Design.
🧪 Stockton is offering FREE COVID-19 testing to students and employees at the Lodge at Lakeside. Go to Stockton University Testing to select a date and time to be tested and register on the Visit-Health portal.
👉 Visit the Spring 2021 Campus Operations website for up-to-date information on procedures and guidelines the University is implementing to continue to keep students, staff and faculty safe.
💉 New Jersey has developed a website for residents to pre-register to receive the COVID-19 vaccine.
📅 Faculty and staff are invited to join health care professionals from AtlantiCare at 4 p.m. on Monday, March 8 to address questions about the COVID-19 vaccine, testing and additional topics related to the nationwide health care response to the COVID-19 pandemic. Lori Herndon '92, president & CEO of AtlantiCare, and Dr. Manish Trivedi, Infectious Disease Specialist, will answer your COVID-19 questions. Submit questions in advance to UROC@stockton.edu
🔴 Pledge Reminder: Faculty, staff and students should complete the Stockton Health Pledge daily, even if you are not coming to campus. The pledge is emailed daily to your Stockton email and assists us in monitoring the health of our community. If you are feeling ill, do not come to campus, notify your manager, and see your doctor if necessary.
Stockton is compiling notices of confirmed positive COVID-19 cases in a dashboard on the Coronavirus home page. The dashboard is updated on regular work days.
SPOTLIGHT ON: JENNY WAGNER
Two articles published by Jenny Wagner, professor of Computer Information Systems (CIS), wererecognized by the American Society of Civil Engineers recently, receiving the 2021 Seminal Paper Award.
The articles, "Water Distribution Reliability: Analytical Methods" and "Water Distribution Reliability: Simulation Methods," were originally published in the Journal of Water Resources Planning and Management (JWRPM) in 1988 and continue to gain attention and citations.
According to an article on lucbeaulieu.com, the average citation per manuscript is below 10. "Water Distribution Reliability: Analytical Methods" has received 276 citations, and "Water Distribution Reliability: Simulation Methods" has received 527.
WHAT'S TRENDING @ #STOCKTONU
Instagram: Who remembers this day? 🎉Swipe to see if you can spot yourself in the crowd.
Twitter: R.A. Sam Payamps says it's all about loving yourself today & every day.
Facebook: #WildlifeWednesday: When there is a creature in crisis on campus, John Rokita is the one who receives the calls.
---
Campus Center Surprises Ospreys Who Soar Safely
The Office of Event Services & Campus Center Operations and Get Centered Programming wanted to do something to recognize students for their commitment to the "Mask Up, Back Up, Wash Up" campaign.
The Campus Center Operations team and other volunteers walk through the Campus Center and when they see students following the C.D.C. guidelines, they stop to personally thank them and enter them into a weekly raffle for one of three gift cards. They are also handing out #iSoaredSafely buttons.
"We are acknowledging and thanking our students for following the 'Mask up, Back up, Wash up' campaign because we recognize that this is an unusual circumstance that we are all in," said Giancarlo Brugnolo, associate director of Event Services & Campus Center Operations.
Kristy Rothermel, a facility coordinator for Campus Center Programs, enjoys talking with students she may not have met otherwise. Catching them off-guard and offering them a chance to win a raffle is just nice to do, she explained.
"It's random and sporadic," she added.
With the gift cards, students can enjoy delivery from Door Dash, free lunch from local eateries or shopping on Amazon and at a variety of other stores.
Follow the #iSoaredSafely hashtag on social media for raffle announcements and photos.
FROM THE SIDELINES
Stockton Edged by NJCU on Buzzer Beater
Stockton University (1-3) used a late 13-2 run to take a 65-61 lead with 1:19 remaining but then surrendered the last six points of the Feb. 13 game and fell to New Jersey City (3-1) 67-65 on a jumper by Denzel Banks at the buzzer.
DJ Campbell paced the Ospreys with game-highs of 20 points and five assists. Campbell shot 5-10 (50%) from three-point range in the contest.
👀 Watch the home games via livestream here.
📅 Visit here for game schedule.
---
Carmelia Named to EDP Promising Young Coaches List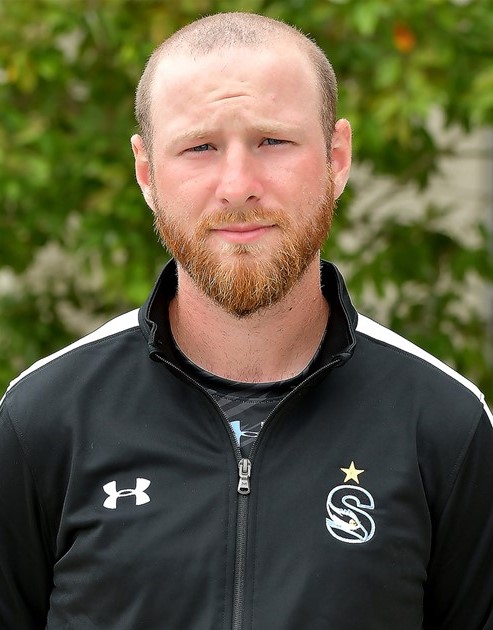 Stockton University assistant men's soccer coach Ian Carmelia was recently named to the EDP Promising Young Coaches List by Elite Program Development Soccer. Carmelia works with three girls teams for the Real Jersey FC club program in addition to coaching at Stockton.
---
Stockton Athletics Mourns Loss of Stephanie Allocco
Stockton Athletics is mourning the loss of assistant softball coach Stephanie Allocco, who passed away Feb. 9 at the age of just 42 after a lengthy bout with cancer in which Allocco fought hard for four years. She coached at Stockton for five seasons, dealing with her illness for the majority of that time.
The Stockton Softball Instagram account posted a heartfelt tribute to Allocco.
OSPREY NOTES
Opportunity to Participate in Age-Friendly University Survey
A message from Susan Davenport, interim provost and executive vice president:
In 2018, Stockton University became the first institution in New Jersey to join the global Age-Friendly University (AFU) initiative. The pioneering initiative highlights the role higher education can play in responding to the opportunities and challenges associated with our aging population. To this end, we have been asked to participate in a national study of age-friendliness across campuses in the US which will use the newly developed AFU Inventory and Campus Climate Survey (ICCS).

I am writing to ask you to participate in the online survey portion of the ICCS.
This survey explores perceptions of faculty, students, staff, retirees and alumni with respect to various age-friendly principles. All survey responses are anonymous and group summary data will be the focus of analysis.
The survey results will not only help Stockton University identify its age-friendly assets and gaps but will also help to refine what age-friendliness means in higher education and how we can broaden and deepen our efforts. Dave Burdick has been instrumental in leading our AFU efforts as Director of SCOSA, and I look forward to his analysis and recommendations.
If you have questions or concerns about this study, please contact the researchers at UMass.AFUStudy@umb.edu.
State Aid Renewal Deadline April 15
FAFSA renewal students (those students who have filed a FAFSA in years prior) need to file the 21-22 FAFSA before the April 15 state deadline to be considered for State Aid. Eligible students who miss this deadline could miss out on up to $7,500 in free money.
Remember, the State Won't Wait! Students can apply at fafsa.gov.
Submit Applications for Day of Scholarship 2021
Day of Scholarship applications are being accepted now through March 1, and can be submitted by visiting here.
Day of Scholarship 2021 will be held virtually from 9 a.m.-1 p.m., Thursday, April 8. If you have any questions, email Ronnie Maiorino at ronnie.maiorino@stockton.edu
UPCOMING VIRTUAL EVENTS
Upcoming Events Hosted by the Office of Development and Alumni Relations
Feb. 15-May 9: City of Hope: The 1968 Poor People's Campaign
Feb. 22: Continuing the Conversation: Race, Racism and Anti-Racism
Feb. 23:Communication Studies Speaker Spotlight- Vanessa Maria Graber
Feb. 24:Destination Cannabis
Feb. 25: International Faculty and Staff Network Meet and Greet
Feb. 25: Music of African Americans
March 2: Black Women and Voting Rights
March 4:Women in Hip Hop
March 4-6:Spring Dance Concert [will be live-streamed on site]
March 22-26:Open House Week
Upcoming Continuing Studies offerings:Online Leadership Series: Leadership and Team Building Through Active Learning; and Social Worker Continuing Education Series: Breaking Free from Eating Disorders After Surviving Trauma and Abuse