Stockton News - Feb. 12, 2021
WHAT WE'RE TALKING ABOUT
UBSS Flag Raising Celebrates Black Excellence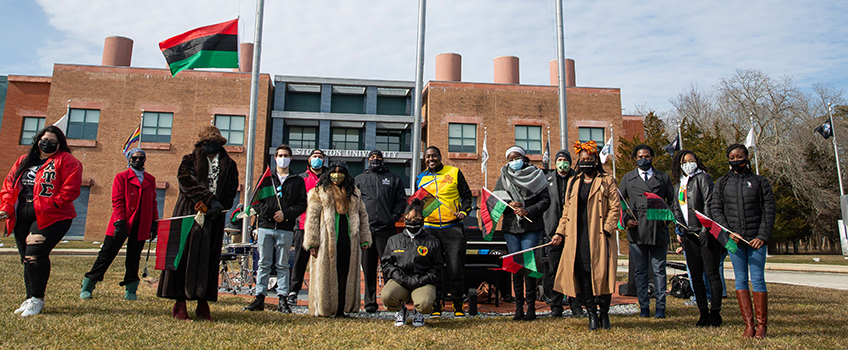 It was with cold hands, but warm hearts that the Unified Black Students Society recognized Black History Month with its annual flag raising at the Arts and Sciences Building circle on Feb. 10 that celebrated family and excellence.
"It is just so wonderful to see you all here," UBSS president Amaiya Roundtree told the crowd of about 25 people. Roundtree said like many students, she is taking her classes virtually from home, and she was thrilled to be on campus with friends, some wearing Black Lives Matter masks.
---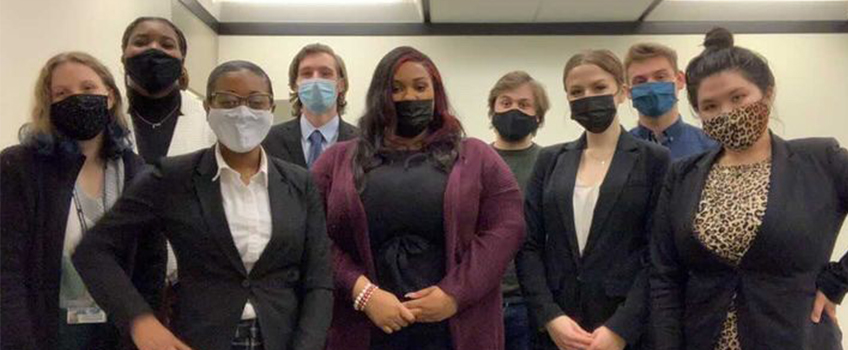 Mock Trial Team Exhibits Excellence in Competition
The Stockton University Mock Trial team competed Feb. 5-7 in the virtual American Mock Trial Association (AMTA) regional competition. In addition to receiving two Outstanding Attorney awards for individual performances, the team was recognized with the Spirit of AMTA award. This was the team's fifth appearance in the annual competition since the club's inception in 2015.
Under the coaching of Anne Crater, investigator in the Office for Equal Opportunity and Institutional Compliance, and the leadership of club president Annalise Catherine, students argued both the prosecution and defense sides of a civil mock trial case against teams from University of North Alabama; University of Tennessee, Knoxville; University of Illinois, Springfield and Scripps College.
Hospitality Program Ranks 7th in Nation
Stockton University's Hospitality, Tourism and Event Management degree program has been ranked 7th in the nation by study.com.
Stockton was specifically cited for its specialty programs within the School of Business, which allow students to enroll in classes catering to special interests in event management, tourism management, resort management, or food and beverage management.
WE'RE HERE TO HELP
COVID-19 Vaccination Information Session March 8 with AtlantiCare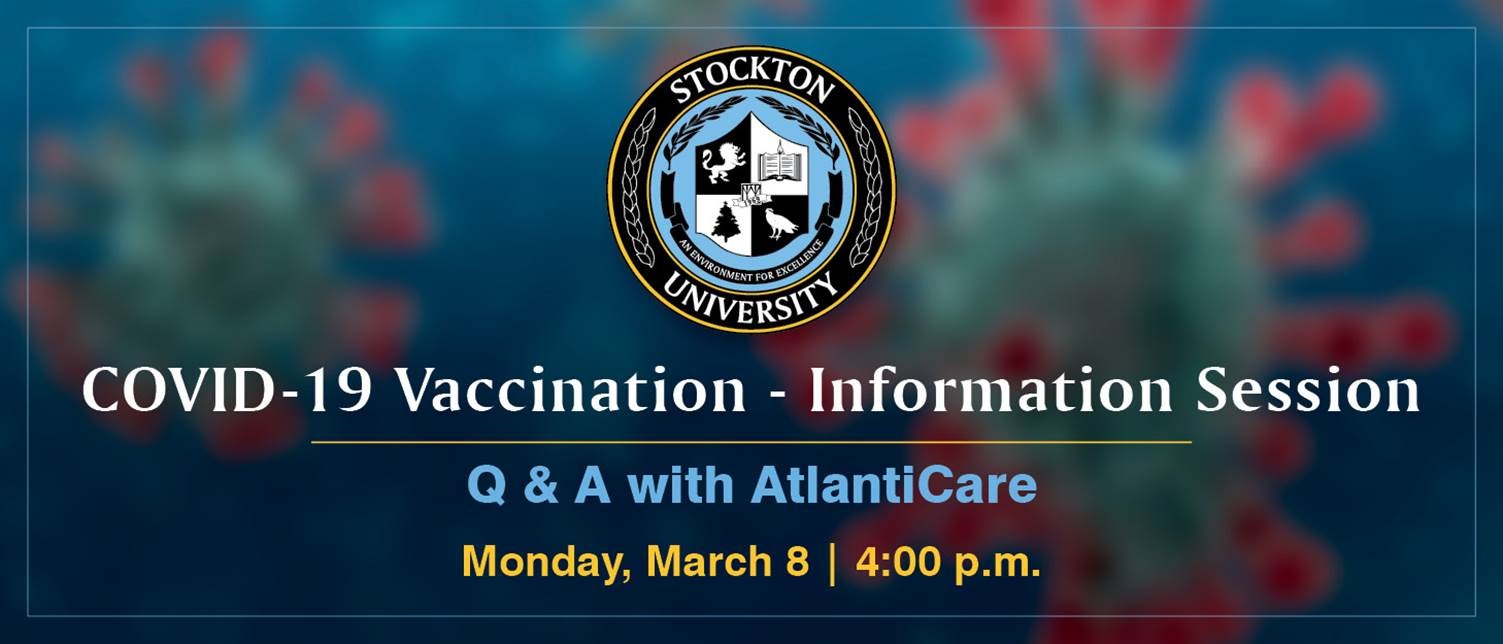 Faculty and staff are invited to join health care professionals from AtlantiCare at 4 p.m. on Monday, March 8 to address questions about the COVID-19 vaccine, testing and additional topics related to the nationwide health care response to the COVID-19 pandemic.
Lori Herndon '92, president & CEO of AtlantiCare, and Dr. Manish Trivedi, Infectious Disease Specialist, will answer your COVID-19 questions.
The Q & A will be moderated by Peter Baratta and Emari DiGiorgio, co-chairs of the University Resilience Operations Committee (UROC). Please submit questions in advance to UROC@stockton.edu.
Zoom webinar instructions will be provided on Monday, March 8, the day of the event.
Resources Available to Staff, Faculty
There are many resources and best practices being made available to staff and faculty working remotely that can be found by visiting Information Technology's website.
🧠 In addition to assistance with the technology available from ITS, Stockton provides faculty and teaching staff with professional development, training, teaching ideas, resources and individual consultations via the Center for Teaching and Learning Design. The Center is offering the following professional development sessions next week: 1:30-2:30 p.m., Wednesday, Feb. 17, Using Adaptive Release in Blackboard to Facilitate Self-Directed Learning; and 9 a.m.-3 p.m., Saturday, Feb. 20, FAWN Writing Boot Camp.
🧪 Stockton is offering FREE COVID-19 testing to students and employees at the Lodge at Lakeside. Go to Stockton University Testing to select a date and time to be tested and register on the Visit-Health portal.
👉 Visit the Spring 2021 Campus Operations website for up-to-date information on procedures and guidelines the University is implementing to continue to keep students, staff and faculty safe.
💉 New Jersey has developed a website for residents to pre-register to receive the COVID-19 vaccine.
🔴 Pledge Reminder: Faculty, staff and students should complete the Stockton Health Pledge daily, even if you are not coming to campus. The pledge is emailed daily to your Stockton email and assists us in monitoring the health of our community. If you are feeling ill, do not come to campus, notify your manager, and see your doctor if necessary.
Stockton is compiling notices of confirmed positive COVID-19 cases in a dashboard on the Coronavirus home page. The dashboard is updated on regular work days.
FRAME-WORTHY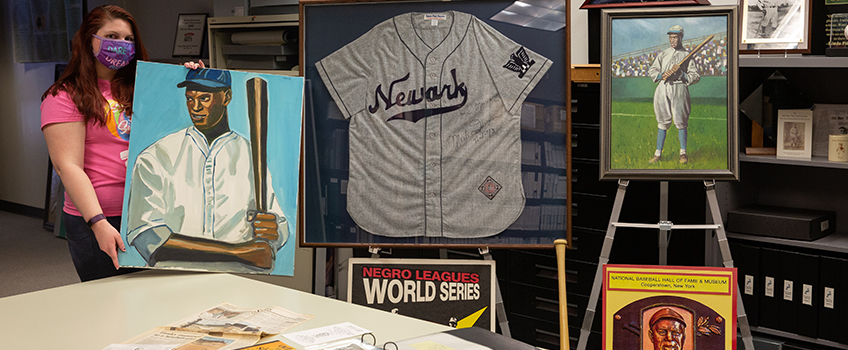 Collection Highlights Negro League Baseball
John Henry "Pop" Lloyd (1884-1964) played 27 seasons in the Negro Leagues, including four seasons with the former Atlantic City Bacharach Giants baseball team. A shortstop, he was considered one of the greatest players in the league.
After his career as a professional ended, he continued playing organized baseball until age 58, once playing for a semi-pro team called the Johnson Stars, assembled by Atlantic City political boss Enoch "Nucky" Johnson.
Lloyd's skills as a batter, base runner and defensive infielder might have helped him dominate the majors; however, he wasn't provided the opportunity due to racial discrimination.
WHAT'S TRENDING @ #STOCKTONU
Instagram: #WildlifeWednesday: Nick Perello '21 watched the sinking of an old naval vessel on a TV show about artificial reefs as a kid.

Facebook: Have you ever wanted to take a college course to explore your interests just for fun without being a full-time student?
LinkedIn: What's your favorite #StocktonU season, Ospreys? ❄️🌷☀️🍂
FROM THE SIDELINES
The Bounce is Back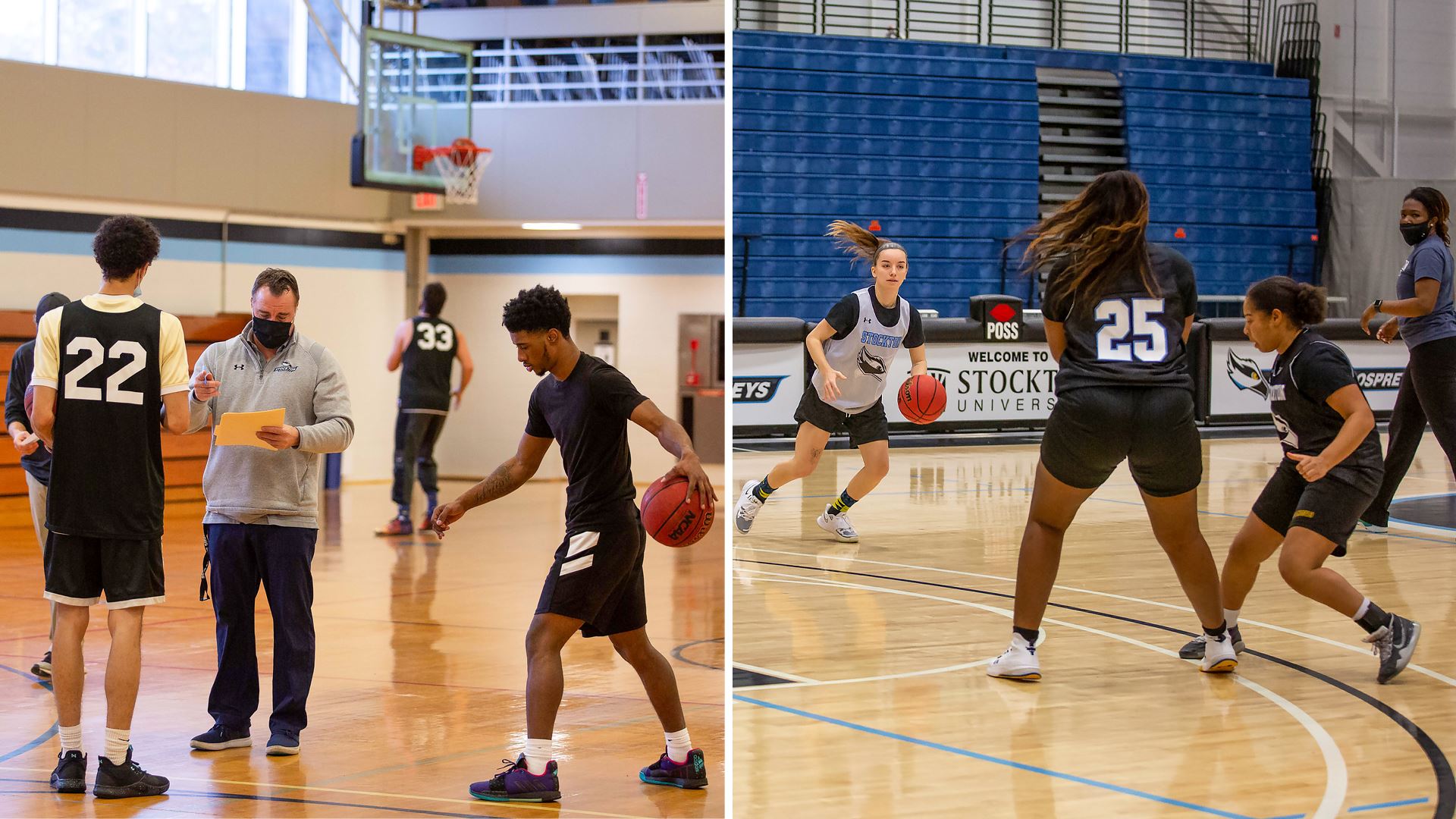 Stockton University men's basketball coach ScottBittner blew his whistle Feb. 3 to signal the start of practice. The players split into groups of two and three and spread out over four sections of I-Wing gym to work on various drills.
Sophomore guard Rynell Lawrence, younger brother of Jacksonville Jaguars running back Ryquell Armstead, flicked his wrist and launched three-pointers from the top of the key, along with sophomore guard DJ Campbell.
🏀 WOMEN'S BASKETBALL PROFILE: Maddie McCracken
🏀 MEN'S BASKETBALL PROFILE:Luciano Lubrano
👀 Watch the home games via livestream here.
📅 Visit here for game schedule.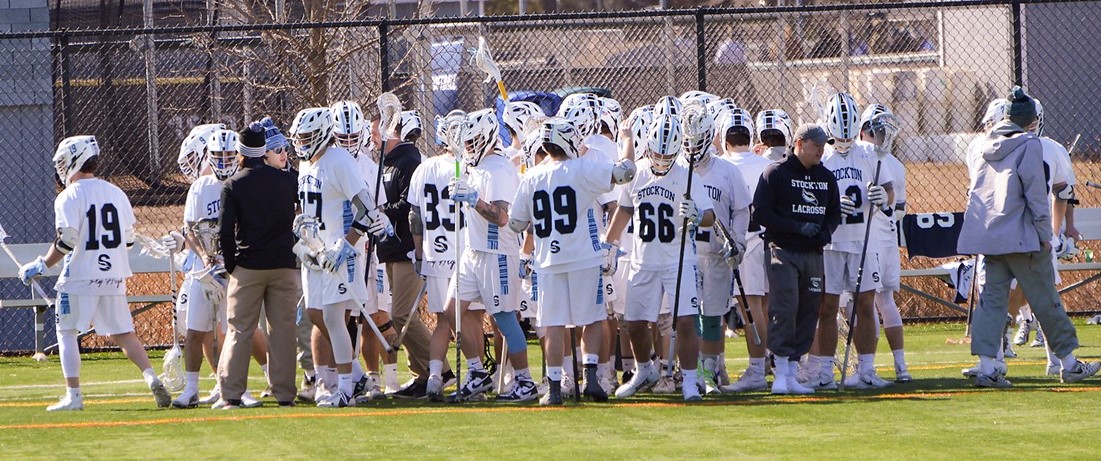 28 Ospreys Qualify for Fall 2020 CSAC All-Academic Team
Twenty-eight members of the Stockton University men's lacrosse program qualified for the Fall 2020 Colonial States Athletic Conference All-Academic Team. The CSAC All-Academic Team recognizes student-athletes who have achieved a grade-point average of 3.20 or better during the Fall 2020 semester.
A total of 978 student-athletes from the conference's 11 core members and seven associate members were recognized. Stockton is an associate member of the CSAC in men's lacrosse because the University's primary conference, the New Jersey Athletic Conference, does not sponsor men's lacrosse as a league sport.
🕊 IN MEMORIAM
President Kesselman shared the following in a campus email on Feb. 10: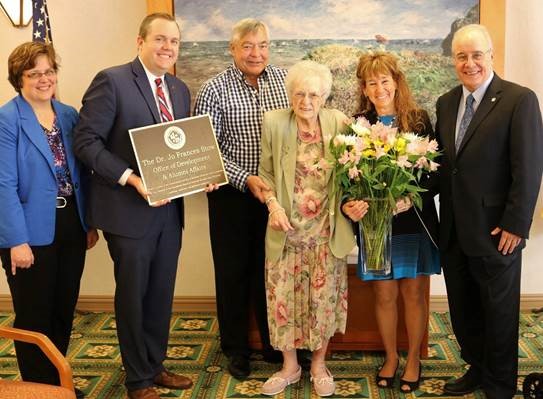 "With great sorrow, I write to share the news that Dr. Jo Frances Stow, former faculty member and long-serving member of the Foundation Board of Directors, passed away on Feb. 9 at age 93. I join her family, and her many friends and colleagues throughout the Stockton community, in mourning her loss.
Dr. Jo Frances Christian Stow served in many roles at Stockton for nearly 50 years. She taught Public Health courses from 1979 - 1988 and was tenured in that program, retiring as associate professor. In 2013, she was awarded Emerita status by the Foundation Board.
Dr. Stow was a devoted and passionate supporter of the University and was deeply committed to our scholarship program. She was an extremely active member of the Foundation's Scholarship Selection Committee, for which she had served as both Chair and Co-Chair for some 30 years.
Dr. Stow worked tirelessly to attract financial resources from the community to support students. She was also extraordinarily generous, having personally established the Frances N. Christian Memorial Scholarship for Nursing students, the Col. Kenneth R. Stow U.S. Military Veterans Scholarship, and the Dr. Jo Frances Stow Scholarship for Public Health.
"I don't really feel I've done anything special," Stow said in a 2014 interview in The Press of Atlantic City about all the students she has assisted.
I, and all those she worked with, would disagree.
In honor of her steadfast dedication, the office of Development and Alumni Relations was named in Dr. Stow's honor in 2018. Dr. Stow is a name synonymous with Stockton. She was truly a gift to our University and our students and will be greatly missed by us all."
OSPREY NOTES
State Aid Renewal Deadline April 15
FAFSA renewal students (those students who have filed a FAFSA in years prior) need to file the 21-22 FAFSA before the April 15 state deadline to be considered for State Aid. Eligible students who miss this deadline could miss out on up to $7,500 in free money.
Remember, the State Won't Wait! Students can apply at fafsa.gov.
Roster Verification Reminder for Faculty
As the spring semester is quickly approaching, faculty are reminded to confirm student attendance at the beginning of each course after the add/drop period. The Office of Financial Aid will use this information to make adjustments to student financial aid disbursements based upon the confirmed number of credits.
Each instructor will be responsible for verifying student attendance or participation in an academic activity. For online courses, faculty are reminded to include an assignment or discussion activity during the drop/add period so that the student's attendance can be confirmed.
The link to complete Roster Verification can be found under the faculty tab within the goStockton portal.
For more information and a list of frequently asked questions, visit here.
Submit Applications for Day of Scholarship 2021
Day of Scholarship applications are being accepted now through March 1, and can be submitted by visiting here.
Day of Scholarship 2021 will be held virtually from 9 a.m.-1 p.m., Thursday, April 8. If you have any questions, email Ronnie Maiorino at ronnie.maiorino@stockton.edu
UPCOMING VIRTUAL EVENTS
Upcoming Events Hosted by the Office of Development and Alumni Relations
Feb. 15-May 9: City of Hope: The 1968 Poor People's Campaign
Feb. 18, 25:Music of African Americans
Feb. 23:Communication Studies Speaker Spotlight- Vanessa Maria Graber
Feb. 24:Destination Cannabis
Feb. 25: International Faculty and Staff Network Meet and Greet
March 2: Black Women and Voting Rights
March 4-6:Spring Dance Concert [will be live-streamed on site]
Upcoming Continuing Studies offerings: Retirement Planning, Online Leadership Series: Leadership and Team Building Through Active Learning; and Social Worker Continuing Education Series: Breaking Free from Eating Disorders After Surviving Trauma and Abuse