Stockton News - Friday, Feb. 28, 2020
WHAT WE'RE TALKING ABOUT
Stockton Advances to NJAC Finals with 96-82 Victory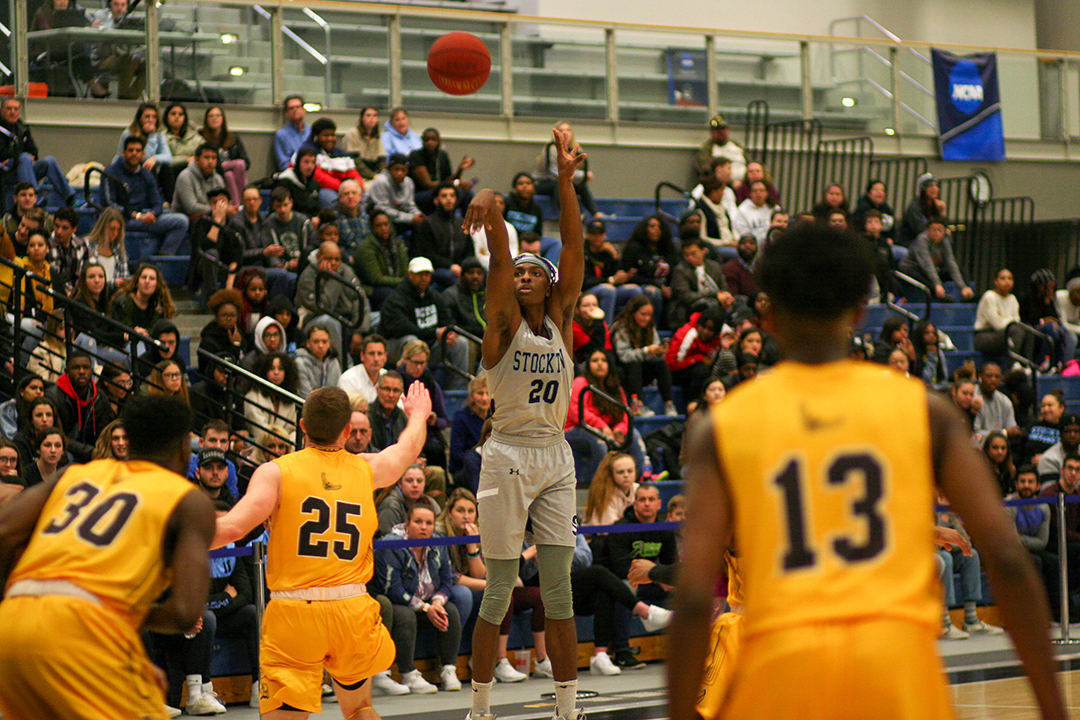 Stockton University used a balanced scoring attack and fended off a game Rowan University squad for a 96-82 win in the NJAC Tournament semifinals. Freshman DJ Campbell led six Ospreys in double figures with 18 points. The game featured eight ties and nine lead changes.
🏀 Stockton, the number two seed, will travel to face top-seeded The College of New Jersey at 7 p.m. tomorrow, Feb. 29. The game will be for the NJAC championship and an automatic berth in the NCAA Division III Tournament. Livestream the game here and cheer on the team.
The Press of Atlantic City covered the exciting game.
---
Zakiya Smith Ellis To Speak at Commencement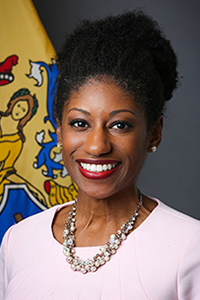 New Jersey Secretary of Higher Education Dr. Zakiya Smith Ellis will be the keynote speaker at the Stockton University Commencement at 12 p.m. on May 15 at Jim Whelan Boardwalk Hall in Atlantic City.Zakiya Smith Ellis To Speak at Commencement
"Dr. Smith Ellis has been a strong advocate for student-centered higher education in New Jersey and for Stockton University's expansion into Atlantic City," said Stockton President Harvey Kesselman. "We share the same commitment to students and it is an honor for us to welcome her as our commencement speaker at Boardwalk Hall."
---
SCOSA Launches Institute for Lifelong Learning
Stockton University has begun a new Stockton Institute for Lifelong Learning (SILL) that will offer short non-credit academic classes to the general public.
The program will debut with two four-week courses on play and poetry that will meet one day a week in March and April on the Galloway campus.
"This is an opportunity for community members to learn from Stockton professors at a reasonable cost, without a full semester commitment, homework or papers," said Associate Professor of Psychology Christine Ferri, who helped develop the institute for the Stockton Center on Successful Aging.
SNJ Today, the Press of Atlantic City and The SandPaper posted the story.
---
Africana Studies Symposium Highlights Major Opportunities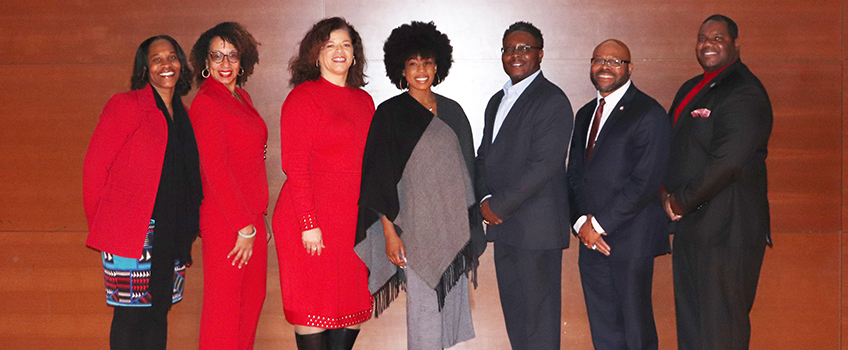 What can you do with an Africana Studies degree? Absolutely anything. For those who wanted to dive deeper into this question and find out what doors the university's new major could open for them, the Africana Studies Alumni and STEM panel discussions Feb. 20 provided answers.
"I think that both panels spoke to the importance of representation. There is an old saying, 'If you can see it, you can be it.' I don't recall who said it first, but it definitely applies here," explained Donnetrice Allison, coordinator and professor of Africana Studies at Stockton University. "It is important for African Americans, and all students really, to see those who look like them in various fields so that they can see how wide ranging their options are."
STOCKTON UNIVERSITY ATLANTIC CITY
Stockton Atlantic City Celebrates Black History Month; Student Awarded Inaugural Scholarship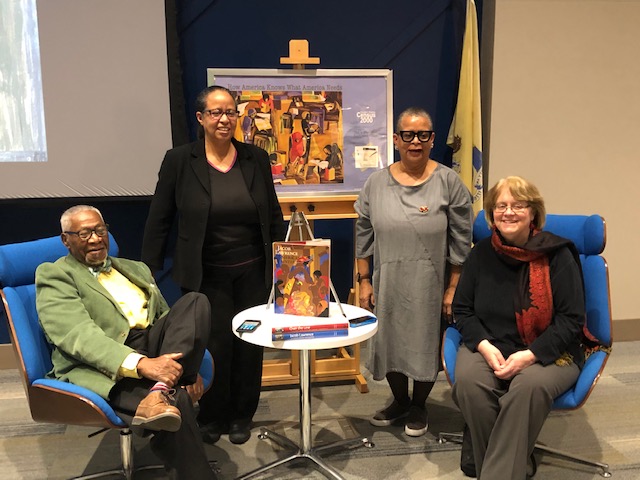 Last week, Stockton University Atlantic City hosted two well-received events Feb. 23 and 24 in honor of Black History Month.
The first event showed the award-winning documentary, "The Sara Spencer Washington Story," a film by Royston Scott, to over 30 attendees. The first recipient of the Sara Spencer Washington Award was bestowed to Diane Sanchez Zevallos of Galloway, a senior Biochemistry major from Stockton. Kelly Keenan, associate professor of Chemistry, made a gift to establish the scholarship, which will be awarded annually.
The second event honoring the life and legacy of artist Jacob Lawrence drew 40 attendees, including many Stockton students studying art and art history. Kate Ogden, professor of Art History, and Ralph Hunter, Sr., Founder of the African American Heritage Museum of Southern New Jersey, facilitated the discussion.
---
Catch a Movie at Stockton Atlantic City
"AC Campus Movie Nights: Cinema in the City" is featuring "Just Mercy" at 8 p.m., tonight, and "Charlie's Angels," Friday, March 6, in the Stockton University Atlantic City residential classrooms B119/120. Attendees are asked to bring their Stockton IDs.
SPOTLIGHT ON
Art Program Offers Students International Experience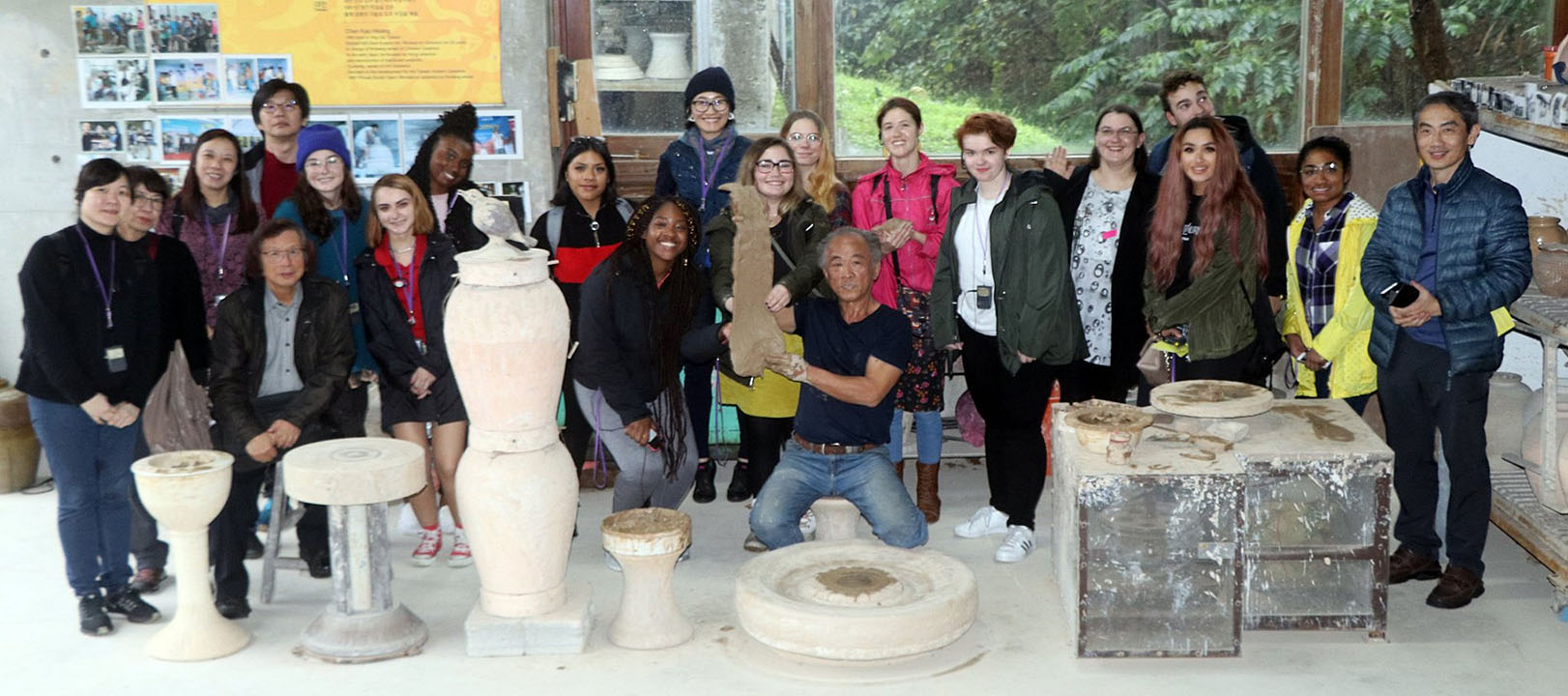 A group of Stockton University students along with Mariana Smith and Chung-Fan Chang, assistant professors of Visual Arts, got a global hands-on experience during winter break when they spent time in Taiwan, learning in cultural institutions, visiting historical sites and attending the National Taipei University of Education, Stockton's partnership institute.
During the Fall 2019 semester, the students completed a combination of credit course work for eight weeks at Stockton, which then culminated in the immersive two-week international experience, "Printmaking and Mixed Media: Taiwan Study Tour." The international component and use of silkscreen at Stockton were new elements, making for a more authentic and unique experience. The printmaking studio additions were funded by the Provost Opportunity Grant.
FRAME-WORTHY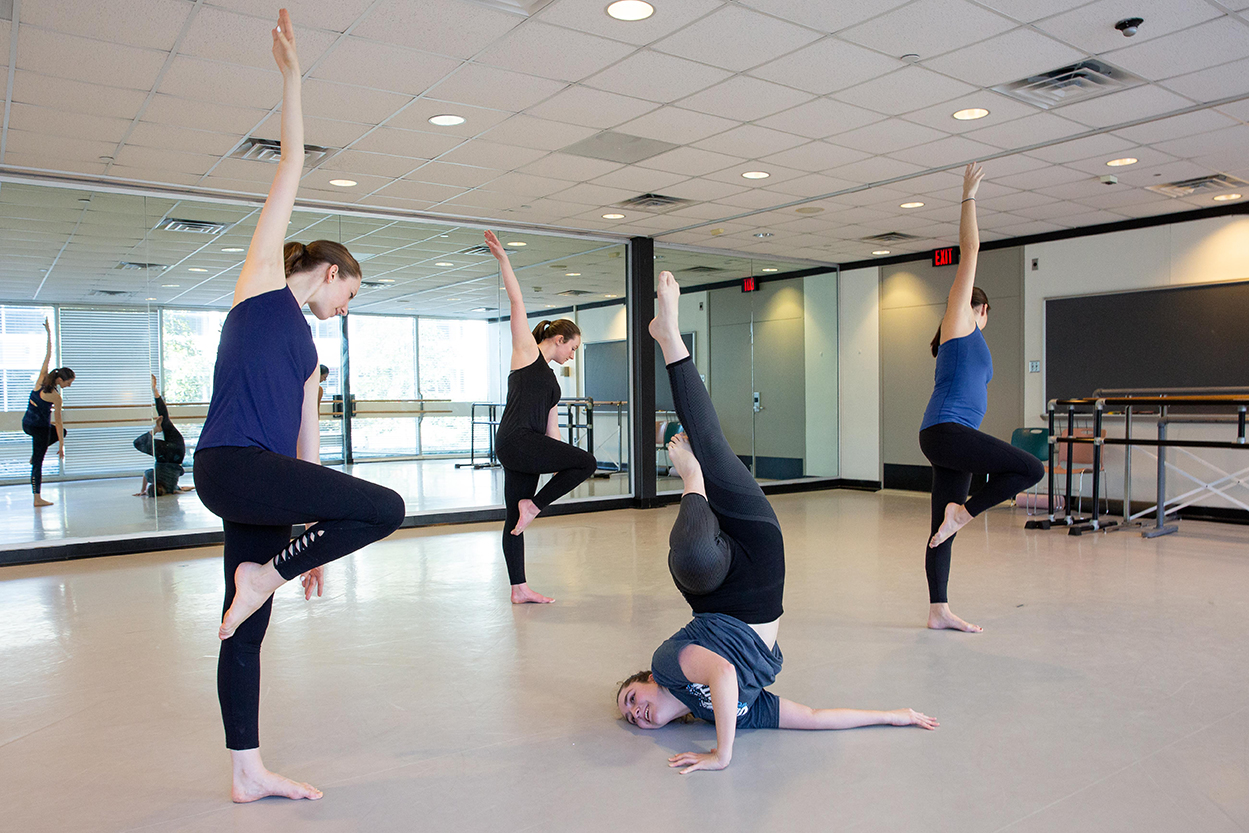 Artists, Students Collaborate in Dance Concert
The collaboration of Stockton University dance students and professional choreographers will be highlighted at the Stockton University Spring Dance Concert at 7:30 p.m. March 5-7 in the Performing Arts Center.
In her quest to "create collectively," award-winning choreographer Tiffany Mills of New York City worked intimately with Stockton Dance Company members to build choreography full of radical juxtaposition and satisfying nuance.
Philadelphia-based choreographer and former soloist for the Pennsylvania Ballet, Meredith Rainey used his classic ballet training coupled with a collaborative process to develop a dynamic and richly designed dance for the Performing Arts Center stage.
WHAT'S TRENDING #STOCKTONU
Instagram: 📚 Ospreys, we want to know: what's the most meaningful class you've taken at #StocktonU and why?
FROM THE SIDELINES
Stockton Pulls Away from Messiah for 18-11 Win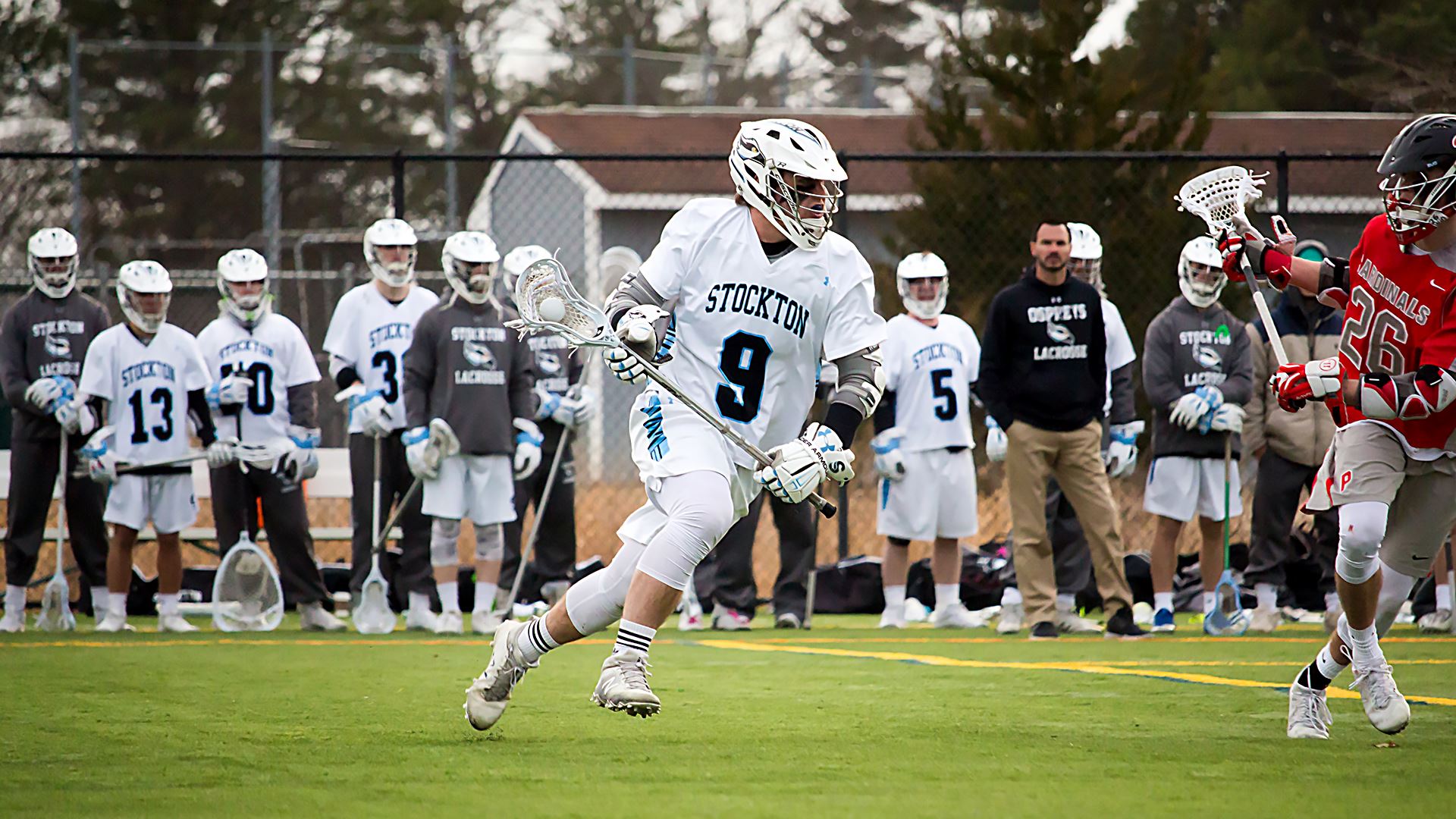 Stockton University (3-0) scored five straight goals overlapping the end of the third quarter and start of the fourth period to pull away from Messiah (0-3) for an 18-11 win. Dante Poli led the Ospreys with four goals and three assists for seven points.
MORE FROM THE HIGHLIGHT REEL:

The Men's Lacrosse team plays Elizabethtown College (away) on Feb. 29 and the Baseball team plays The College of New Jersey (away) on Feb. 29 and Norwich University (home) on March 1. The Women's Lacrosse team plays Ursinus College (away) on March 3. For upcoming sports games, check out the schedule.
OSPREY NOTES
Spring Semester FAFSA Fridays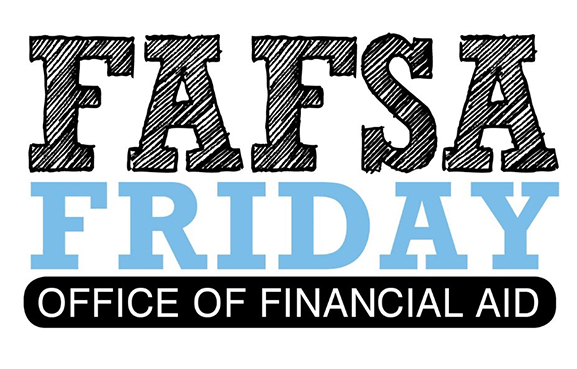 Do you have students looking for help with their financial aid application? The Office of Financial Aid is hosting "FAFSA Fridays" from 1-3 p.m. every Friday from Feb. 7-March 6, and March 27-April 10, in F210 to assist students with the financial aid process. Encourage your students to file their FAFSA applications today to avoid missing important deadlines including the April 15 deadline for State Aid. Students who file their FAFSA after these deadlines may miss out on aid for which they may be eligible.
UPCOMING EVENTS
Upcoming events hosted by the Office of Development and Alumni Relations
Friday, Feb. 28: Rowing and Growing with the Ospreys Fundraiser
Sunday, March 1: Spring Open House
Thursday, March 5: Career and Internship Fair, Costantelos Memorial Lecture
Thursday, March 12: Transfer Admission Day at Manahawkin
Saturday, March 14: Pinelands Short Course
Monday, March 23: SWLC Speaker Series: Distinguished Women. Distinctive Voices
Sunday, March 29:Spring Open House