Stockton News - Jan. 14, 2022
WHAT WE'RE TALKING ABOUT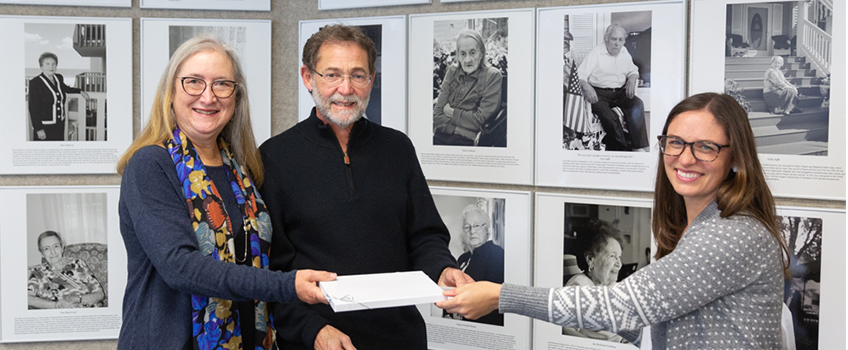 Couple Endow Scholarship in Parents' Memory
Catherine and Marcell Renny lost everything in their lives twice. The first time was during the Holocaust, when Catherine was forced into concentration camps and Marcell into the Hungarian Labor Service.
The second time was when they and their two sons escaped Budapest during the Hungarian Revolution in 1956 and came to America, where Marcell, who had owned a textile factory in Budapest, rose from being a janitor in a textile factory in America to become vice president. Catherine worked as a bookkeeper and office manager and the couple raised two sons.
Their perseverance and their optimism for a better life was ingrained in their children. Their son, Dr. Andrew Renny and his wife, Barbara Harvis, of Linwood, are passing those lessons forward with an endowed scholarship for students studying the Holocaust and genocide at Stockton University.
---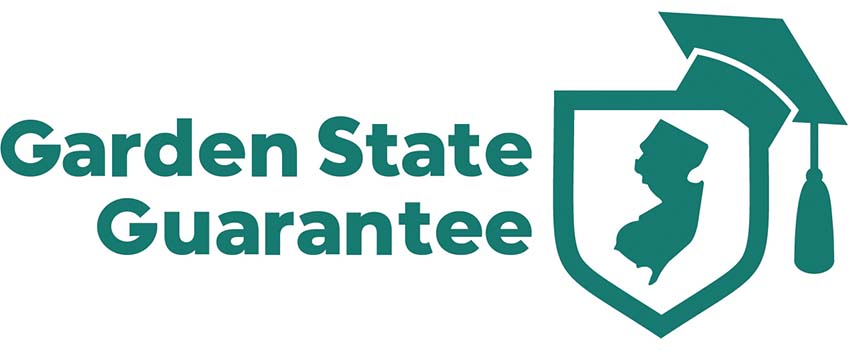 Garden State Guarantee Offers More Financial Aid
New Jersey undergraduate college students with at least 60 college credits have a new opportunity to earn an affordable bachelor's degree at Stockton University through the new Garden State Guarantee program.
The Garden State Guarantee (GSG) builds on Gov. Phil Murphy's commitment to improving college affordability. New Jersey resident undergraduate students enrolled full-time with at least 60 college credits and an annual adjusted gross income between $0 and $65,000 may now be eligible for $0 net price for tuition and fees at Stockton University for their third and fourth years of study.
Full-time undergraduate students with incomes of $65,001 to $80,000 may be eligible for the program's sliding scale of reduced tuition and fees of no more than $7,500.
📰 In the News:The Press of Atlantic City
---
Holocaust Center Programs Reached Almost 10,000 in 2020-21
The Sara and Sam Schoffer Holocaust Resource Center at Stockton University offered the most programs in 2020-21 among the 31 Holocaust Centers in New Jersey according to the year-end report to Gov. Phil Murphy by the New Jersey Commission on Holocaust Education.
The 91 programs reached almost 10,000 students, educators and members of the community.
"This was an especially challenging year, but we very successfully converted to virtual programs, seminars and lectures," said Holocaust Center Director Gail Rosenthal. "Our virtual offerings also allowed us to reach new participants who would not have been able to travel to the center."
---
State Assessment Team Seeks Comment on Stockton Police
A team of assessors from the New Jersey State Association of Chiefs of Police (NJSACOP) will examine all aspects of the Stockton University Police Department policies and procedures on Tuesday and Wednesday, Feb. 8 and 9.
"Verification by the team that the Stockton University Police Department meets the Commission's "best practice" standards is part of a voluntary process to achieve accreditation, a highly prized recognition of law enforcement professional excellence," said Stockton Director of Campus Public Safety Adrian Wiggins.
WHAT'S TRENDING

@ #STOCKTONU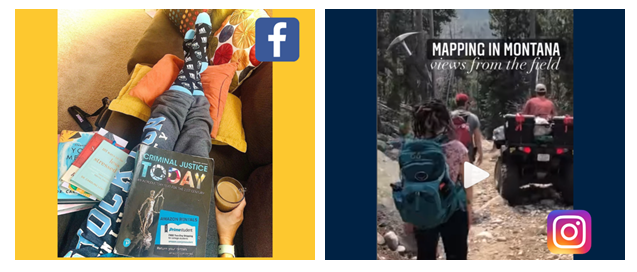 Facebook:Rachel Soucier walked her children to the bus and stopped to check the mailbox. Inside was a package from Stockton that said "YOU'RE ACCEPTED."
Instagram: Geology majors Allison Reid and Steven Tapanes spent a month in the mountains of Montana to map 🗺 the guts of a volcano 🌋 with their professor Jeffrey Webber.
FROM THE SIDELINES
Osprey Outline: Field Hockey Recap
The Stockton University field hockey team posted eight wins against eight losses in 2021, with half of the 16 games decided by one goal including three that went to overtime or shootout. The defensive-minded squad held seven opponents to one goal or less. Twelve different players saw action in all 16 contests and seven freshmen played in at least 10 games.
Senior Gianna Morganti led the offense with 13 goals (T-6th in NJAC) and three assists for 29 points (8th in NJAC) during the season. Three of her tallies were game-winners (T-10th in NJAC). Morganti gathered postseason accolades with NJAC First Team and NFHCA All-Region Second Team selection, the seventh Osprey to achieve that status.
Osprey Outline: Men's Soccer Recap
The men's soccer team fought through some adversity during the 2021 season, dealing with injuries and illnesses that often left the Ospreys with a short roster. Head coach Greg Ruttler's squad qualified for the NJAC Tournament as the No. 5 seed with a 5-3-1 mark in the league and finished with a 9-9-2 overall record.
Stockton played seven matches, nearly a third of its schedule, against teams that made the NCAA Tournament. Six of those games came against opponents that either were ranked or received votes in the final United Soccer Coaches Division III national poll.
🗓️ View the full schedule of upcoming athletic events here.
'ROLE' CALL
In an email on Jan. 10, Christopher Catching, vice president for Student Affairs, shared the following administrative appointments:
Zupenda Davis-Shine will serve as the interim assistant vice president for Student Health and Wellness effective Jan. 15 while a national search is conducted this spring.
Laurie Dutton, director of the Women's Gender and Sexuality Center will serve as the interim director for Counseling and Psychological Services (CAPS), effective Jan. 13, providing oversight for clinical mental health services while a national search is conducted this spring
Seth Richards will serve as the interim associate director for Student Conduct, effective Jan. 15.
WE'RE HERE TO HELP
COVID-19 Information
😷 MASK UP: Please remember to correctly wear a face covering while in common areas and shared indoor spaces on campus. The most effective mask style to prevent transmission of COVID-19 is a KN95 or N95 mask, followed by three-ply surgical masks. For a guide on mask recommendations, visit the CDC website.
If you forget to bring a mask, disposable surgical masks will be available in the Wellness Center, the Campus Center Information Desk, the Richard E. Bjork Library, the John F. Scarpa Academic Center Information/Security Desk in Atlantic City and in most division office suites throughout the Galloway and Atlantic City campuses.
VAX UP!: 💉AtlantiCare will hold COVID-19 vaccine clinics in West Quad 103. Details are in the Return to Campus FAQunder the "COVID-19 Vaccine Requirement" drop-down menu, and by then clicking "Where can I get vaccinated?" The clinics will be held 2-5 p.m., Jan. 25, Feb. 1-2; 11 a.m.-2 p.m., Feb. 7; 2-5 p.m., Feb. 10; 11 a.m.-2 p.m., Feb. 14, 21; 2-5 p.m., Feb. 24; 11 a.m.-2 p.m., Feb. 28; 2-5 p.m., March 3; 11 a.m.-2 p.m, March 7; and 2-5 p.m., March 10.
👉 Employees who get a booster vaccine are encouraged to add that information to their vaccination status through the portal on the Stockton website at go.stockton.edu/employee.
🌍 FACULTY AND STAFF TRAVEL: The University fully supports and encourages opportunities for professional growth. However, until further notice, the University strongly encourages all employees to attend conferences virtually if available. If an employee elects to attend an optional conference in person and tests positive for COVID, the employee will not be reimbursed for expenses incurred beyond the date of the original approval.
Information on leave time allowed if a child's school closes is on the Return to Campus FAQ link for faculty, staff and student workers.
OSPREY NOTES
Stockton 18th Annual MLK Day of Service Updates
Due to rising cases of COVID-19 cases in the community, Stockton students and staff will only serve in person for the MLK Day of Service on Monday, Jan. 17. All community members, partners and alumni are welcome and encouraged to join us in virtual opportunities for the day or off-site projects in Hammonton. Visit here for a full list of projects, and to preregister for virtual projects, too.
All students and employees should be prepared to follow the University's COVID protocols and masks will be required regardless of vaccination status.
**Due to these event modifications, we will begin registration at 9 a.m. and there will be NO morning program and instead have volunteers start their service projects by 9:30 a.m.**
Roster Verification Reminder for Faculty
As the spring semester is quickly approaching, faculty are reminded to confirm student attendance at the beginning of each course after the add/drop period. The Office of Financial Aid will use this information to make adjustments to student financial aid disbursements based upon the confirmed number of credits.
Each instructor will be responsible for verifying student attendance or participation in an academic activity. For online courses, faculty are reminded to include an assignment or discussion activity during the drop/add period so that the student's attendance can be confirmed.
The link to complete Roster Verification can be found under the faculty tab within the goStockton portal.
For more information and a list of frequently asked questions, visit here.
Day of Scholarship 2022: Call for Applications
Day of Scholarship applications are being accepted now through Feb. 25 and can be submitted by visiting here.
Day of Scholarship 2022 will be held in-person and virtually from 9 a.m.-1 p.m., Thursday, April 7. If you have any questions, email Ronnie Maiorino at ronnie.maiorino@stockton.edu.
---

Stockton memories, past and present . . .
"As a student heavily involved in the Theatre program, it was amazing meeting my 18-year-old niece for the first time after she watched me in a performance of Seussical in 2011. She had been adopted at birth, and I always wondered what she was up to. Knowing she was in the audience throughout the performance and I was about to meet her finally was mind-blowing.
This year I rejoined Stockton as the associate director of the Performing Arts Center. I hope to help bring similar fond memories through the Arts at Stockton for many years to come!"
- Joseph Heim
Have a memory you'd like to share in celebration of Stockton's 50th anniversary? Submit it here.
UPCOMING EVENTS