Stockton News - Jan. 21, 2022
WHAT WE'RE TALKING ABOUT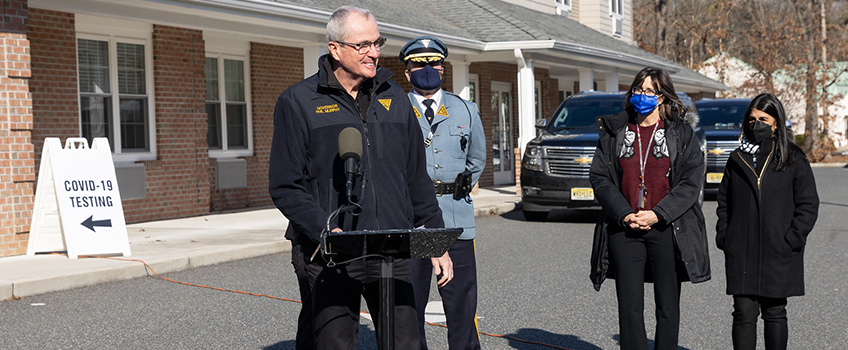 Stockton Hosts COVID-19 Testing Site
Stockton University has partnered with Atlantic County government and the state to host a free COVID-19 testing site in Galloway.
This site is open to the public from 7 a.m. to 5 p.m. daily for the next three weeks. It is located outside the main campus at the Chris Gaupp residence hall, 421 Chris Gaupp Drive in Galloway, about a mile from campus. There is free parking on site.
A second testing site at the Carnegie Center in Atlantic City is expected to open in about a week.
Gov. Phil Murphy attended the opening of the Galloway site on Jan. 19, saying it will offer 1,000 tests a day. He noted while Omicron cases appear to be stabilizing, COVID-19 remains a threat and testing allows the state to identify trouble spots and provide resources.
📰 In the News: The Press of Atlantic City, Insider NJ, NJ 101.5, Downbeach.com
---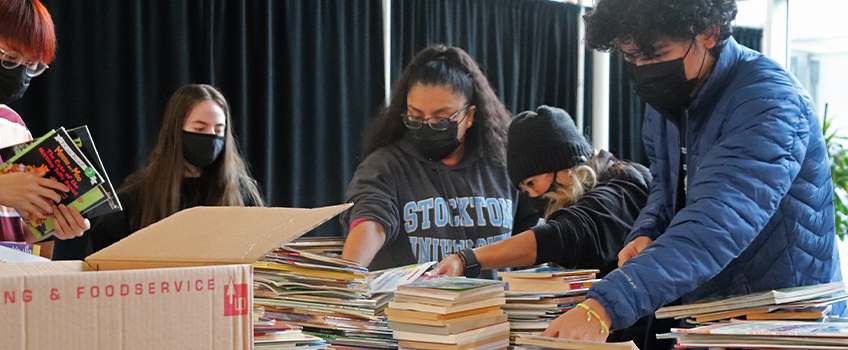 Nearly 400 'Take A Day On' for 18th Annual MLK Day of Service
A little rain didn't dampen the spirits of almost 400 students, staff, faculty and community members as they volunteered for Stockton University's 18th annual Martin Luther King, Jr. Day of Service on Jan. 17.
Approximately 171 Stockton students, staff and faculty participated in six projects on the Galloway campus, while another 68 participated in two projects in Atlantic City, including painting about 200 tiles with MudGirls Studios of Atlantic City for Our Lady Star of the Sea Regional School and putting together around 200 hospitality kits for the Atlantic City Rescue Mission.
"The annual MLK Day of Service continues to be a great opportunity for Stockton students, staff and faculty, along with the community members we support, to take a day on rather than a day off," said Nicole Bilotti, the AmeriCorps Changebuilder Coordinator at Stockton who coordinated this year's event.
STOCKTON UNIVERSITY ATLANTIC CITY
🎬 Catch a Movie at Stockton University Atlantic City
This spring semester, the entire Stockton community is invited to enjoy eight feature films, free food and drinks, as part of "AC Campus Movie Nights: Cinema in the City."
Attendees are asked to bring their Stockton IDs. Movies will be shown at 8 p.m. in the Stockton University Atlantic City residential classrooms B119/120 on the following dates: Jan. 27, 29, "Barb & Star go to vista del mar;" Feb. 10, 12, "Straight Outta Compton: The Story of N.W.A.;" Feb. 24, 26, "Harriet;" March 10, 12, "In the Heights;" March 24, 26, "Eternals;" April 7,9, "Encanto;" and April 21, 23, "Parasite."
For more information, contact Stephanie Clineman at Stephanie.Clineman@stockton.edu.
FRAME-WORTHY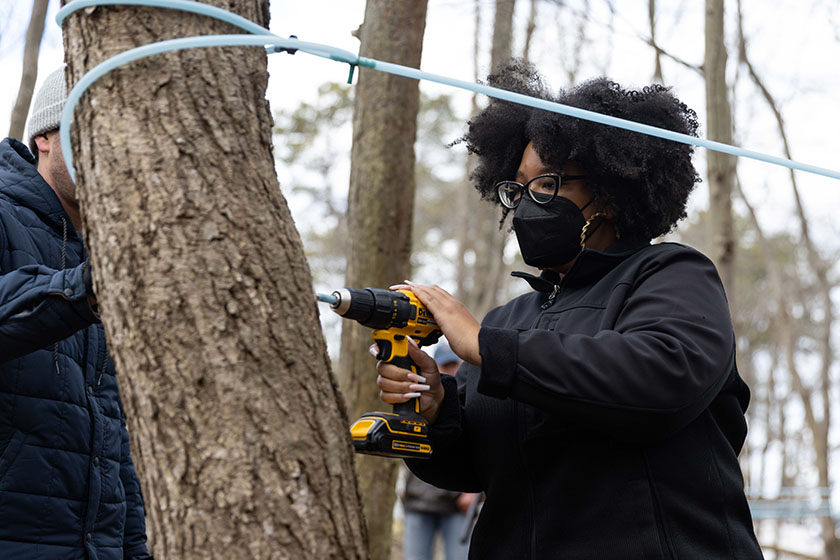 🍁 Tapping into a Sweet Venture at Stockton
Communication Studies major Loukaia Taylor, who recently joined University Relations and Marketing as a student worker, taps a maple tree on Tuesday, Jan. 18, at the Galloway campus.
Stockton's Maple Grant project was awarded a second grant from the United States Department of Agriculture for nearly $500,000 over three years to begin building a maple syrup industry in South Jersey.
📰 In the News: The Press of Atlantic City, News 12 Connecticut, CBS Philly
WHAT'S TRENDING

@ #STOCKTONU
Twitter: Check it out #StocktonU psychology major Bryanna Storck just became the first female in the South Jersey Region of Scouts BSA to earn #EagleScout status
Instagram: Welcome back, Ospreys!
FROM THE SIDELINES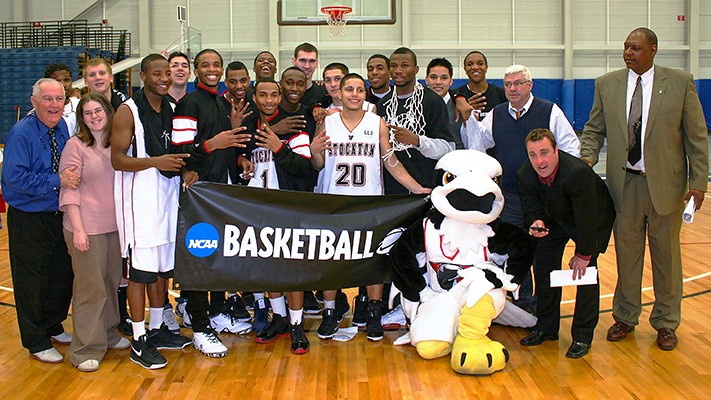 Men's Basketball Program Thrives On and Off the Court
The record is mindboggling when you think about it: 603-243 in 30 years at the helm.
That's the record that former Stockton University men's basketball coach Gerry Matthews amassed in his time on the sidelines at Stockton.
In fact, for a little over nine years, he was the winningest coach in New Jersey men's college basketball history before his record was broken by Caldwell University coach Mark Corino on Jan. 8.
Matthews' coaching prowess helped power the Ospreys to 16 NCAA tournaments, two NCAA Final Four appearances 22 years apart (1987, 2009), including one appearance in the NCAA title game (2009). He won't take credit, though. Matthews is proud of the talented players he coached over those three decades.
Stockton Rolls to 77-51 Win at Rutgers-Camden
WOMEN'S BASKETBALL: Stockton University produced its best offensive performance of the season on Jan. 19 for a 77-51 victory over Rutgers-Camden that was the second straight conference win for the Ospreys. Four Stockton players reached double figures.
Former Osprey Welsh Qualifies for Olympic Trials in Marathon
Former Stockton University cross country and track & field runner Christina Welshqualified for the 2024 U.S. Olympic Trials in the marathon with a time of 2:33.00 at the Chevron Houston Marathon on Sunday. Welsh finished four minutes under the Olympic Trials cutoff time of 2:37.00.
Welsh finished eighth out of 2,325 female runners in the marathon and averaged a pace of 5:51 minutes per mile over the 26.2-mile course. The Chevron Houston Marathon was the first race in the qualifying window for the 2024 U.S. Olympic Trials.
🗓️ View the full schedule of upcoming athletic events here.
WE'RE HERE TO HELP
COVID-19 Information
😷 MASK UP: Please remember to correctly wear a face covering while in common areas and shared indoor spaces on campus. The most effective mask style to prevent transmission of COVID-19 is a KN95 or N95 mask, followed by three-ply surgical masks. For a guide on mask recommendations, visit the CDC website.
If you forget to bring a mask, disposable surgical masks will be available in the Wellness Center, the Campus Center Information Desk, the Richard E. Bjork Library, the John F. Scarpa Academic Center Information/Security Desk in Atlantic City and in most division office suites throughout the Galloway and Atlantic City campuses.
VAX UP!: 💉AtlantiCare will hold COVID-19 vaccine clinics in West Quad 103. Details are in the Return to Campus FAQunder the "COVID-19 Vaccine Requirement" drop-down menu, and by then clicking "Where can I get vaccinated?" The clinics will be held 2-5 p.m., Jan. 25, Feb. 1-2; 11 a.m.-2 p.m., Feb. 7; 2-5 p.m., Feb. 10; 11 a.m.-2 p.m., Feb. 14, 21; 2-5 p.m., Feb. 24; 11 a.m.-2 p.m., Feb. 28; 2-5 p.m., March 3; 11 a.m.-2 p.m, March 7; and 2-5 p.m., March 10.
👉 Employees who get a booster vaccine are encouraged to add that information to their vaccination status through the portal on the Stockton website at go.stockton.edu/employee.
Resources for Faculty and Staff
🧠 Stockton provides faculty and teaching staff with professional development, training, teaching ideas, resources and individual consultations via the Center for Teaching and Learning Design. Upcoming events include: Show Up & Write with FAWN sessions, Setting Up and Progressing with the Spring Research Agenda on Jan. 24, IDEA Forms are not Enough: Practical Approaches to Formative Assessment of Teaching on Jan. 28, and Week of Teaching, Feb. 14-18.
Visit here for more information on upcoming professional development events being offered.

SUPPORT4U: A variety of counseling, referral and consultation services are available to Stockton employees and household members through the Employee Assistance Program. Learn more here.
OSPREY NOTES
Roster Verification Reminder for Faculty
As the spring semester is quickly approaching, faculty are reminded to confirm student attendance at the beginning of each course after the add/drop period. The Office of Financial Aid will use this information to make adjustments to student financial aid disbursements based upon the confirmed number of credits.
Each instructor will be responsible for verifying student attendance or participation in an academic activity. For online courses, faculty are reminded to include an assignment or discussion activity during the drop/add period so that the student's attendance can be confirmed.
The link to complete Roster Verification can be found under the faculty tab within the goStockton portal.
For more information and a list of frequently asked questions, visit here.
State Aid Renewal Deadline April 15
FAFSA renewal students (those students who have filed a FAFSA in years prior) need to file the 22-23 FAFSA before the April 15 state deadline to be considered for State Aid. Eligible students who miss this deadline could miss out on up to $7,500 in free money.
Remember, the State Won't Wait! Students can apply at fafsa.gov.
Day of Scholarship 2022: Call for Applications
Day of Scholarship applications are being accepted now through Feb. 25 and can be submitted by visiting here.
Day of Scholarship 2022 will be held in-person and virtually from 9 a.m.-1 p.m., Thursday, April 7. If you have any questions, email Ronnie Maiorino at ronnie.maiorino@stockton.edu.
---

Stockton memories, past and present . . .
"I have such fond memories of great friends, classmates and amazing faculty. Dennis Wildfogel, Charlie Herlands and Marilyn Frankenstein were such wonderful professors. It was such a wonderful experience and my degree in mathematics helped me fulfill my dreams. I got an amazing education at Stockton."
- Valerie Vanderslice '77
Have a memory you'd like to share in celebration of Stockton's 50th anniversary? Submit it here.
UPCOMING EVENTS