Stockton News - Jan. 29, 2021
WHAT WE'RE TALKING ABOUT
Holocaust Horrors Teach Lessons for Today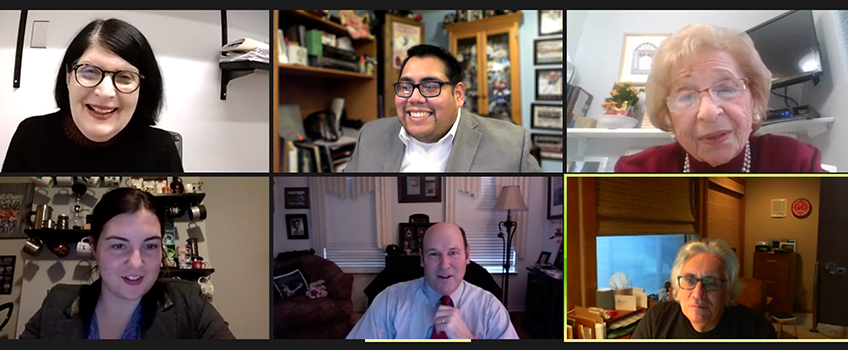 Doug Cervi was horrified when he saw the shirts seeming to glorify the Holocaust worn by some rioters at the U.S. Capitol on Jan. 6.
An adjunct professor at Stockton University and executive director of the New Jersey Commission on Holocaust Education, Cervi said during a Holocaust Remembrance event on Jan. 26 hosted by the Sara and Sam Schoffer Holocaust Resource Center at Stockton that teaching about the Holocaust is more important than ever.
"This is the most important subject I will ever teach," said Cervi, who also taught history at Oakcrest High School for 41 years, where, he said, he did occasionally have students who believed the Holocaust never happened.
---
Faculty Work Featured in Art Gallery Show
An exhibition of artwork from Stockton University's Visual Arts Faculty will be on display at the Stockton University Art Gallery from Jan. 25 - April 1.
Eighteen full and part-time art professors are displaying recent work: Chung-Fan Chang of Sewell, Jacob Feige of Collingswood, Michael McGarvey of Port Republic, Jedediah Morfit of Collingswood, Mariana Smith of Galloway, Hannah Ueno of Mays Landing, and Wendel A. White of Galloway are full-time. Part-time professors are Ryann Casey of Merchantville, Alice Cook of Tuckerton, Susan Crawford of Mt. Holly, James Dessicino of Absecon, Dan Gambert of Galloway, Bruce Garrity of Penns Grove, Frank Kallop of Somers Point, Joseph Podlesnik of Phoenix, AZ, Glynnis Reed of Egg Harbor Township, Christina Walley of Atlantic City, and Joe Winter of Philadelphia, Pa.
WE'RE HERE TO HELP
Resources Available to Staff, Faculty
There are many resources and best practices being made available to staff and faculty working remotely that can be found by visiting Information Technology's website.
🧠 In addition to assistance with the technology available from ITS, Stockton provides faculty and teaching staff with professional development, training, teaching ideas, resources and individual consultations via the Center for Teaching and Learning Design.
👉 Visit the Spring 2021 Campus Operations website for up-to-date information on procedures and guidelines the University is implementing to continue to keep students, staff and faculty safe.
💉 New Jersey has developed a website for residents to pre-register to receive the COVID-19 vaccine.
The updated Soar Safely graphic, which adds the "Vax Up" message is available for download here.
🔴 Pledge Reminder: Faculty, staff and students should complete the Stockton Health Pledge daily, even if you are not coming to campus. The pledge is emailed daily to your Stockton email and assists us in monitoring the health of our community. If you are feeling ill, do not come to campus, notify your manager, and see your doctor if necessary.
Stockton is compiling notices of confirmed positive COVID-19 cases in a dashboard on the Coronavirus home page. The dashboard is updated on regular work days.
💪 Spring semester fitness center hours and guidelines can be found here.
🥪 For Chartwells' spring dining hours and to see what's open, visit here.
SPOTLIGHT ON: MICHELE PREVITI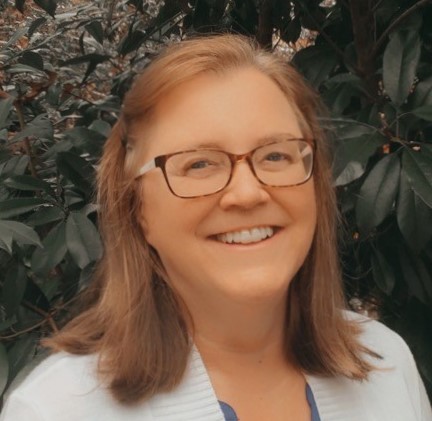 Michele Previti, assistant professor of Health Science at Stockton University, was recently named the 2020 Cape May County Municipal Alliance Volunteer of the Year by the Governor's Council on Alcoholism and Drug Abuse (GCADA) and the Cape May County Board of Chosen Freeholders. Previti has been a member of the Upper Township and Ocean City Municipal Alliance for 20 years.
The work of the Alliances is coordinated with the Governor's Council on Alcoholism and Drug Abuse. Each year, GCADA recognizes the efforts of one volunteer from each county whose work has significantly advanced the mission of their Alliance.
FRAME-WORTHY:
Ospreys Spring into New Semester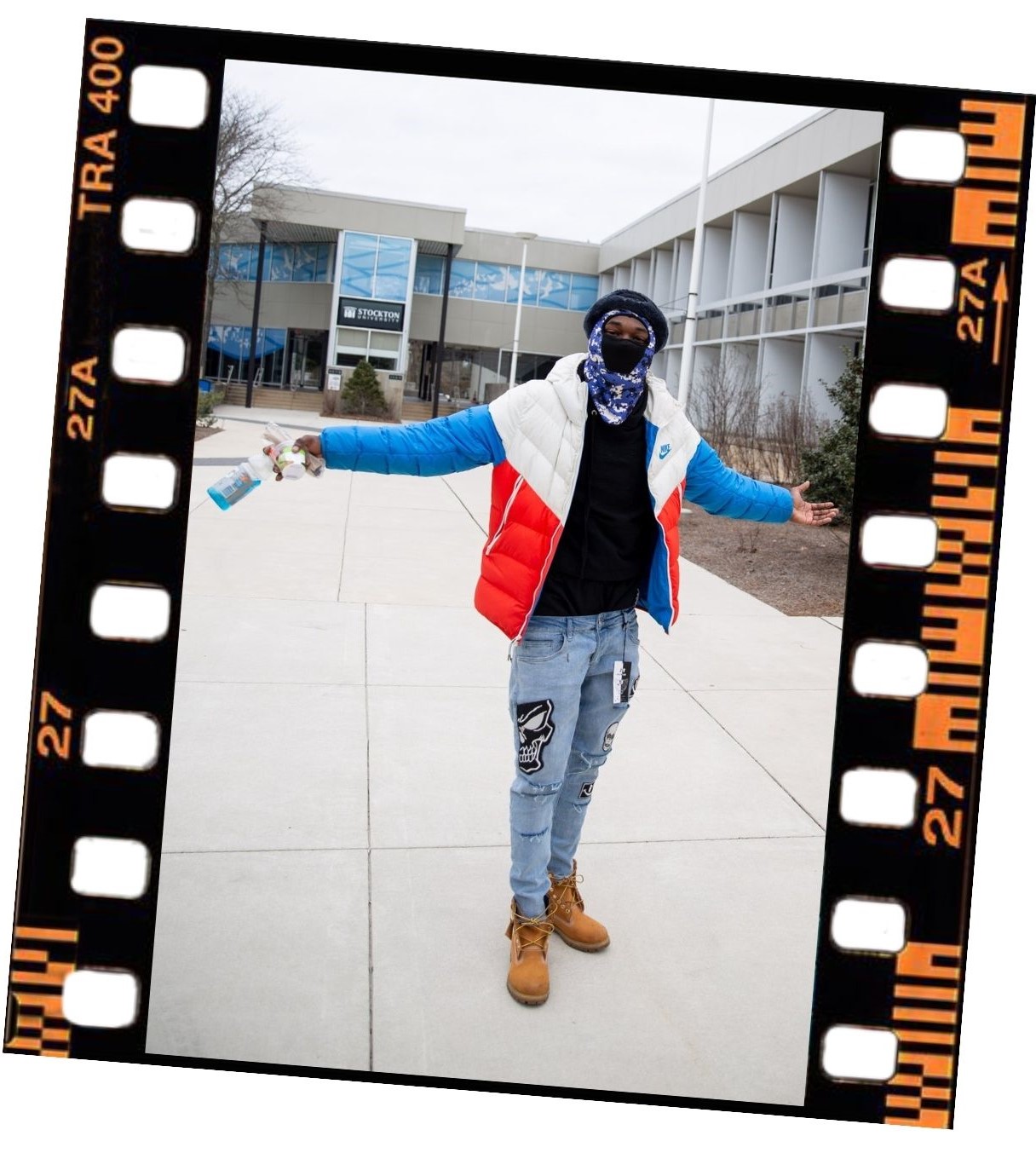 Ospreys 🦅 have landed this week to start the spring semester, sporting their masks and positive attitudes.
🏀 At right is basketball player Rynell Lawrence, ready for the start of the new season that kicks off next Friday, Feb. 5. Snag a pair of sweet socks 🧦 by supporting Stockton Athletics.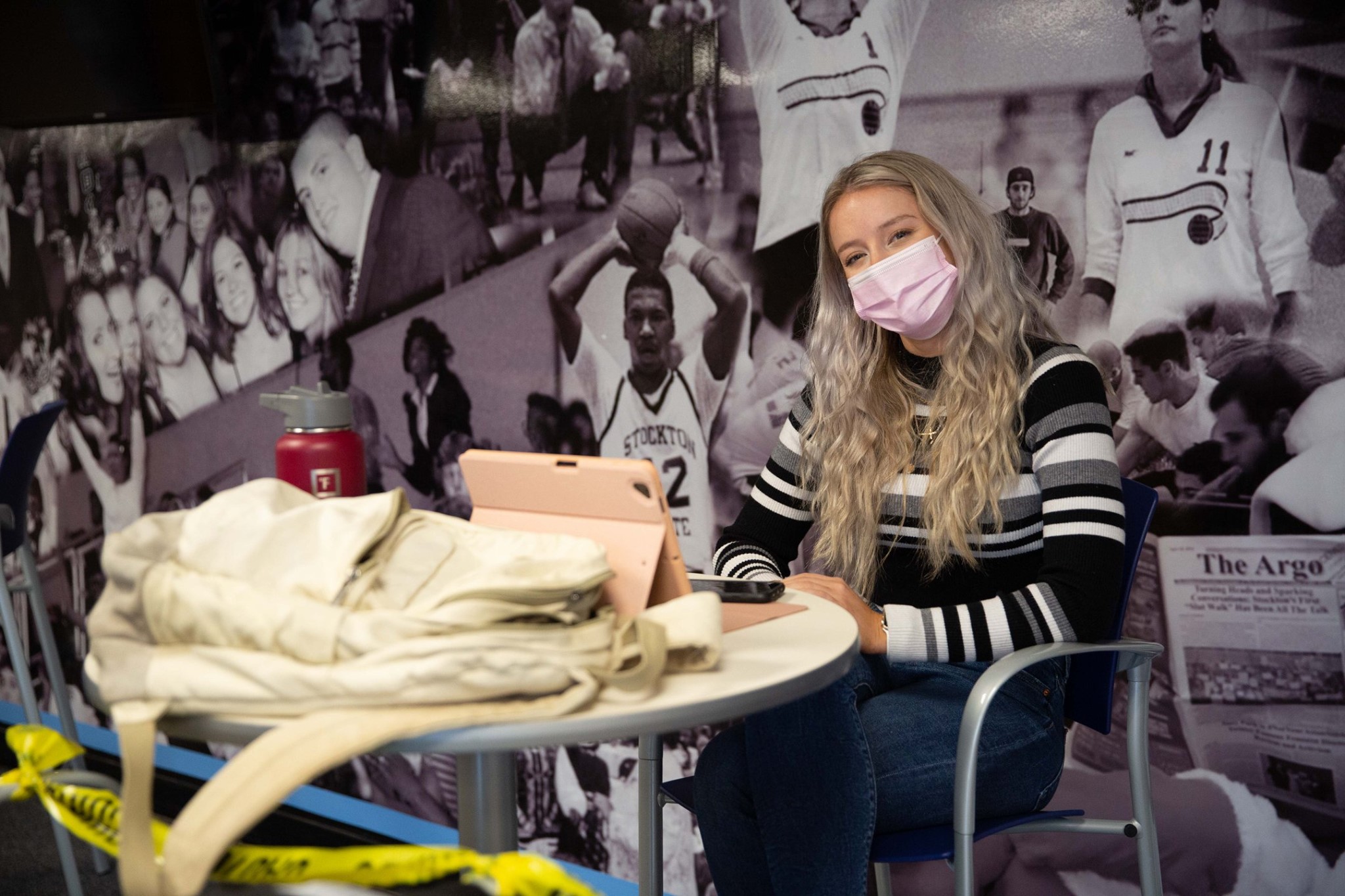 Wishing all our Ospreys a safe and happy spring semester!
WHAT'S TRENDING @ #STOCKTONU
Twitter: Waiting for classes to start like…
Instagram: Ospreys, tell us about your student organization!
OSPREY NOTES
Volunteers Still Needed for MLK Day of Service Events
Volunteers are still needed for the following Day of Service events Saturday, Jan. 30: Care Packages to Military Members, Enlightened Farms: Seeding Connection, Royal Suites & Spring Village: Birding Station; and Brooklyn Art Library Sketch Book Project. Register to volunteer here.
Read the SCOSA Newsletter
Read the Stockton Center on Successful Aging (SCOSA) February newsletter for interesting upcoming events and newly-added programming.
State Aid Renewal Deadline April 15
FAFSA renewal students (those students who have filed a FAFSA in years prior) need to file the 21-22 FAFSA before the April 15 state deadline to be considered for State Aid. Eligible students who miss this deadline could miss out on up to $7,500 in free money.
Remember, the State Won't Wait! Students can apply at fafsa.gov.
Submit Your Black History Month Events
The Office of Student Development is putting together a calendar to recognize Black History Month in February and is asking for submissions for any events, programs, workshops, etc. that could be included in the calendar. Be sure to include the event title, date & time, location/virtual link, organization(s)/offices sponsoring the event, and description of the event. Visit here to submit your event.
Roster Verification Reminder for Faculty
As the spring semester is quickly approaching, faculty are reminded to confirm student attendance at the beginning of each course after the add/drop period. The Office of Financial Aid will use this information to make adjustments to student financial aid disbursements based upon the confirmed number of credits.
Each instructor will be responsible for verifying student attendance or participation in an academic activity. For online courses, faculty are reminded to include an assignment or discussion activity during the drop/add period so that the student's attendance can be confirmed.
The link to complete Roster Verification can be found under the faculty tab within the goStockton portal.
For more information and a list of frequently asked questions, visit here.
Submit Applications for Day of Scholarship 2021
Day of Scholarship applications are being accepted now through March 1, and can be submitted by visiting here.
Day of Scholarship 2021 will be held virtually from 9 a.m.-1 p.m., Thursday, April 8. If you have any questions, email Ronnie Maiorino at ronnie.maiorino@stockton.edu
UPCOMING VIRTUAL EVENTS
Upcoming Events Hosted by the Office of Development and Alumni Relations
Jan. 30: MLK Day of Service
Feb. 1-18: High School Diploma Test Preparation
Feb. 4: How to Prepare for Tax Season
Feb. 4-25:Music of African Americans
Upcoming Continuing Studies offerings: Retirement Planning, Online Leadership Series: Leadership and Team Building Through Active Learning; and Social Worker Continuing Education Series: Breaking Free from Eating Disorders After Surviving Trauma and Abuse