Stockton News - July 22, 2022
WHAT WE'RE TALKING ABOUT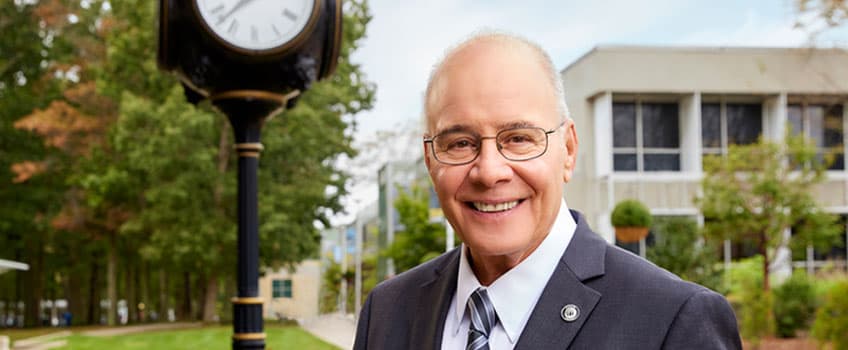 📣 President Harvey Kesselman Announces Retirement
Stockton President Harvey Kesselman announced July 20 he will retireas the University's fifth president at the end of the fiscal year, June 30, 2023.
"There are no words to accurately express how I feel about my beloved alma mater. My time and tenure with Stockton have been nothing short of amazing, exceeding all of my expectations as a career and a community," Kesselman said in making his announcement at the Board of Trustees meeting at the Stockton Atlantic City campus.
President Kesselman is unique in the history of Stockton. As a member of the first class at then Stockton State College in 1971, he continued on to become a faculty member, and has held several mid- and senior-level administrative positions, including provost and executive vice president. He began serving as acting president in April 2015. The University's Board of Trustees named Kesselman president in December 2015.
📰 The Associated Press picked up the announcement, leading to an array of media coverage, including the Philadelphia Inquirer, The Press of Atlantic City, WPG Talk Radio, Patch.com, Downbeach.com, NJ Biz Magazine, SFGATE,The Ridgefield Press, and The Titusville Herald.
🎬 View the President's personal video message here.
---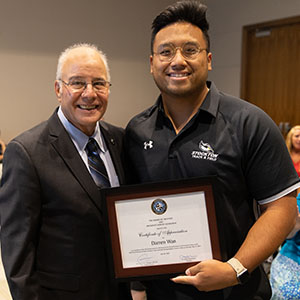 Stockton Sets Tuition and Fees for 2022-23
Tuition and fees at Stockton will increase2% for the 2022-23 academic year and summer 2024 session.
In-state full-time undergraduate students will pay $7,594 per semester for up to 20 credits, a 2% or $151 increase, under the tuition and fee structure approved by the Board of Trustees at their July 20 meeting at the Stockton Atlantic City campus.
"We remain committed to providing students access to high-quality education and services at an affordable price," President Harvey Kesselman said.
Stockton offers several initiatives to help students complete their degrees in a timely and cost-effective manner.
The University's flat-rate tuition plan allows full-time students to take up to 20 credits per semester at no additional cost, potentially saving thousands of dollars.
PHOTO: Kesselman presents athlete Darren Wan a plaque in recognition of earning All-American status in Outdoor Track & Field.
---
Stockton News Recognized for Publication Excellence
🏆 Stockton News, a weekly e-newsletter (the one you're actually reading right now, so thank you!), was selected as a Grand Winner in the Newsletter category for the 2022 APEX Awards for Publication Excellence. One hundred Grand Awards were presented to honor outstanding work in 14 major categories, with 485 Awards of Excellence recognizing exceptional entries in 100 subcategories.
STOCKTON UNIVERSITY ATLANTIC CITY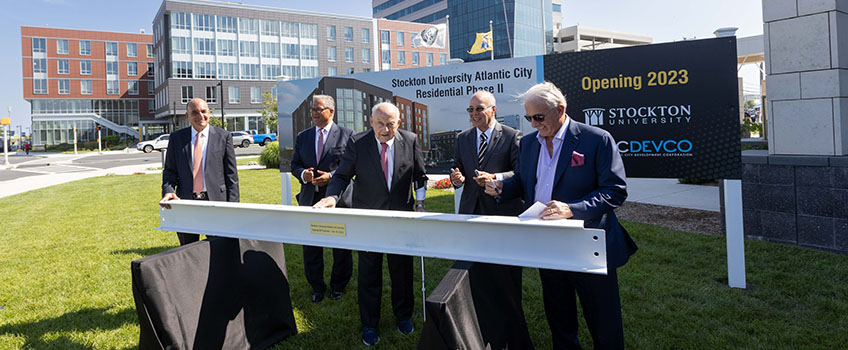 Stockton Marks Milestone in Atlantic City Expansion
Stockton markeda milestone in the construction of the second phase of its Atlantic City campus and recognized one of the key project champions during a topping-off ceremony on July 19.
Stockton and community leaders who were instrumental in the development of the Phase II Residence Hall signed a steel beam that will be placed in the building, which is planned to open in Fall 2023.
Additionally, President Harvey Kesselman and Provost Leamor Kahanov bestowed an honorary Doctor of Public Service degree upon Jon F. Hanson, founder and chairman of The Hampshire Companies and chairman of the board of the Atlantic City Development Corporation (AC Devco), which developed the 2018 Gateway Project in Atlantic City that includes the Stockton Atlantic City campus.
📰 In the News:Downbeach.com, The Press of Atlantic City
FRAME-WORTHY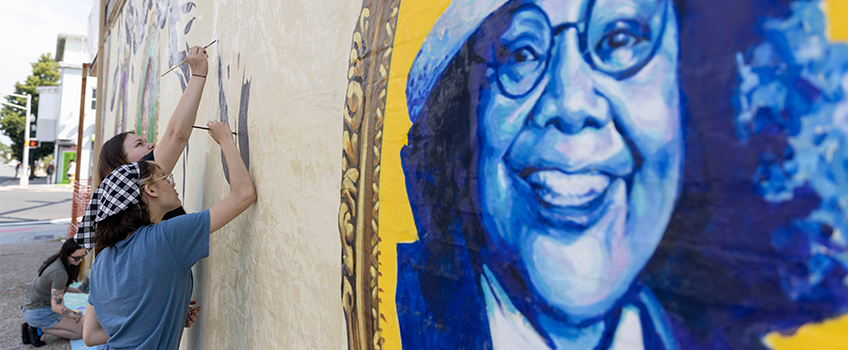 Students Collaborate with Artists to Create Atlantic City Murals
Alexandria Montalvo never thought artwork she helped create could have such an impact.
The senior Stockton University student put the finishing touches July 14 on a new wall mural in Atlantic City to honor four African American education trailblazers. The mural is one of two finished this week in time for the NAACP National Convention, which took place in the city for the first time since 1968.
"I've never done anything like this before," said the 27-year-old art history and studio art major from Mays Landing. "Typically, when I do art, it's for myself and not for something as important as this. So, it's really cool that I can tell people, 'See that, I helped with that.'"
📰 In the News:Philly Voice, The Trentonian
WHAT'S TRENDING

@ #STOCKTONU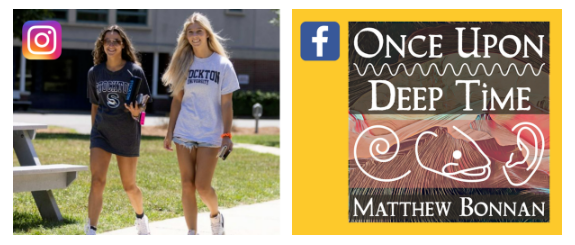 Facebook: While images from NASA's James Webb Space Telescope #unfoldtheuniverse on social media today, Stockton Associate Professor of Physics Joseph Trout and students unboxed a new telescope outside the Harold E. Taylor Observatory to get their own views into space.
Instagram: We've got new Ospreys 🦅 landing in the nest! Let's hear some of your best advice...
FROM THE SIDELINES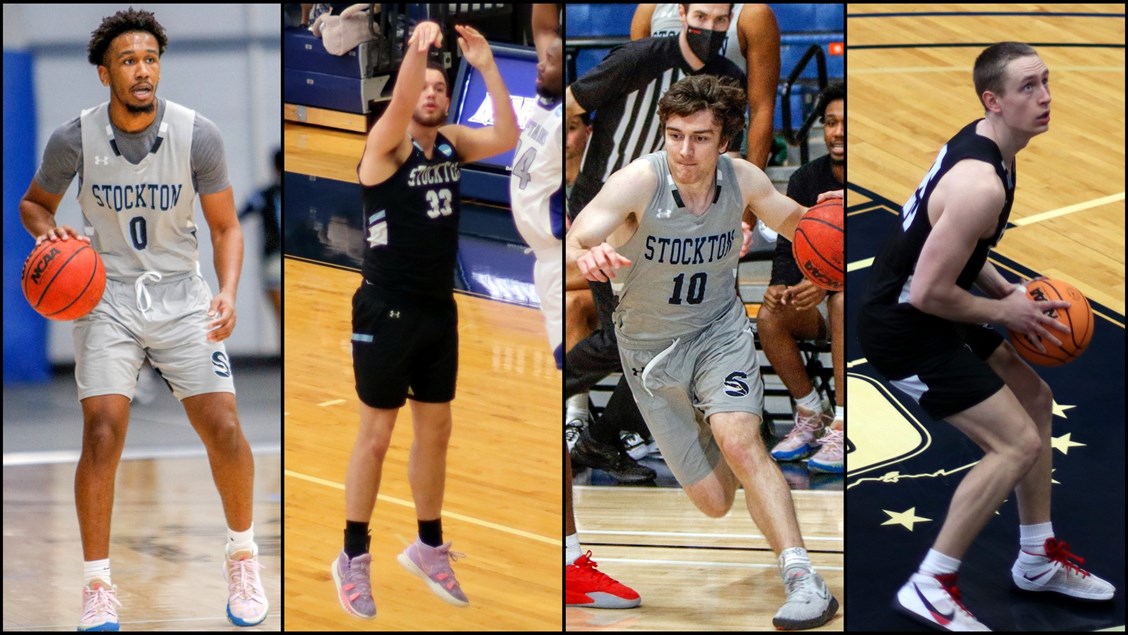 Four Ospreys Qualify for NABC Honors Court
Stockton men's basketball players Kadian Dawkins, John Georgiou, Nick Duncsak and Tim Petersenqualifiedfor the 2022 NABC Honors Court from the National Association of Basketball Coaches.
The NABC Honors Court recognizes men's basketball players in all three NCAA Divisions plus the NAIA for their academic achievement. To qualify, players must be a junior or senior with a cumulative grade point average of 3.20 or higher at the conclusion of the 2021-22 academic year.
OSPREY NOTES
ITS Tech Tip: Document Storage in OneDrive and SharePoint
💻 Microsoft OneDrive is a cloud storage platform included in our organizational Office 365 subscription. It allows for the remote storage and rapid retrieval of documents, as well as secure backups and versioning for Office Suite documents. OneDrive will soon replace Stockton's traditional My Documents network storage folder and will bring with it several features and improvements OneDrive offers, such as concurrent editing and remote file access. SharePoint replaces the traditional network share drive and introduces owner-level permissions controls and sharing capabilities. Learn more here.
Faculty Members Reflect on FRN Experiences
Stockton faculty members engaged in immersive experiences this past June through the Faculty Resource Network (FRN) program offered at New York University. The professional development opportunities and Summer Scholar in Residence enrich their work here at Stockton. Read about their reflections here.
Phasing Out 50th Anniversary Branding Aug. 1
Beginning Monday, Aug. 1, the University will begin to phase out the use of 50th anniversary branding as the yearlong celebration draws to a close. Hereyou can find standard University logos and PowerPoint templates for download, and email signatures can be found here.
---
Stockton Sentiments and Memories . . .
"When asked about my Stockton story, one name comes to mind- Toby Rosenthal. She helped me get into the Disney College program my first time in 2020 and again when it reopened in 2021. She was the first to let me know that it came back. I remember all the time in class with her as well as her being a preceptor."
– Evan Johnson
Have a memory you'd like to share in celebration of Stockton's 50th anniversary? Submit it here.
UPCOMING EVENTS