Stockton News - July 29, 2022
WHAT WE'RE TALKING ABOUT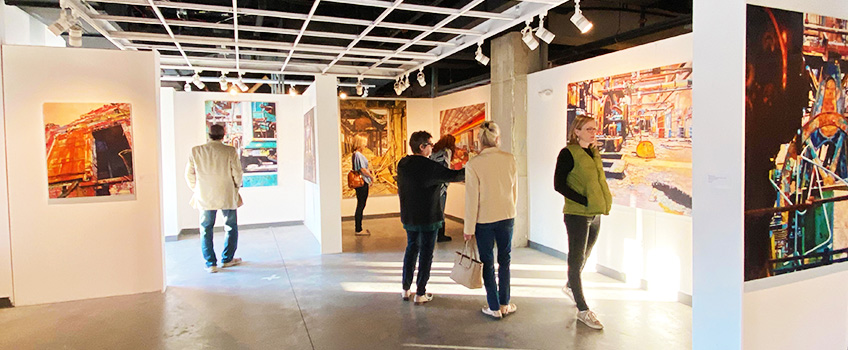 Noyes Museum Receives Dodge Grant of $30,000
The Geraldine R. Dodge Foundation's Board of Trustees recently approveda $30,000 general operating support grant to the Noyes Museum of Art of Stockton University.
The Noyes Museum of Art was created to provide southern New Jersey with "opportunities to learn about, explore, and experience the arts." With different sites in Atlantic City, Galloway and Hammonton, Michael Cagno, the executive director of the Noyes Museum, is excited to continue this vision through the Dodge Foundation grant.
STOCKTON UNIVERSITY ATLANTIC CITY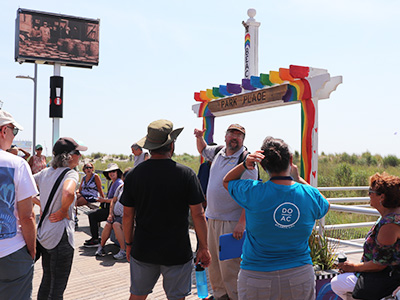 Continuing Studies Program Does AC Through Walking Tours
Around 30 people braved a heat wave to embark on a tour through Atlantic City's former "gayborhood," now known as the Orange Loop, on Friday, July 22. Thanks to the occasional ocean breeze and some shadowed areas along the route, participants of the program, sponsored by Stockton's Office of Continuing Studies, learned about Atlantic City's cultural history.
Diana Strelczyk, assistant director of the Office of Continuing Studies, developed the walking tours in the summer of 2018 after seeing an article about Levi Fox, adjunct professor of General Studies and Atlantic City historian, leading tours of former casinos. Strelczyk thought a similar tour, but encompassing all of Atlantic City's history, would be a lot of fun, and that led her to develop the program with Fox.
WHAT'S TRENDING

@ #STOCKTONU

Instagram: Say you're from Jersey without saying you're from Jersey...
Facebook: What makes you wake up in the morning? For Cecilia Mitchell '22, the answer is dance. She's showing other Black women and girls that they too can soar.
Twitter:How do Ospreys mako the most of #SharkWeek? They head to Florida to catch and tag sharks for scientific research.
FROM THE SIDELINES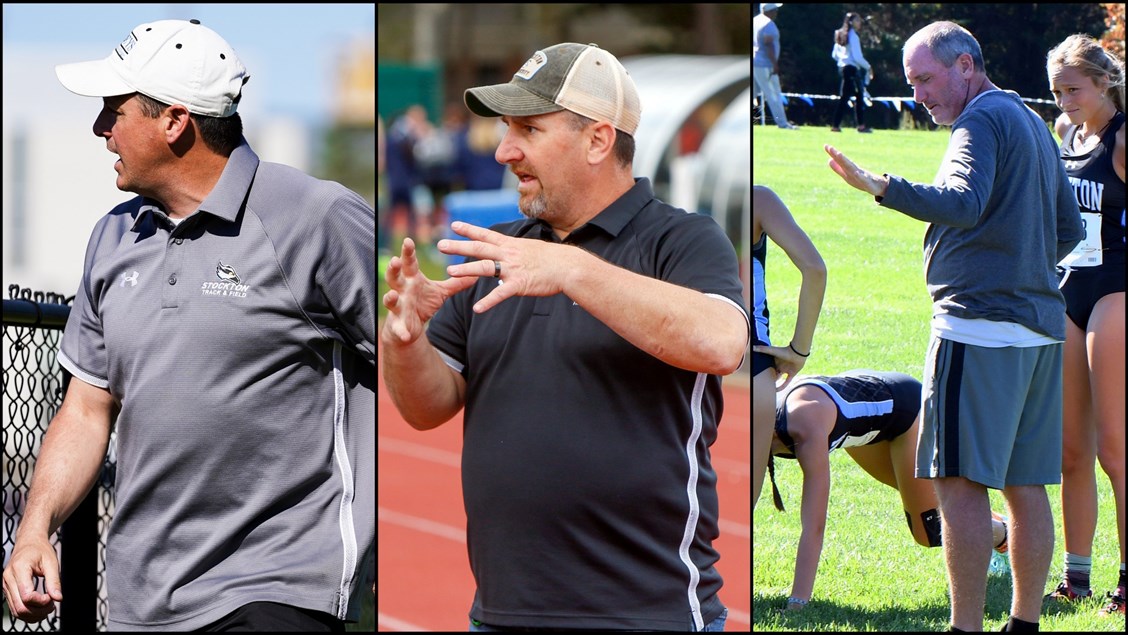 Track & Field And Cross Country Coaching Staffs Restructure
The Stockton cross country and track & field programs are restructuringtheir coaching staffs for the upcoming 2022-23 season. As a result of the realignment, three coaches will be assuming new roles, and three teams will have a different head coach.
Jayson Resch will remain director of Cross Country and Track & Field/Head Men's Track & Field Coach and add Head Women's Track & Field Coach to his duties. Nick McDonough will remain Head Women's Cross Country Coach and replace Resch as Head Men's Cross Country Coach. McDonough also will be an assistant coach for track & field.
Todd Curll is voluntarily stepping back as Head Women's Track & Field Coach, but he will remain on staff as an assistant track & field coach, primarily working with the pole vaulters. The moves streamline the coaching staff, with Resch the head coach for both track & field teams, McDonough the head coach for both cross country teams and Curll staying at Stockton as an assistant coach.
Assistant coaches Kevin Chandler (throws), Emily Higbee (javelin) and Mike Kotleski (hurdles) will remain in their current positions.
Stockton Achieves IWLCA Academic Recognition
The Stockton women's lacrosse team and five of its student-athletes qualified for academic recognition from the Intercollegiate Women's Lacrosse Coaches Association (IWLCA). The Ospreys earned acknowledgment as an IWLCA Academic Honor Squad by registering a team grade point average of 3.2 or higher for the 2021-22 academic year.
Stockton Joining Coastal Lacrosse Conference in Men's Lacrosse
Stockton will jointhe newly-created Coastal Lacrosse Conference in men's lacrosse, beginning with the Spring 2023 season. The league was formed jointly by the Coast-To-Coast Conference (C2C) and the New Jersey Athletic Conference (NJAC).
The Ospreys join Kean University, Montclair State University, Christopher Newport University, Salisbury University and University of Mary Washington in the single-sport conference. Stockton, Kean and Montclair State are full-time NJAC members, while Christopher Newport, Salisbury and Mary Washington are in the C2C, but neither league sponsors men's lacrosse.
OSPREY NOTES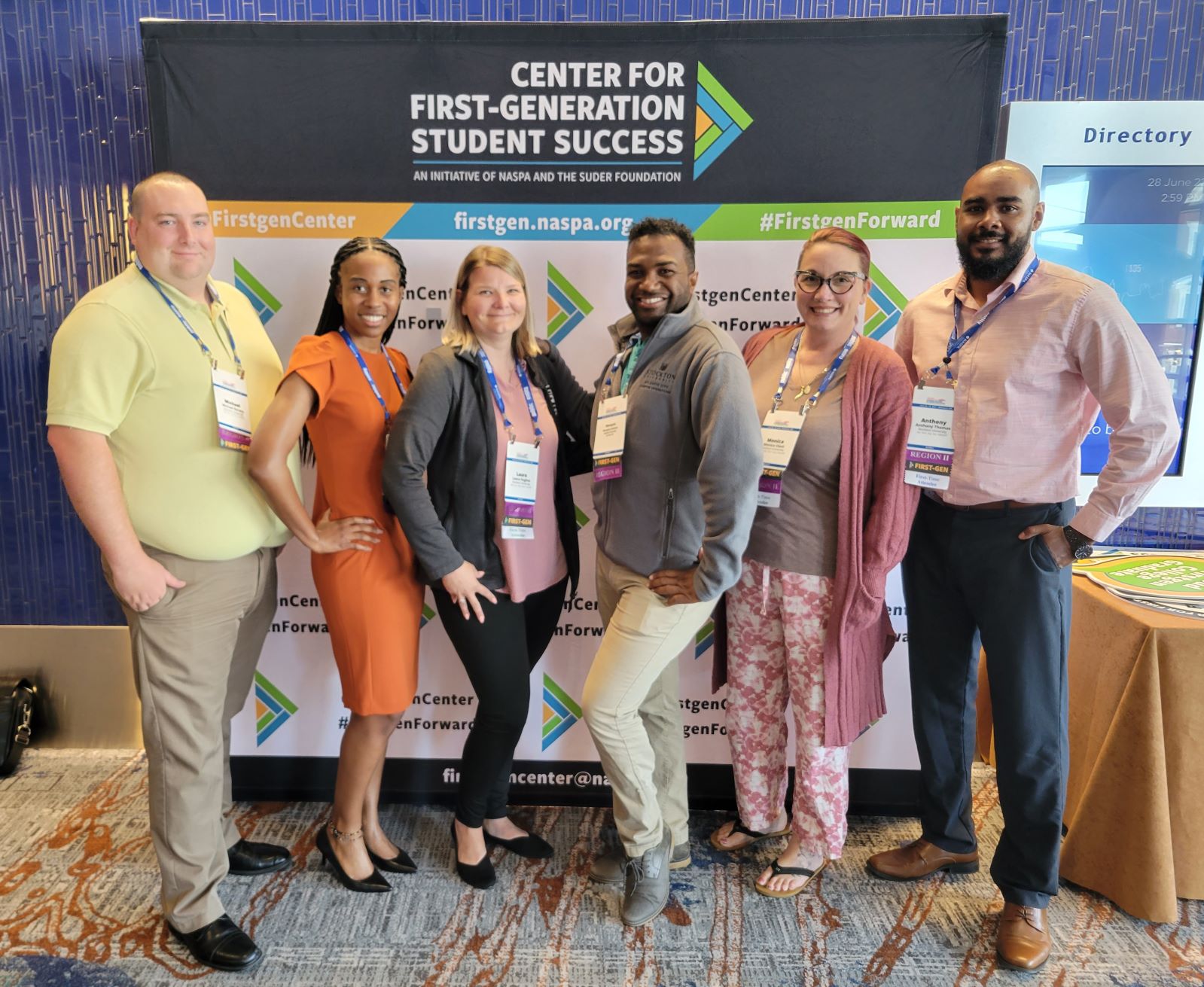 Student Affairs Staff Attends 2022 NASPA Conference
Student Affairs representatives attended the 2022 NASPA conference on Student Success in Higher Education, June 26-29, in Baltimore. Highlights included sessions on dismantling systemic barriers to student success, first-generation student success, assessment, persistence and data analytics.
The conference provided the attendees with information and research done to help strengthen their knowledge bases, with the intention of enacting systemic change and ensuring equality and access for all students.
From left to right, Michael Barany, director of Military and Veterans Success Center; Jhanna Jean-Louis, director of Student Affairs Finance, Administration and Operations; Laura Hughes, PSS2, Office of the Dean of Students; Marques Johnson, associate dean of Students; Monica Viani, assistant supervisor, Assistance Programs; and Anthony Thomas, director of Learning Access Program (not pictured, but in attendance was Christine Klenk, athletic trainer).
Update to 2022 Summer Hours
In anticipation of this Fall's compressed work week and flexible work schedule pilot, the summer schedule will continue through Friday, Sept. 2. The Fall Pilot will commence on Monday, Sept. 12, as there is no compressed week option for the week of Sept. 5 due to the Labor Day holiday.
Continue to work with your manager and divisional executive to ensure the operational needs of your unit are met and that your schedule for the fall is finalized.
If you have questions regarding the summer work schedule, contact Mamta Patel, associate vice president for Human Resources, at ext. 6488.
Phasing Out 50th Anniversary Branding Aug. 1
Beginning Monday, Aug. 1, the University will begin to phase out the use of 50th anniversary branding as the yearlong celebration draws to a close. Hereyou can find standard University logos and PowerPoint templates for download, and email signatures can be found here.
UPCOMING EVENTS