Stockton News - March 4, 2022
WHAT WE'RE TALKING ABOUT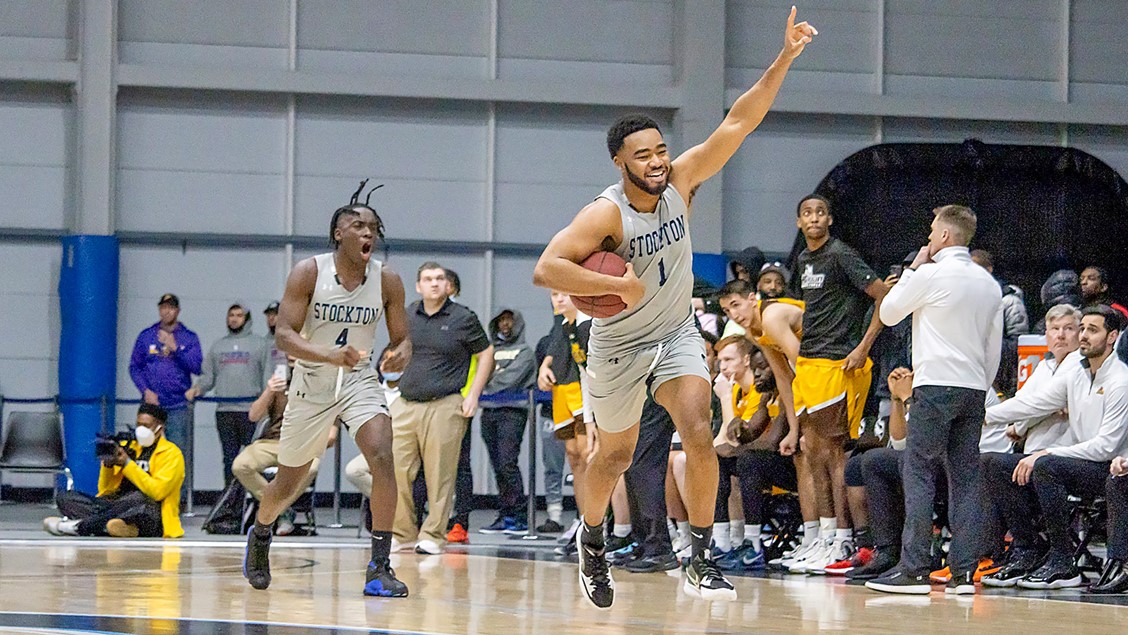 🏀 Stockton to Host NCAA Tournament Today, Tomorrow
On the heels of their nail-biter win over Rowan on Feb. 26, the men's basketball team will begin its NCAA Tournament journey at home as the Ospreys were selected to host first- and second-round games on March 4-5.
Today, Stockton will host Wilson College (Pa.) at 4:30 p.m. in the back half of a first-round split session that also features Johns Hopkins versus Yeshiva at 1 p.m.
The winners will meet in an NCAA second-round game at Stockton tomorrow, March 5. If Yeshiva wins today, then Saturday's game will be at 9 p.m. If Johns Hopkins wins, then Saturday's game will be at 4:30 p.m.
🎉 Let's Go Ospreys!: Thanks to the generosity of the President's Office, all Stockton games are free for Stockton students, faculty, staff and alumni. Stockton ID or Alumni Card must be presented for free admission. Alumni may request their card at the Alumni tent on game day.
---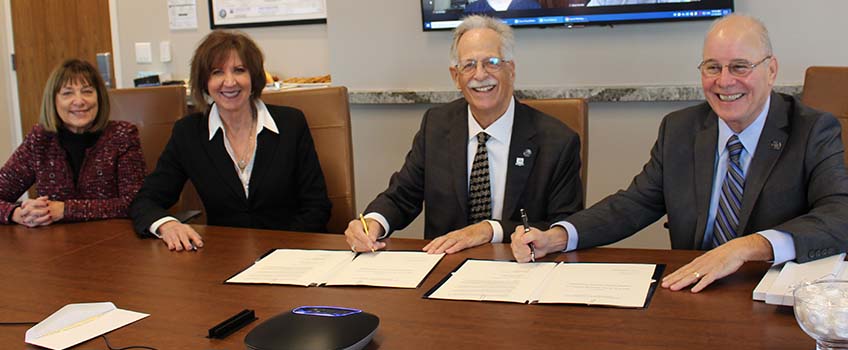 Foundation Builds on 50 Years of Giving
Steven Perskie was a young lawyer and state legislator in 1971 when then Stockton State College president Richard Bjork approached him about helping set up a non-profit Stockton Foundation.
"He said this was not to be used for salaries or buildings; this would be for the students. Of course, I said yes," said Perskie who also chaired the Foundation in its early years.
Those early years were spent defining the mission of the Foundation and recruiting members. In addition to scholarships, the Foundation also supports programs and events that benefit students and the community.
---
Stockton 7th in Nation for Minority, Hispanic Graduation Rate
Stockton University ranks 7th in the nation among public colleges and universities with the highest graduation rates for Hispanic students and overall minority students according to a new report issued by the Chronicle of Higher Education.
The report, "Recruiting and Retaining Students in a Challenging Market," uses federal data on retention and graduation rates and included only institutions with at least 100 eligible Hispanic students. It is based on students who entered in the fall of 2013 and graduated within six years, by 2019.
📰 In the News: Press of Atlantic City, Downbeach.com
---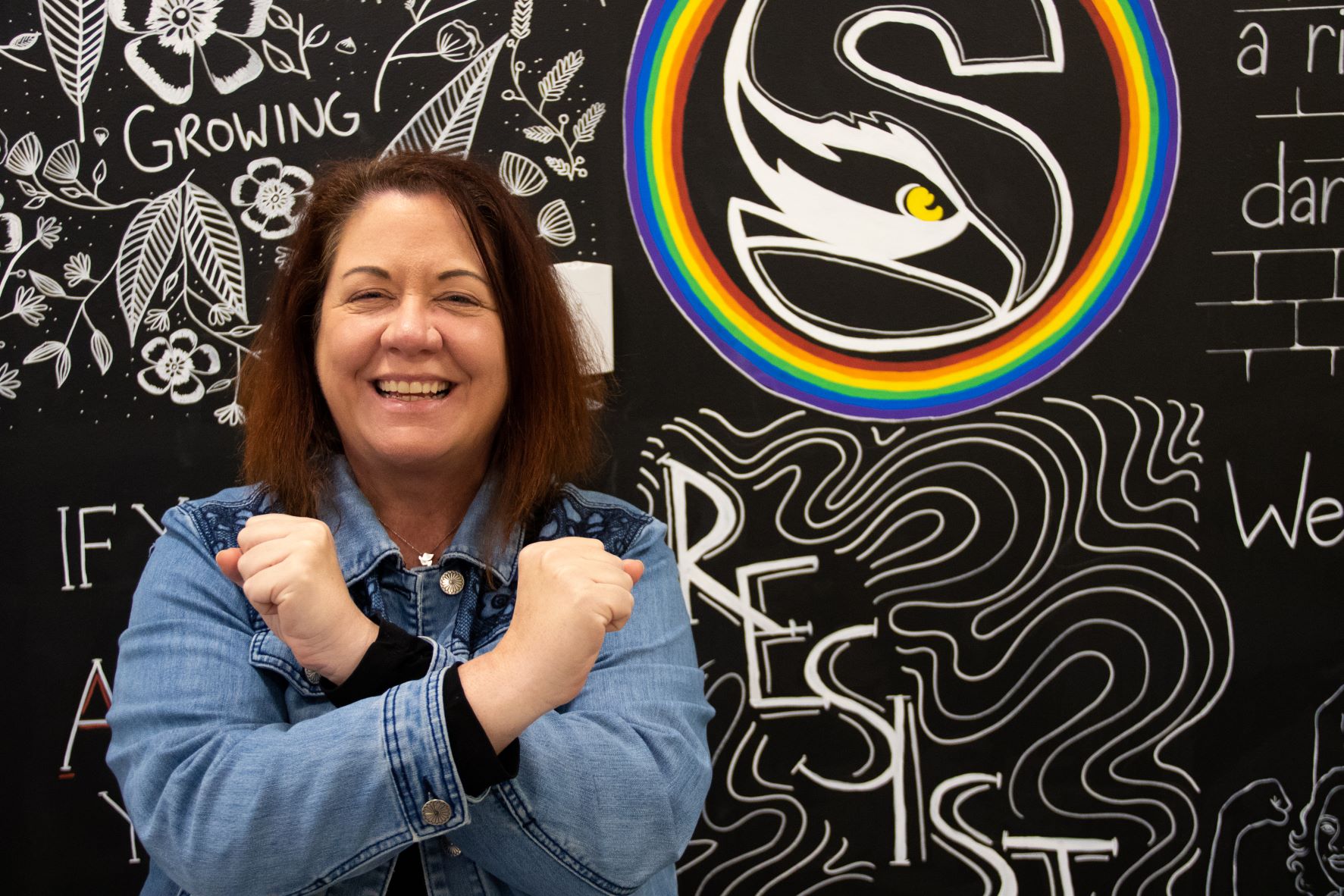 Stockton Raises Awareness to 'Break the Bias'
The Women's Gender and Sexuality Center (WGSC) will celebrate International Women's Day from 10 a.m. to 2 p.m. Tuesday, March 8, in the Campus Center Grand Hall.
The theme for the day is #BreakTheBias and will include tabling, a panel discussion, an open mic, and a salary negotiation workshop. Members of the faculty, staff and students have also been photographed promoting the "Break the Bias" theme.
A highlight of the day will be the new STEM (Science, Technology, Engineering and Math) panel at 10:30 a.m. The panel will feature four successful women in the STEM field; Jennifer Bristow, Project Engineer of the Delaware River and Bay Authority; Alida Hall, Internal Auditor of NJM Insurance, and Stockton alumna;Ann Arena, Senior Director of Business Process Improvement at Spencer's; and Margaret E. Lewis, Stockton Professor of Biology.
STOCKTON UNIVERSITY ATLANTIC CITY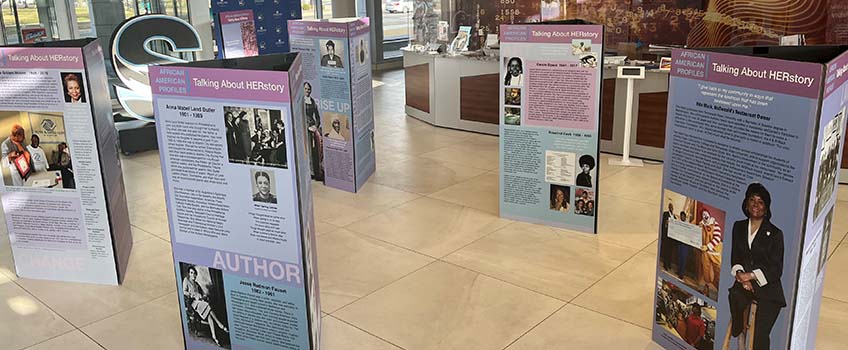 Atlantic City Exhibit Shares 'Herstory'
Stockton University Atlantic City presents an exhibit through March 9 on 'Talking About HERstory' focusing on African American Women in South Jersey who made a difference.
Curated by Anne Taylor Glapion, "Talking About HERstory" celebrates Women's History Month and is on display in the John F. Scarpa Academic Center main lobby.
📰 In the News: CBS Philly
---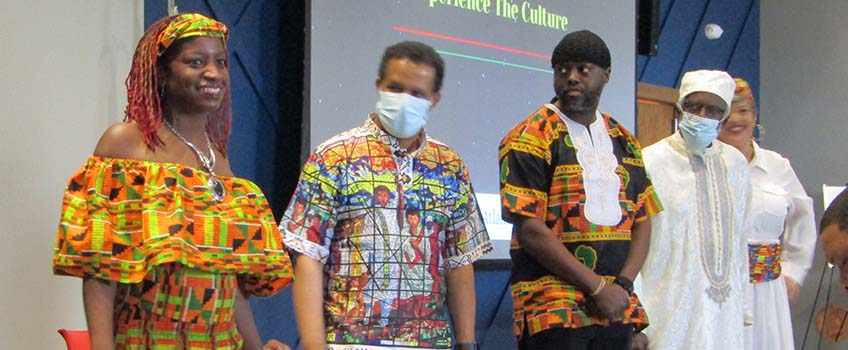 Black History Celebrated at Stockton Atlantic City
The Stockton University Division of Student Affairs, in collaboration with the City of Atlantic City, closed Black History Month with a celebration in the Fannie Lou Hamer Event Room at Stockton Atlantic City that recognized the achievements and contributions of historic Black figures who had an impact on history.
---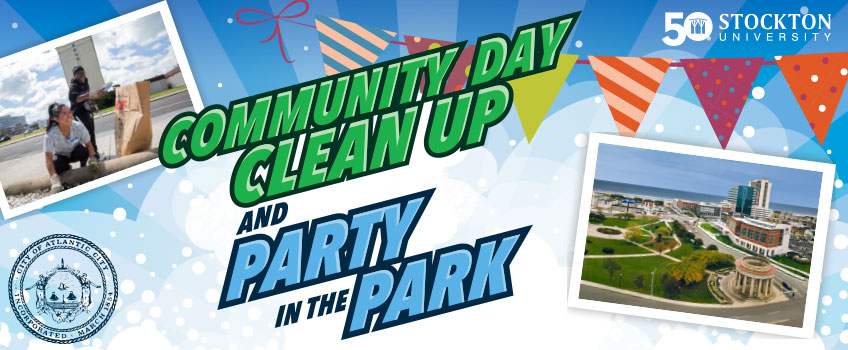 Volunteer for Community Day Cleanup & Party in the Park
In celebration of the University's 50th Anniversary, Stockton is partnering with the City of Atlantic City and several City Neighborhood Associations and other supporters for a massive Community Day Cleanup and Party in the Park from 11 a.m.-4 p.m. on Saturday, April 23.
Faculty and staff can volunteer during the event by filling out this form.
FRAME-WORTHY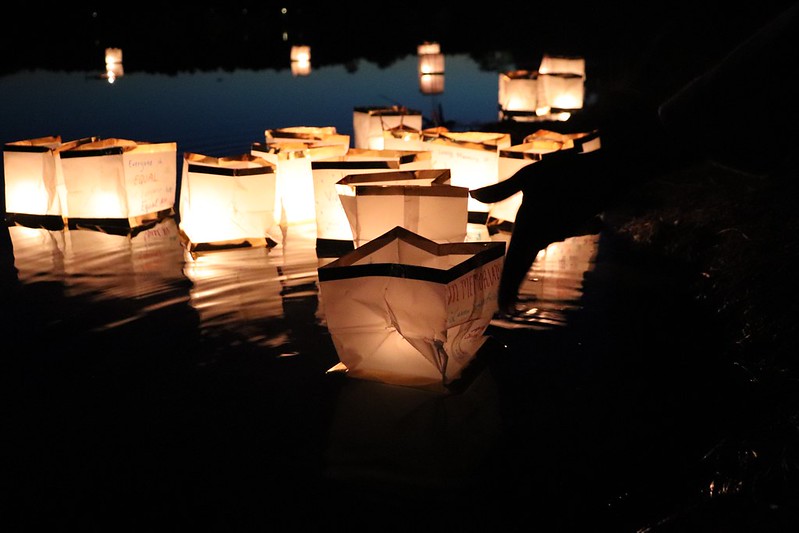 "Let a candle burn for those we've lost."
To wrap up Black History Month celebrations at Stockton, Unified Black Students Society (UBSS), Student Development, SPACES and the Africana Studies program held a vigil on Feb. 28 in Lakeside Lodge to honor loved ones and individuals who've made an impact on the Black community through song, spoken word poetry and a moving luminaria on Lake Fred. View Flickr gallery here.
WHAT'S TRENDING

@ #STOCKTONU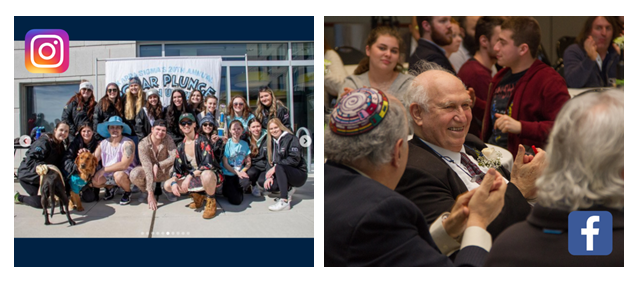 Instagram: Saturday morning started out at 28 degrees, but that didn't stop the #StocktonU Ospreys from taking an ocean plunge 🥶 in front of @stocktonac to benefit Kappa Sigma's Military Heroes Campaign.
Facebook: The last time Yitzhak Sharon's birthday appeared on a calendar was in 2020. He won't have another official birthday until Feb. 29, 2024.
FROM THE SIDELINES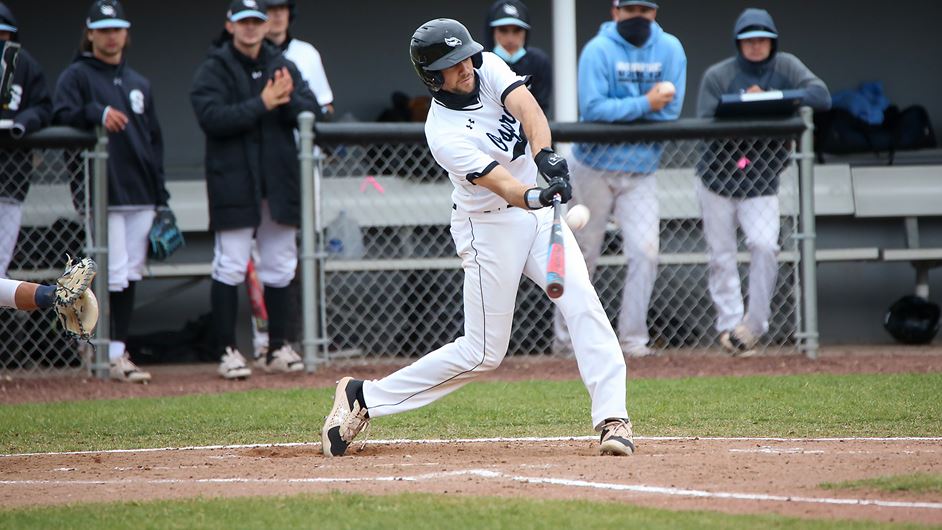 Stockton Plays to 6-6 Draw with Alvernia
Baseball: Stockton University (2-0-1) played to a rare 6-6 draw with Alvernia University on March 2. The game was called after nine full innings due to darkness. John Perrino, Mike Costanzo and freshman Jordan Nitti led the 14-hit attack with three safeties each.
Stockton Wins 20-7 at USA Lacrosse Headquarters
Women's lacrosse: Stockton University (1-1) earned its first victory of the season on March 3 with a 20-7 triumph over Bridgewater College (2-2) in a neutral-site game played on William G. Tierney Field at USA Lacrosse headquarters.
Six Ospreys scored two goals or more, led by Mary Meduri with six goals and one assist for seven points. Holly Yannacone tallied three goals and three assists for six points.
🗓️ View the full schedule of upcoming athletic events here.
WE'RE HERE TO HELP
COVID-19 Information
🧪 FREE COVID TESTING: Free COVID-19 testing for the public at the Chris Gaupp residence hall is available from 7 a.m. to 7 p.m. daily through a Praxis. The site at the Carnegie Center in Atlantic City is open from 12-5 p.m. on Thursdays, Saturdays and Sundays. COVID-19 screening for unvaccinated employees is still held at Pomona House.
💉 BOOSTER REQUIREMENT: Employees are now required to receive a COVID-19 booster dose. Proof should be submitted immediately or within two weeks of becoming eligible. Use the Employee tab in the Portal to update your booster status or submit to Joyce.Wilson@stockton.edu in the Office of Human Resources so that your status can be confirmed. Should you have any questions, contact Mamta.Patel@stockton.edu.
😷 MASK UP: The University requires masks be worn indoors, regardless of vaccination status; KN95 or N95 masks are most effective, followed by paper medical masks and must be worn to cover both the nose and mouth as tightly as possible. Cloth masks have been less effective. KN95 and surgical masks are available at the Campus Center Information Desk, Wellness Center, Division offices, the library and off-site Stockton locations.
💉 VAX UP!: AtlantiCare will hold COVID-19 vaccine clinics in West Quad 103 through March. Boosters are available. Details and dates are on the COVID-19 website.
Resources for Faculty and Staff
🧠 Stockton provides faculty and teaching staff with professional development, training, teaching ideas, resources and individual consultations via the Center for Teaching and Learning Design. Upcoming events include: Show Up & Write with FAWN sessions, Coming Up with New Research Ideas, March 8; Having Anti-Bias Discussions in Class, March 9; Organizing Course Content in Blackboard for Face-to-Face and Hybrid Courses, March 17; Your Legal Rights as Educators, March 24; and 15-Minute Splash of Community Engagement, March 24. Visit here for event Zoom links and more information.
OSPREY NOTES
State Aid Renewal Deadline April 15
All students who have previously filed a FAFSA are required to file the 22-23 FAFSA before April 15 to be considered for state financial aid programs for the 2022-2023 academic year.
Eligible students who miss this deadline could miss out on free money from programs including the Tuition Aid Grant (TAG), the Educational Opportunity Fund (EOF) and the new Garden State Guarantee (GSG), which offers eligible students a $0 net price for tuition and fees.
Students who receive the Stockton Promise Grant must also file by April 15 to be considered for the grant in the 22-23 academic year.
Remember, the state won't wait! Students can apply at fafsa.gov.
---
Stockton Sentiments and Memories . . .
"Now that I am looking at sixty-five and watching my children finish University, I realize how fortunate I was to attend SSC 1975-1980. Stockton gave me an intellectual/philosophical life that sent me out into the world- Peace Corp, teaching and adventuring overseas- still traveling about the world.
It was two particular teachers/mentors- Professor Shelby Broughton and Professor Bill Sensiba who shaped my beliefs and life. I doubt I would have made it without the guidance and compassion from these two grounded teachers/mentors/men. Without their guidance, I would have followed a different, I imagine, darker path. I quit college to travel, but I returned to finish.
Just feeling grateful enough to look back and know how blessed I was to have been at Stockton at that time/era... it was an education of my whole being. Gratitude & love to Shelby & Bill, wherever you are, here or behind the veil."
- John Mahoney '81
Have a memory you'd like to share in celebration of Stockton's 50th anniversary? Submit it here.
UPCOMING EVENTS