Stockton News - March 5, 2021
WHAT WE'RE TALKING ABOUT
Black History Month Marches into the Future
It may have been held at the end of Black History month, but the march hosted by the Stockton University Student Senate on Feb. 27 sent the message that the work required to achieve racial equality continues beyond one event, or one month.
"We want to celebrate Black history, present and future," said Irenonsen Eigbe, governmental affairs chair for the Student Senate, who organized and moderated the march under the theme "The Movement Continues."
President Harvey Kesselman said that it was events like the 1955 lynching of 14-year-old Emmitt Till that led to the civil rights movement and forced the nation to face racial injustice. Today, the Black Lives Matter movement has again forced Americans to address social and racial injustices.
🗣 Read President Kesselman's full remarks here.
📸 View a gallery of photos from the event.
---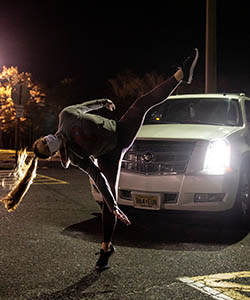 Student Dancers Conquer COVID with Drive-In Performance
The Stockton University Dance Company will present free, live, COVID-19 compliant drive-in dance performances on March 11 on the Galloway campus.
The collaborative project between Associate Professor of Dance Rain Ross and Stockton students was developed as a way for the dancers to share their own emotions and experience during the COVID-19 pandemic with an audience.
"As we continue into months of social distancing due to the pandemic, we are missing community, we are missing being able to come together and experience live performance," Ross said.
STOCKTON UNIVERSITY ATLANTIC CITY
Stockton Begins Youth Summer Rowing Program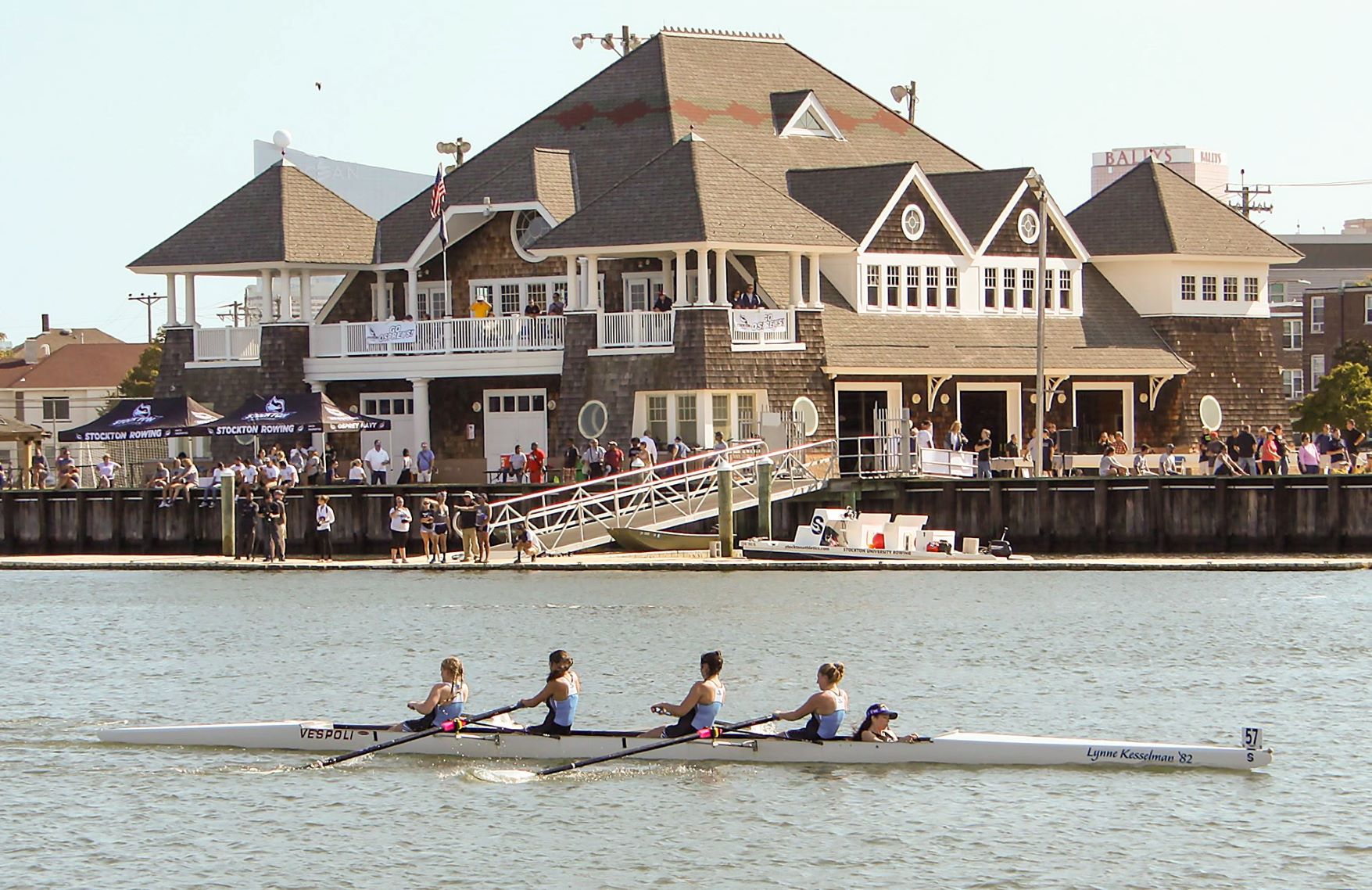 John Bancheri wants to give young people living in Atlantic City the same experience he had when he started to row the back bays in the 1970s.
"It changed my life," said Bancheri, the head rowing coach at Stockton University.
Bancheri and a group of area rowing enthusiasts have come together to help Stockton begin a new youth rowing program for middle school students in Atlantic City this summer.
The Summer Youth Rowing Program will give 40 boys and girls entering sixth, seventh or eighth grade who live in Atlantic City the opportunity to learn the basic skills of rowing and some life skills.
📰 The Press of Atlantic City covered the story.
WE'RE HERE TO HELP
Resources Available to Staff, Faculty
There are many resources and best practices being made available to staff and faculty working remotely that can be found by visiting Information Technology's website. This week's tip focuses on managing Stockton email distribution lists.
💻 To maintain Zoom security standards, Zoom will begin to differentiate between authenticated and anonymous meeting participants as of March 3. Meeting participants who are not authenticated with Zoom will now display the word "Guest" next to their name. Faculty, staff and students who use their Stockton accounts for Zoom are already authenticated. For more information on how to authenticate with Zoom using your Stockton GoPortal account, see the instructions here. For more information about securing your meetings by requiring participant authentication, or using advanced Zoom features like pre-assigning breakout rooms, click the tutorial on Zoom meeting authentication here. If you have any questions about updating your Zoom client or authenticating with Zoom, contact the ITS Help Desk at HelpDesk@stockton.edu or by phone at 609-652-4309. And remember, "Don't Zoom & Drive."
🧠 In addition to assistance with the technology available from ITS, Stockton provides faculty and teaching staff with professional development, training, teaching ideas, resources and individual consultations via the Center for Teaching and Learning Design (CTLD). Visit the CTLD events page for a variety of workshops ranging from professional development to wellness.
🧪 Stockton is offering FREE COVID-19 testing to students and employees at the Lodge at Lakeside. Go to Stockton University Testing to select a date and time to be tested and register on the Visit-Health portal.
👉 Visit the Spring 2021 Campus Operations website for up-to-date information on procedures and guidelines the University is implementing to continue to keep students, staff and faculty safe.
🔴 The New Jersey Civil Service Commission (CSC) has adopted a new, temporary rule which provides eligible State employees in the career, unclassified or Senior Executive Service with two new types of COVID-19 Paid Leave: COVID-19 Sick Leave and COVID-19 Family Leave. For more details and additional FAQs, visit here.
💉 New Jersey has developed a website for residents to pre-register to receive the COVID-19 vaccine.
If you have an appointment to be vaccinated during your normal work hours, you do not need to utilize personal sick time. When completing your timesheet you will record these hours under the "CV19SickSelf" code to cover that time.
📅 Faculty and staff are invited to join health care professionals from AtlantiCare at 4 p.m. on Monday, March 8 to address questions about the COVID-19 vaccine, testing and additional topics related to the nationwide health care response to the COVID-19 pandemic. Lori Herndon '92, president & CEO of AtlantiCare, and Dr. Manish Trivedi, Infectious Disease Specialist, will answer your COVID-19 questions. Submit questions in advance to UROC@stockton.edu
🔴 Pledge Reminder: Faculty, staff and students should complete the Stockton Health Pledge daily, even if you are not coming to campus. The pledge is emailed daily to your Stockton email and assists us in monitoring the health of our community. If you are feeling ill, do not come to campus, notify your manager, and see your doctor if necessary.
Stockton is compiling notices of confirmed positive COVID-19 cases in a dashboard on the Coronavirus home page. The dashboard is updated on regular work days.
WHAT'S TRENDING @ #STOCKTONU
Instagram: What creatures 🐿 have you spotted in Stockton's forest 🌲? It's #WorldWildlifeDay, and this year's theme is forests.

Facebook: International Women's Day is March 8, and The Women's, Gender & Sexuality Center at Stockton University is creating a photo slideshow. We want YOU to be included.
Twitter: Join the #StocktonU Maple Grant team to make these nature-inspired crafts.
FROM THE SIDELINES
🏐 Stockton Opens Season with 3-1 Victory
Stockton University opened their defense of the NJAC title with a 3-1 win over visiting Montclair State on March 2. The scores were 25-21, 23-25, 25-15 and 25-14 as Stockton took the court for the first time in 472 days due to COVID-19.
The Ospreys followed up the win with a 3-0 sweep of Rutgers-Camden on March 4.
📰 The Press of Atlantic City covered the season-opening win.
🏀 Livestream NJAC Playoffs This Weekend
Tune in tonight, Friday, March 5 at 8:15 pm to watch the men's basketball team take on Rutgers-Newark in the first round of the NJAC tournament.
The women's team will face The College of New Jersey on Saturday, March 6 at 1 pm.
📣 Cheer on our Ospreys virtually via the livestream here.
🗓️ View the full schedule of upcoming athletic events here.
🕊 IN MEMORIAM
Lynn Kramer, a long-time supporter of Stockton and many important community causes, passed away on March 1. The Kramer family has played a critical role in supporting the University for many years, through both their philanthropy and volunteer service. Lynn and her husband, Charles, a member and former chair of the Foundation Board of Directors, have made significant contributions to Stockton including the dedication of Kramer Hall in Hammonton, the establishment of the Arnold and Gertrude Kramer Endowed Scholarship Fund, and the dedication of the Kramer Veranda at Stockton University Atlantic City. In addition, Charles and Lynn have supported Stockton students and scholarships through their generous event sponsorships and other gifts.
Lynn was an extraordinarily generous person, creating the Kramer Family Foundation with Charles to support civic causes for which they cared deeply, including Atlantic Cape Community College, the Federation of Jewish Agencies of Atlantic and Cape May Counties, and the United Way of Southern New Jersey, among others. In addition to her philanthropic efforts, Lynn served as Chief Financial Officer for Kramer Beverage Company, the beer and beverage distributor founded by Charles' grandfather Ben Kramer, working side-by-side with Charles for more than 30 years.
"Lynne and I are saddened by this tremendous loss. In addition to our gratitude for the Kramer family's many positive contributions to Stockton, Lynn and Charles are our friends and we will greatly miss her," said President Harvey Kesselman. "Lynn's impact on the Stockton community and her support for our students will be felt for decades to come."
OSPREY NOTES
Read the Fund Times
The Fund Times is the Office of Research and Sponsored Programs' monthly publication dedicated to keeping Stockton's faculty and staff up to date on activities related to grant seeking, internal awards, external funding opportunities, IRB, workshops and news and information for federal, state and private sponsors. Read March's issue here.
State Aid Renewal Deadline April 15
FAFSA renewal students (those students who have filed a FAFSA in years prior) need to file the 21-22 FAFSA before the April 15 state deadline to be considered for State Aid. Eligible students who miss this deadline could miss out on up to $7,500 in free money.
Remember, the State Won't Wait! Students can apply at fafsa.gov.
Reminder: Opportunity to Participate in Age-Friendly University Survey
In 2018, Stockton University became the first institution in New Jersey to join the global Age-Friendly University (AFU) initiative. The pioneering initiative highlights the role higher education can play in responding to the opportunities and challenges associated with our aging population. To this end, we have been asked to participate in a national study of age-friendliness across campuses in the US which will use the newly developed AFU Inventory and Campus Climate Survey (ICCS).
You can participate in the online survey portion of the ICCS here.
UPCOMING VIRTUAL EVENTS
Upcoming Events Hosted by the Office of Development and Alumni Relations
Feb. 15-May 9: City of Hope: The 1968 Poor People's Campaign
March 4-6:Spring Dance Concert [will be live-streamed on site]
March 6: Stockton Day at the Maple Grove
March 22-26:Open House Week
March 24: 11th Annual Paul Lyons Memorial Lecture