Stockton News - May 27, 2022
WHAT WE'RE TALKING ABOUT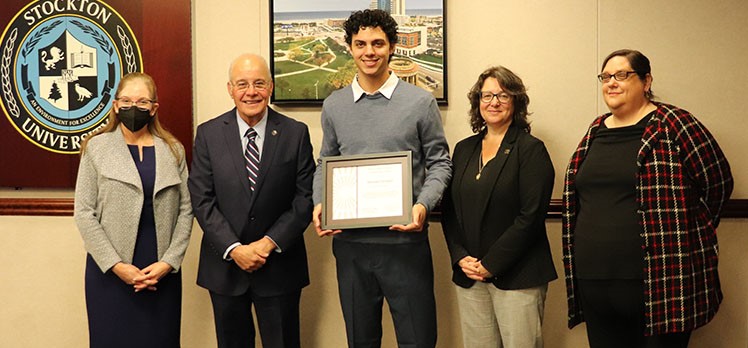 Students Awarded Fellowships, Scholarships
Recently, several Ospreys were awarded scholarships and fellowships to support their journeys at Stockton.
Nicholas Cerniglia, a Psychology major, was namedthe 2022-23 Newman Civic Fellow by Campus Compact. The Fellowship recognizes and supports community-committed students who are changemakers and public problem-solvers at Campus Compact member institutions. Each university or college can select one student each year.
Additionally, sophomore Azra Mahisareceivedthe annual Changebuilder Scholars Award for her work as a student and engaged member of the community. Mahisa was chosen as Stockton's winner through the Engage NJ's AmeriCorps Changebuilders program and received a $1,000 scholarship. The Atlantic City native is a criminal justice major with an immigration studies minor and an anticipated graduation date of Spring 2024.
Five students have received Spring 2022 Stockton Board of Trustees Student Fellowships for research projects. The students are Cerniglia, Rocco Mancuso, Shanyce Smith, Dylan Caccamesi and Shannon Glover, and the fellowships were announced at the May 4 trustees meeting.
---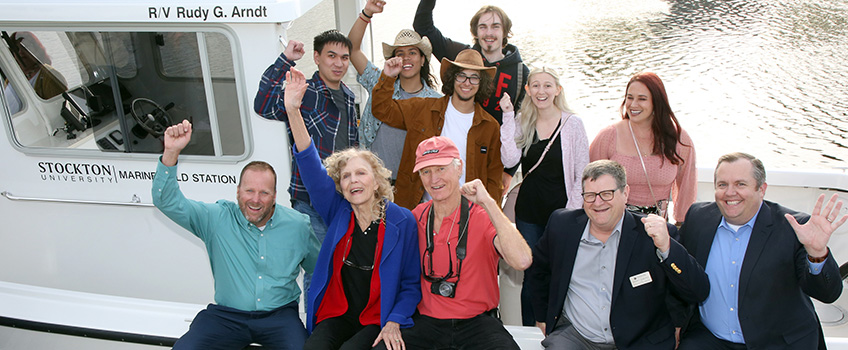 Sister Donates Research Boat in Memory of Professor
The late Stockton University Professor Rudy G. Arndt of Galloway Township was one of a kind, and so is the boat namedafter him.
The R/V Rudy G. Arndt, a shallow draft research vessel, was formally dedicated in a ceremony at Breeze's Dock Bar & Grill on May 24. The custom boat has already been out on the water with Stockton Marine Field Station Director Steve Evert and marine science students.
"We went right to using it to support our classes," said Evert of the boat that arrived in March. "A great part of our program is bay studies and you need a shallow draft boat. This one is larger than most and can carry 10-12 people so we can take more students out."
---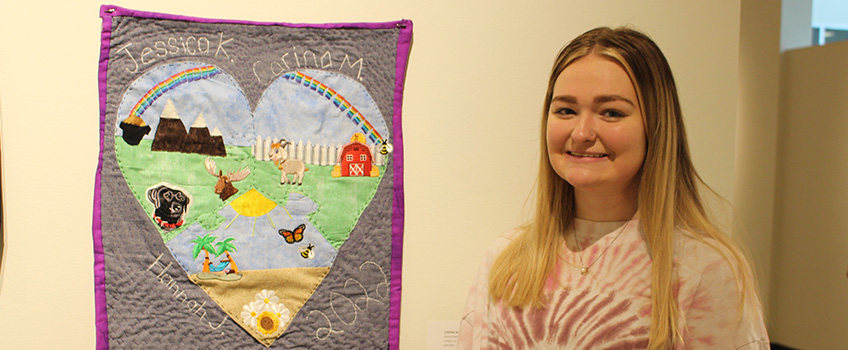 Quilt Class Stitches Together History, Arts and Craft
Cheyanne Banks is a math major and she is also into crafts. The Quilts class at Stockton combined both of her interests.
"Quilting really is both math and art," Banks said. "This class was phenomenal and exposed me to new views of textiles."
The class is taught by Associate Professor of Creative Writing Cynthia King, who said the class is interdisciplinary, incorporating the arts, material culture, history and writing, as well as some basic sewing skills.
STOCKTON UNIVERSITY ATLANTIC CITY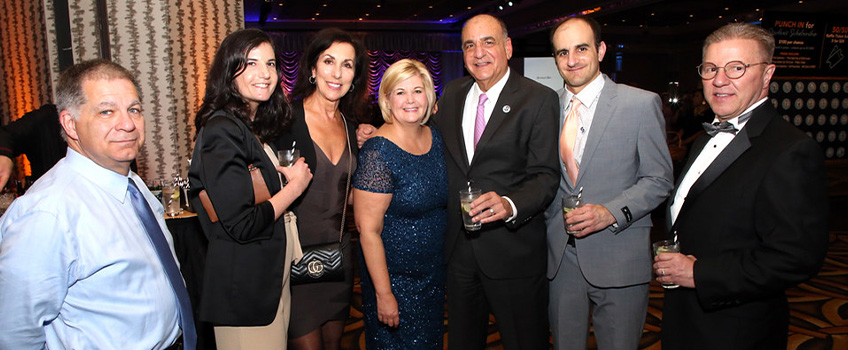 Scholarship Gala Raises $425,000
Five hundred guests dancedthe night away in support of the Stockton University Foundation's Scholarship Benefit Gala at Hard Rock Hotel & Casino in Atlantic City on Saturday, May 14, which raised more than $425,000.
Net proceeds from the event support the Foundation's Benefit Gala Endowed Scholarship Fund, which provided more than $150,000 in scholarships to 160 students this academic year. The endowment has grown to more than $5 million since 2007.
📰 In the News: The Press of Atlantic City
📸 View photos from the event here.
SPOTLIGHT ON: MARY LOU GALANTINO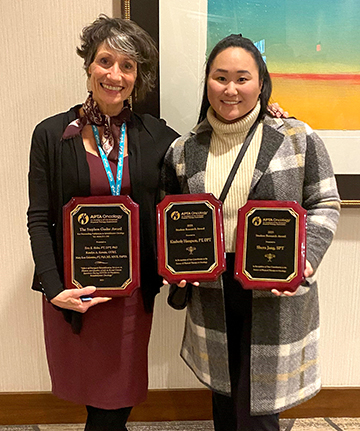 Mary Lou Galantino, Distinguished Professor of Physical Therapy, began collaborative research during the onset of COVID-19 that examined the pandemic's impact on those afflicted with a cancer diagnosis. This diagnosis is life-changing under normal circumstances, let alone during a public health crisis. This research, "Effect of Disrupted Rehabilitation Services on Distress and Quality of Life in Breast Cancer Survivors During the COVID-19 Pandemic," was published in 2020.
As a result of the significance of the study, Galantino, along with fellow researchers, receivedthe 2021 APTA Oncology Stephen Gudas Award for Outstanding Publication in Rehabilitation Oncology. This award recognizes those whose written publication in the journal, Rehabilitation Oncology, has resulted in the advancement of the practice of oncologic physical therapy.
"It was incredible to be a part of this thought-provoking and hopefully policy-changing research we successfully conducted during a pandemic. This data and insight provide a lens on when and if we should be closing an entire health care system for quarantine purposes," Galantino said.
PHOTO: Galantino, pictured with Shera Jang '22, who was also an award recipient.
FRAME-WORTHY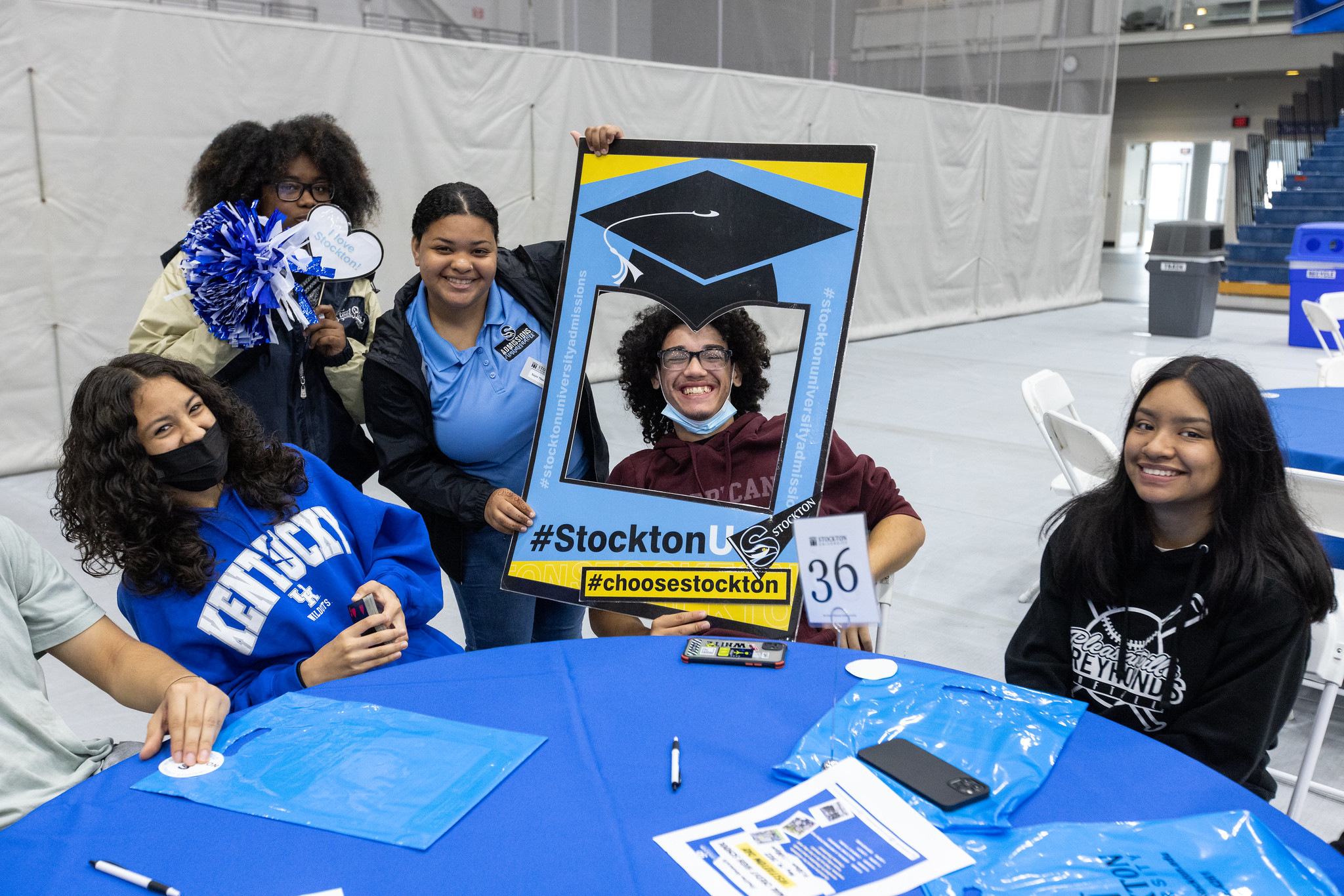 Dual Credit Students Get the Stockton Experience
Area high school students involved in the dual-credit program got a chance to come to Stockton's Galloway campus on May 19 for Dual Credit Visitation Day. The students had a fun-packed morning that included workshops, various tours, a photo booth station and many hands-on experiences hosted by faculty and staff.
WHAT'S TRENDING

@ #STOCKTONU

Instagram: We're shellebrating #WorldTurtleDay with some facts about the Diamondback terrapins that #StocktonU helps to rescue in partnership with the @wetlandsinstitute.
Twitter: Students in Erin Sharpe's class at Cedar Creek High School learned about biology, ecology, and stewardship through a New Angles for Success fishing presentation by Adam Aguiar, assistant professor of Biology.
Facebook: Elizabeth DeCicco combined her love of nature, illustration and science communication with a project that takes students on a self-guided plant walk on Stockton's nature trails. For her graduate assistantship with Tait Chirenje, she developed a comprehensive map of campus trails that will help professors and students plan field trips and research sites. Additionally, she illustrated a guide to various plant species that can be found on campus and incorporated a QR code component.
FROM THE SIDELINES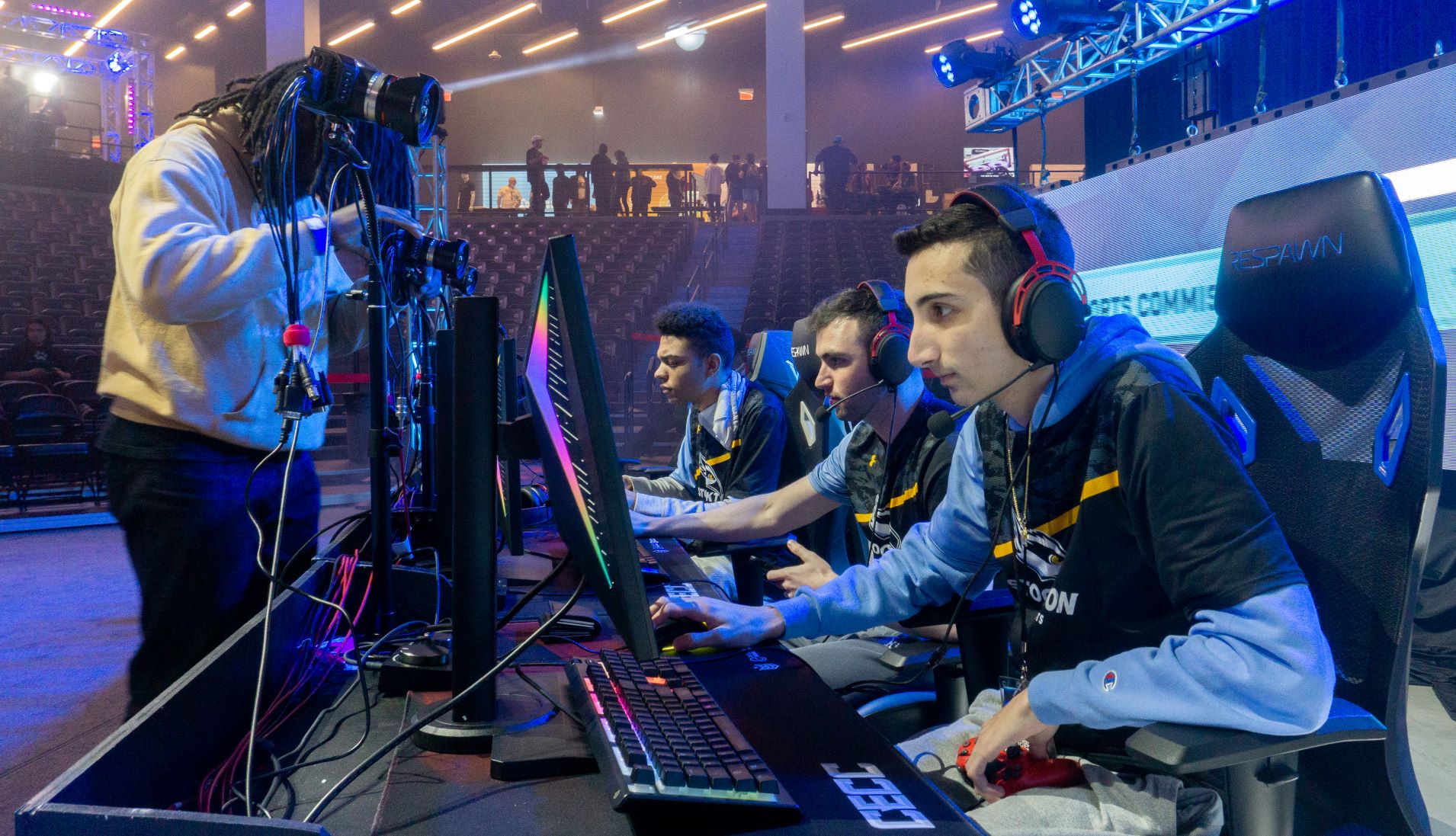 🎮 Stockton Rocket League Heads to World Championship
Stockton's Rocket League team has reached the pinnacle in competitive gaming—qualifying for the first major international competition.
Stockton's team, which includes Brian Busse of Hazlet, Trey Batson of Manahawkin, and John Merendino from Hauppauge, New York, travel to Dallas next week for the Collegiate Rocket League 2022 World Championship June 3-5.
Their second-place finish in the East Region in the Collegiate Rocket League Spring Playoffs in March qualified Stockton to be among 16 teams from North America and Europe competing.
📰 In the News: The Press of Atlantic City
---
Foley, Wan to Attend NCAA Career in Sports Forum
Track & Field: Stockton student-athletes Susann Foley and Darren Wan are part of a group of 200 college student-athletes who will attend the 2022 NCAA Career in Sports Forum in Indianapolis on June 2-5.
The NCAA Career in Sports Forum brings selected student-athletes together for a three-day event at which they will learn about and explore potential careers in sports, particularly college athletics. The program includes keynote speakers, panels and breakout discussions on a variety of topics designed to present a thorough understanding of athletics as a career path.
---
Swedlund, Van Schalkwyk Voted Academic All-District 2
Men's Lacrosse | Women's Tennis: Two Stockton student-athletes were chosenfor CoSIDA Academic All-District 2 honors by the College Sports Information Directors of America. The honorees were in the at-large category, which encompasses multiple sports including lacrosse, ice hockey, field hockey, tennis and swimming among others.
Lacrosse player Luc Swedlund was voted to the CoSIDA Academic All-District 2 Men's At-Large Team and tennis player Audrey van Schalkwyk was selected to the CoSIDA Academic All-District 2 Women's At-Large Team.
OSPREY NOTES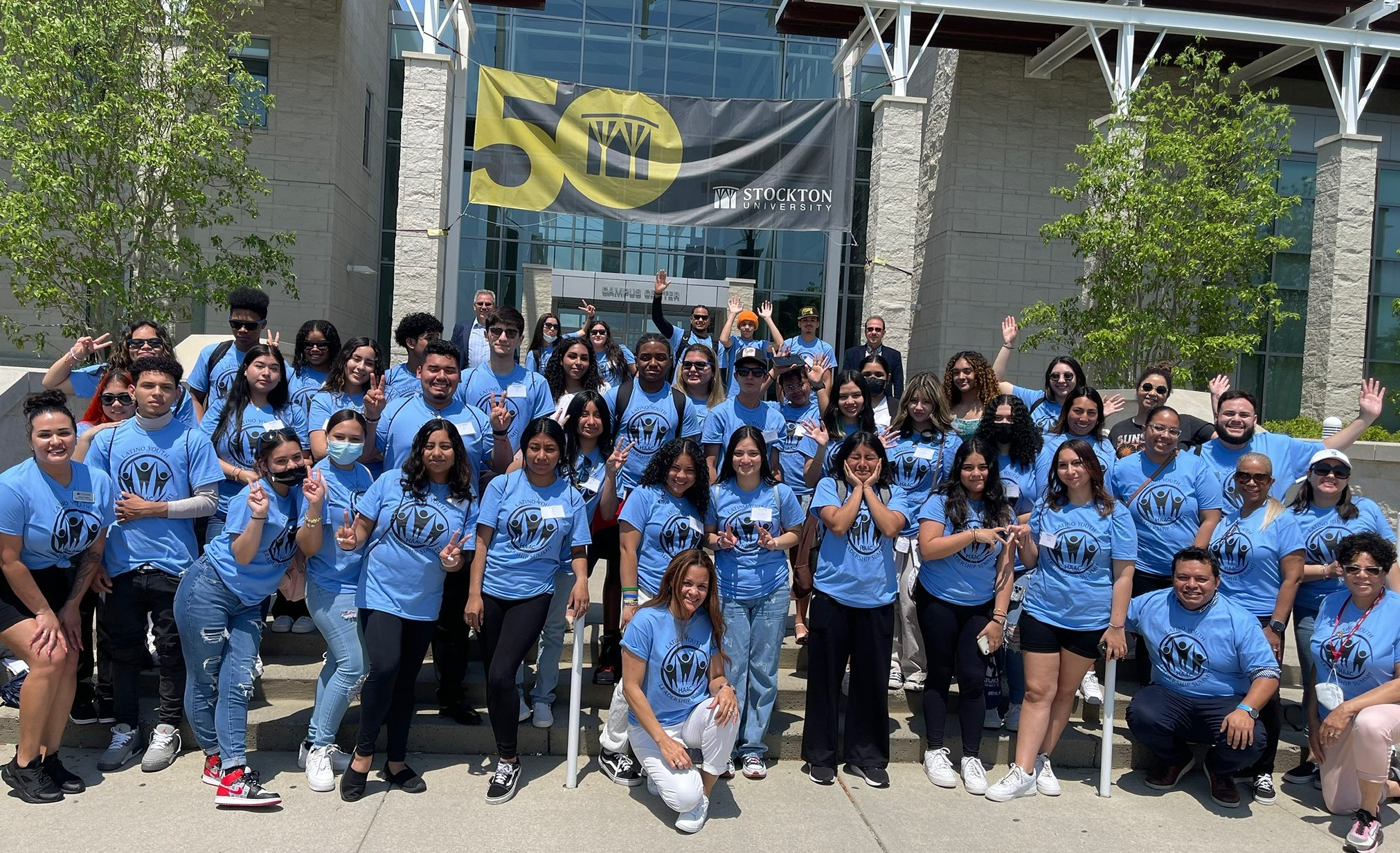 Stockton Admissions Co-Sponsors 2022 Youth Leadership Summit
The Hispanic Association of Atlantic County (HAAC) hosted the 2022 Youth Leadership Summit on May 21 at Stockton's Galloway campus. The summit, co-sponsored by Stockton Admissions, brought over 40 students, including two newly accepted EOF students, from Absegami, Atlantic City, Atlantic County Institute of Technology, and Pleasantville high schools.
Ospreys were out in full force to support the day. Leilani Moreno, a student admissions ambassador and LLU representative, was a college mentor; and Michelle Puerta, admissions recruiter and DACA/Dreamer liaison and Stockton alum; David Ortiz, program assistant and Stockton alum, and Ana Edmondson, director of Student Transition Programs, served as panelists during a discussion.
The day-long event was designed to engage and motivate the next generation of Hispanic leaders and empower them to pursue secondary education or career training upon graduation.
"The Hispanic/Latinx community makes up almost 20% of the total population of Atlantic County and HAAC aims to provide leadership training, educational scholarships and various resources at no cost to the citizens that we serve, especially during the pandemic. It was wonderful to be able to do this right here at Stockton," said Jessica Grullon, associate director of Admissions Services at Stockton and first vice president of the Hispanic Associate of Atlantic County. "We thank the planning committee for their tireless work, our educators who took time on Saturday to bring their students, our phenomenal speakers, and our sponsors for making this event possible. We are excited to host the Youth Leadership Summit again next year."
---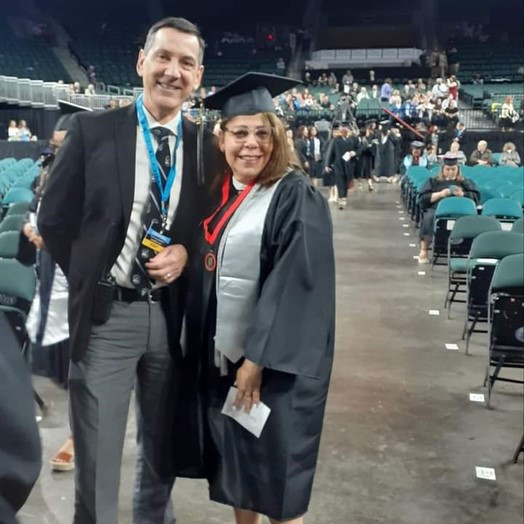 A Moment of Gratitude Captured at Commencement
Angelica Sanchez, who earned her degree in Psychology on May 13, was a recipient of Student Relief Fund assistance.
At Commencement, Sanchez tracked down Craig Stambaugh, assistant vice president of student engagement and community development and the administrator of the Student Relief Fund, to express her gratitude for having received the assistance.
"This is not only my accomplishment, it's yours as well," she beamed.
---
Celebrate Diversity: April/May Issue of the Stockton CCDIE Digest
The latest issue of the Celebrate Diversity Digest is available now, featuring articles about campus diversity, equity, inclusion and social justice initiatives. Read the full issue here.
---
Read the SCOSA June Newsletter
Read the Stockton Center on Successful Aging (SCOSA)'s June newsletter for interesting upcoming events and newly added programming.
---
👉 Normal Academic Hours Next Week; Closed Monday
As a reminder, you can sleep in next week! The University will follow normal academic hours next week and will be closed for Memorial Day on Monday, May 30. All offices are open minimally from 8:30 a.m.- 5 p.m., Tuesday-Friday.
---

Stockton Sentiments and Memories . . .
"I was extremely honored to be part of the very first concert in "Big Blue," (Tonic with The Tuckahoe River Band). Also honored to be part of our wonderful student veteran program ranked number 6th in the nation by Military Times. Our great students from the Board of Activities (BOA) and wonderful Student Veteran Organization (SVO) were the catalysts behind the success."
- Tom O'Donnell
Have a memory you'd like to share in celebration of Stockton's 50th anniversary? Submit it here.
UPCOMING EVENTS