Stockton News - Nov. 13, 2020
WHAT WE'RE TALKING ABOUT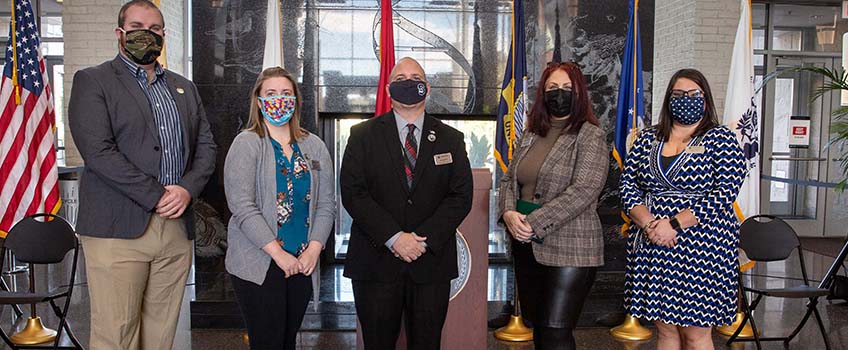 Veterans Day Program Offers Message of Caring
Members of the military make a lot of sacrifices, but one of the greatest is time, veteran and Stockton University student Karl Schute of Moorestown said at the annual Veterans Day ceremony in the Campus Center grand hall.
For Schute, there was time lost when his father was sent to Iraq, and later when he, himself was stationed in Korea.
"You're missing everything, your family, birthdays, holidays…" Schute said. "You don't get that time back. You don't have to be in combat to be sacrificing the time away from your family and loved ones."
📰 Veteran Jason Babin, director of the Office of Military and Veteran Services at Stockton, was featured by the Press of Atlantic City.
Student's Project Shares Experience of War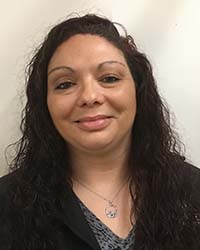 Danielle Russano's grandfather was in the military and she worries that young people today don't really understand the experience of war for those who fight.
She applied for and received a Stockton Board of Trustees Fellowship for Distinguished Students, and embarked on projects to share the history of area veterans.
At the Veterans United Military Memorial Museum in New Gretna, she archived and created an exhibit for the museum's medical section, which includes items from World War I to Vietnam.
Stockton Offers Police Procedural Justice Training
Stockton criminal justice professors are working with area law enforcement to research whether procedural justice training can reduce excessive use of force, increase respect for police officers and improve relations between citizens and the police.
The work began in November 2019. Stockton Criminal Justice Professors Nusret Sahin, William McKnight and Jess Bonnan-White completed their first one-day training session in March at the Galloway campus with 16 representatives from the Atlantic City, Stafford Township and Manchester Township Police Departments. Sahin and McKnight also led a session via Zoom in September with Atlantic City police officers.
📰 The Press of Atlantic City featured the story.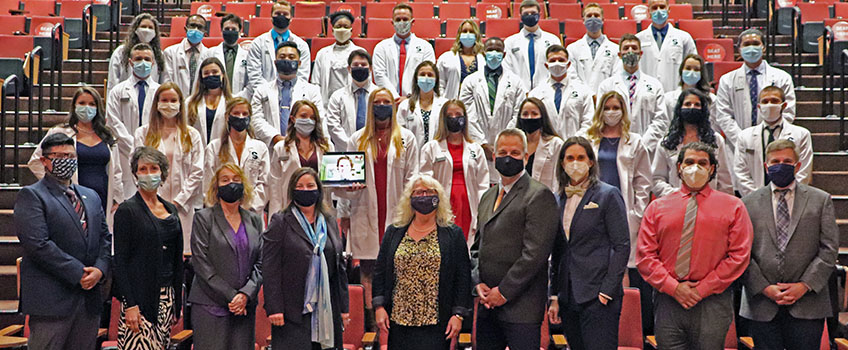 DPT Students (Finally) Get Their White Coats
Students in the Class of 2021 Doctor of Physical Therapy program made the trip to Alton Auditorium on Nov. 5 just for the opportunity to put on a new coat.
But these were no ordinary coats; they were a symbolic part of the annual Commitment to the Profession Ceremony, where students receive their white coats as a symbol of their transition into their final year.
Master of Ceremonies and Associate Professor of Physical Therapy Thomas Nolan noted that traditionally the students would have received the coats at a ceremony in April, but it was delayed by the COVID-19 pandemic
WE'RE HERE TO HELP
Resources Available to Staff, Faculty
There are many resources and best practices being made available to staff and faculty working remotely that can be found by visiting Information Technology's website.
In addition to assistance with technology available from ITS, Stockton provides faculty and teaching staff with professional development, training, teaching ideas, resources and individual consultations via the Center for Learning Design.
🧪 Free COVID testing will be available to employees and their family (spouse and dependents), and students through a partnership with Optum on the following dates and locations:
📍 Galloway – Lakeside Lodge
Friday, Nov. 20, 9 a.m.-5 p.m.
Monday, Dec. 7, 9 a.m.-5 p.m.
Wednesday, Dec. 9, 9 a.m.-5 p.m.

📍 Galloway – TRLC Multi-Purpose Room
Saturday, Nov. 21, Noon-7 p.m.
Sunday, Nov. 22, Noon-7 p.m.
Saturday, Dec. 5, Noon-7 p.m.
Sunday, Dec. 6, Noon-7 p.m.

📍 Atlantic City – Residential Building, B115
Monday, Nov. 23, 8 a.m.-4 p.m.
Tuesday, Nov. 24, Noon-7 p.m.

The test is a nasal swab and results will be available 2-3 days after the test. Schedule an appointment at lhi.care/covidtesting. You can schedule testing more than once. More details will be available next week.
Stockton is compiling notices of confirmed positive COVID-19 cases in a dashboard on the Coronavirus home page. The dashboard is updated daily.
The
Student Assistance Resources page
has information for students whose academic progress may be affected by the COVID-19 pandemic.
WHAT'S TRENDING @ #STOCKTONU
Twitter: This is the path to your future; where will you go?

Instagram: Thank you for doing your part, Ospreys. Let 2020 show you that you are stronger than you think.
Facebook: Three years ago today, President-elect Joe Biden presented the Lifetime Achievement Award to Ambassador Bill Hughes at the 2017 Stockton University Hughes Center Honors at then Stockton Seaview.
OSPREY NOTES
Middle States Visit with Dr. Ellie Fogarty Nov. 20
Stockton University is accredited by the Middle States Commission on Higher Education (MSCHE), a voluntary, non-governmental membership association that promotes educational excellence across institutions of higher education with diverse missions, student populations, and resources. MSCHE requires member institutions to conduct a Self-Study every eight years, and complete annual updates in order to maintain accreditation. Stockton was last accredited in 2017, and the next Self-Study is scheduled for 2021-22.
The University will host a visit with Dr. Ellie Fogarty, Stockton's liaison to the Middle States Commission, at 1 p.m. on Friday, Nov. 20, via Zoom. During the virtual session, Fogarty will hold an open forum for all members of the campus community. This is an opportunity to inform the community about the process and seek clarification on any questions you may have directly from our liaison.
Co-chairs of the Middle States Self Study Steering Committee, Bob Heinrich, Claudine Keenan and Manish Madan, will provide the Zoom instructions at a later date. All members of the campus community are encouraged to attend.
Visit Stockton's Middle States website for more information.
University Mass Email Guidelines Announced
A revised process for using the University's email system will go into effect at 9 a.m. Monday, Nov. 16, as per recommendations from the Presidential Committee on Email Communication.Chief Information Officer Scott Huston and Information Technology Services (ITS) will be implementing the associated modifications.
To familiarize yourself with the new guidelines and email protocol, visit stockton.edu/massemail.
If you have questions, contact Scott Huston at scott.huston@stockton.edu.
Virtual Town Hall Nov. 19 on Disability, Accessibility, and Accommodation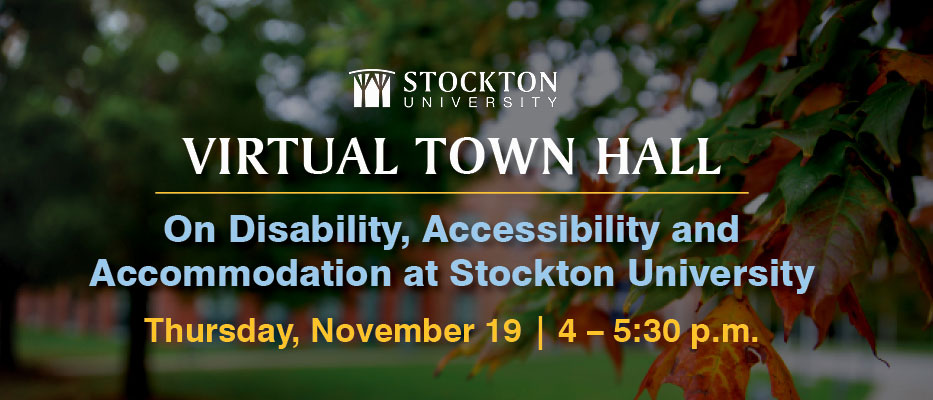 The ADA-504 Steering Committee will host a Virtual Town Hall on Disability, Accessibility, and Accommodation from 4-5:30 p.m. on Thursday, Nov. 19.
The Town Hall will be moderated by Valerie Hayes, chief officer for Diversity and Inclusion.
There will be time allotted for questions. Submit questions in advance by emailing dandI@stockton.edu.
Zoom webinar instructions will be provided on the day of the Town Hall.
File FAFSA Today
Encourage students to file their FAFSA applications as soon as possible to avoid missing out on any aid they may be eligible for. Direct them to fafsa.gov.
UPCOMING VIRTUAL EVENTS
Upcoming Events Hosted by the Office of Development and Alumni Relations
Nov. 15: "The Forgotten Heroes of the Balkan Wars: Greek-Americans and Philhellenes of 1912-1913", password: 418508
Nov. 16-20: Spring 2020 Senior Art Show, 🌎 International Education Week
Nov. 17: "Leading in the New Normal" a Virtual Panel Conversation, A Conversation with Trai Byers
Nov. 18-22:"A Look Behind Our Curtains"
Nov. 21: Beautify Chelsea Cleanup