Osprey News

Stockton Esports Team Wins ECAC Fortnite Championship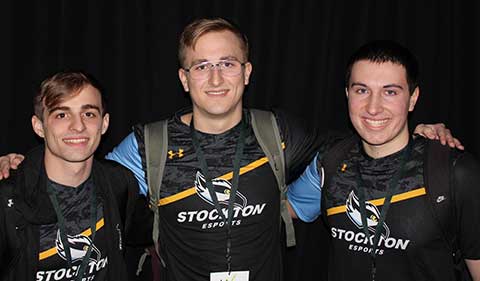 The Stockton University esports team of Austin Van Zant, Damian Majewski and Parker Teliszewski won the Eastern College Athletic Conference Fortnite Championship held during the Hudson Valley Gamer Con at the Albany New York Capital Center on March 30-31.
Four Stockton students were named season MVPs. Van Zant and Majewski got the awards for Fortnite and Brandon Yip and Joseph Difilippo got the awards for League of Legends. Stockton teams also placed second in the League of Legends Championship and made the quarterfinals in Overwatch.
---
Ibarra, Qadiri, Murzello Recognized as Arthur Ashe Jr. Sports Scholars
Three Stockton University student-athletes were recognized as 2019 Arthur Ashe Jr. Sports Scholars by the publication Diverse: Issues in Higher Education. Women's tennis player Maria Ibarra received the accolade for the second straight year. Ibarra, a senior, was joined by first-time honorees Meg Murzello and Qudratullah Qadiri, both juniors, as Arthur Ashe Jr. Sports Scholars in softball and men's track & field respectively.
---
Men's Lacrosse Wins CSAC Championship
Stockton's men's lacrosse team (17-2) rallied from a four-goal deficit in the second half and captured the Colonial State Athletic Conference (CSAC) championship with a 14-11 victory over Montclair State (10-7) on May 4. The win gave Stockton its first conference title and NCAA Tournament berth in school history. In March, the Ospreys celebrated head coach Kevin Zulauf's 100th win when the team beat Misericordia 18-12.
Visit the Stockton Athletics website for more Osprey News.