Where are they Now?

1997
Steven Peacock '97 was recently added to the creative gallery of work by caricaturist Guy Smalley, who specializes in crafting wild and unique images of professional mixed martial arts fighters and other participants in the world of combat sports. Peacock, who became a fight announcer about six years ago, has hosted MMA boxing and bodybuilding shows around the country, including many in and around South Jersey venues such as the Borgata and Claridge in Atlantic City as well as 2300 Arena in Philadelphia. He joins the ranks of famed UFC fighter Frankie Edgar of Toms River as part of Smalley's extensive portfolio of fighters and announcers from New Jersey and around the globe.
---
1999
Joseph De Vito, president and CEO of The Village Bank, has announced the hiring of Gernette Wright '99, who has joined the bank as assistant vice president, information security officer. In this role, Wright will oversee the design, implementation and sustainment of the bank's cybersecurity programs and initiatives. He brings more than 25 years of experience in all aspects of information technology with expertise in IT security and infrastructure management.
---
2002
Nicole Nelson '02 , a member of the first Ed.D. in Organizational Leadership doctoral class at Stockton University, was recently promoted to lieutenant of the Hamilton Township Police Department.
---
2005
Matthew Gooley '05 self-published his debut spy novel "Destiny Can Be Dangerous." This was a culmination of years of work on a project that began as a short screenplay that he expanded into a feature-length screenplay and eventually evolved into the novel.
---
2008, 2012, 2014
Ananda Davis '08, Brittany Diaz '12 and Jennifer Love '14 are among Atlantic City Weekly's Top 40 Under 40 2020 list, which recognizes those who go above and beyond and not only excel at their jobs but thrive as inspirations to others within the community. Davis serves as principal of Atlantic City Public Schools. Diaz is a player development manager for Hard Rock Hotel & Casino Atlantic City. Love is a second lieutenant in the Air National Guard/177th Fighter Wing.
---
2011
Alyssa Salamone Gagliardi '11 is a newly published children's picture book author of the book "Boardwalk Fries," which is available on Amazon. Gagliardi currently has three other stories in the publishing phase.
Alumnus Endows Scholarship to Honor Grandmother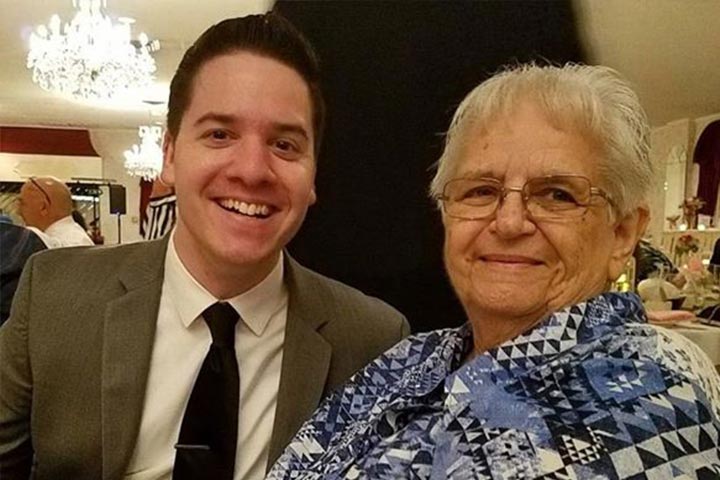 From serving as a Student Senator, a brother of Kappa Sigma, and a Resident Assistant to holding a position as a Student Assistant in the Office of the Dean of Students & Financial Aid, Carl Archut Jr. '16 made the most out of his undergraduate experience at Stockton University.
Although he lives on the opposite end of the East Coast, Archut remains an active and engaged alumnus, frequently volunteering and attending and hosting alumni events. This level of engagement is what earned him Stockton's "Outstanding Young Alumni Achievement Award" in 2019.
Behind his ambition and motivation to give back and pay it forward for others, is a special driving force: Jenelle T. Archut, his grandmother, who he lovingly refers to as "Mom-Mom".
"My Mom-Mom was one of the first to be there for my Dad when my mother left," said Archut. "From that moment on, she played an incredibly active role in our lives."
Archut recalls how his grandmother went out of her way to attend every milestone event in his life, making it her top priority.
Inspired by his grandmother's generous spirit and unwavering support, Archut established the Jenelle T. Archut annual scholarship in 2018, and in 2020, pledged a gift for $25,000 to create an endowed scholarship in her honor.
The Jenelle T. Archut Endowed Scholarship Fund will benefit first-generation students with proven leadership in any campus club or organization.
2013
Hannah Piatt '13, an investigator with the Atlantic County Prosecutor's Office, is a sergeant in the Army Reserve and is mobilized for the COVID-19 response at Fort Dix, the Army Support Activity at Joint Base McGuire-Dix-Lakehurst. Piatt serves in the 327th Medical Detachment Combat Operational Stress Control Unit, and her team's mission is to promote resilience and psychological health in military units and soldiers exposed to the stress of combat or other military operations. Read her incredible story here.