Osprey News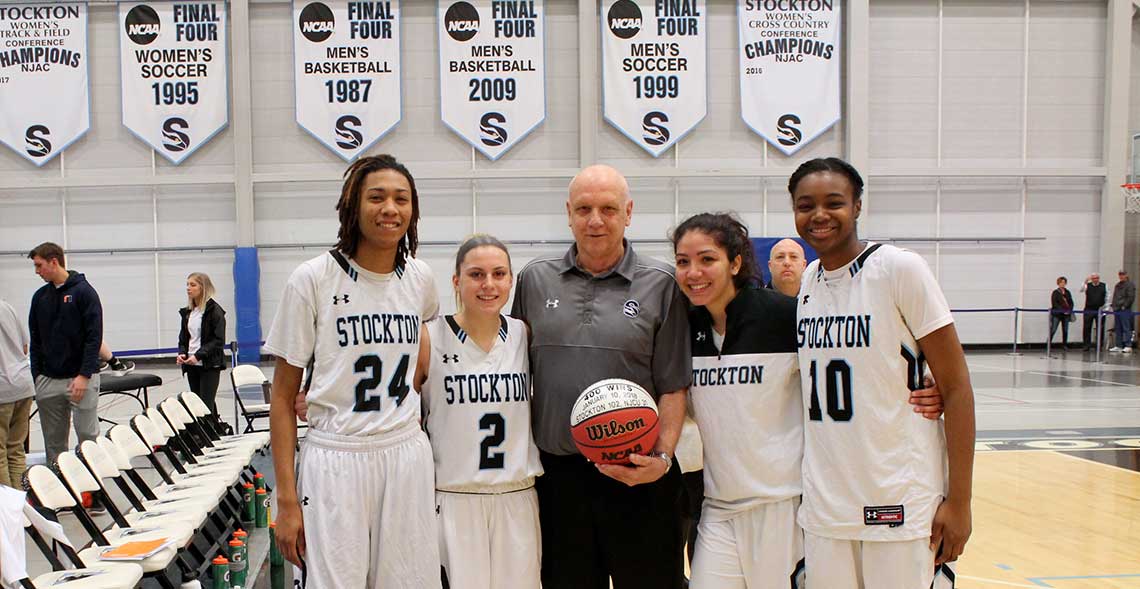 Fussner Earns 400th Win
Women's Basketball Head Coach Joe Fussner earned his 400th win at Stockton on Jan. 10.
Fussner boasts a record of 400-280 in 26 seasons as the Ospreys' head coach. He has been on the bench for all seven of Stockton's NCAA Tournament berths and helmed the Ospreys to two NJAC championships (2000, 2005). Fussner is the fourth coach in the athletic department's history to reach 400 wins, joining Gerry Matthews (603 in men's basketball), Val Julien (539 in softball) and Sue Newcomb (500 combined in volleyball, women's basketball and softball).
Pictured above: Fussner receives a commemorative ball from the team captains in a pre-game ceremony on Feb. 3.
---
Basketball Court Named for Matthews
The basketball court at Sports Center was officially named "Gerry Matthews Court" in a ceremony at halftime of the Ospreys men's team's game with William Paterson University in December 2017. Matthews name is now written at the ends of the court. President Harvey Kesselman presented Matthews, 75, and his wife, JoAnne, with a framed photo of the court. Matthews coached the men's team for 30 seasons and had a 603-243 record. He set a New Jersey college record for wins, surpassing long-time Princeton coach Pete Carril in November, 2012.
---
Two-sport Athlete, Tennis Team Receive Awards in Academic Excellence
Stockton University female student-athletes received one individual honor and one team academic award from the New Jersey Association of Intercollegiate Athletics for Women (NJAIAW) at its 26th annual luncheon on Feb. 5 at Seton Hall University.
Senior Alexa Massa, a two-sport athlete who plays field hockey in the fall and softball in the spring, was recognized as Stockton's NJAIAW Woman of the Year. The award is based on athletic excellence, academic success and community service.
In addition, the Stockton women's tennis team earned the NJAIAW Team Academic Award for fall sports for the second straight year. The Stockton women's tennis squad posted the highest team grade point average of all women's fall sports teams at NJAIAW institutions. Associate athletic director Linda Yost accepted the award on the team's behalf. In addition to their academic excellence, the Ospreys went 9-2 on the courts during the season.
---
Track & Field Senior Attends NCAA Convention
Omar Dogbey of the men's track & field team was selected to attend the 2018 NCAA Convention in January as part of the Division III Student Immersion Program. The initiative, which began in 2015, brings 40 ethnic minority students to the NCAA Convention, where they are exposed to Division III, its members and its governance process.
Visit the Stockton Athletics website.