Abigail Bell - Choose Stockton
Abigail Bell
Class of 2024
Why did you choose Stockton University?
When I toured the campus, I immediately felt comfortable within the environment. It appeared to be a welcoming, close-knit community—which is definitely the case. Stockton also offers a strong dance program, including various concentrations. After seeing the Studio Operations concentration, I knew this was the best route for me.
Why did you choose your major?
I chose to double major in dance and business because I want to open my own dance studio. I feel it is important to keep the art of dance alive and constantly evolving. After dancing for 15 years, this has always been my main career aspiration. Not only am I able to expand my knowledge and improve within dance, I can better understand the many aspects of owning a business.
What have you gotten out of your academic program so far?
Through the dance program I have had various performance opportunities such as the Spring Dance Concert and Emerging Choreographers Showcase. I have also been able to dive deeper within my Modern and Ballet technique through weekly classes. In my business classes, I have started to understand the realities of owning a business and the many moving parts within it.
What unique opportunities have you had at Stockton?
In addition to participating in dance projects such as the Spring Dance Concert and Emerging Choreographers Showcase, I have had the opportunity to participate in service-learning projects through my courses, including conducting research on artifacts about the history of the Red Cross. During my freshman year I interviewed a Stockton alum for the university's archives.
How is Stockton preparing you for the next chapter of your life?
The everyday experiences, whether it be in the classroom, through clubs or even interactions amongst fellow students and professors, are preparing me to open my own studio. I learn something new in every class that I can apply toward achieving my career goals. I also feel Stockton is providing me with opportunities to grow as a person as I mature into the next stages of life.
What organization and activities are you involved with at Stockton?
I am involved in the Honors Program, Dance Club, Adoptees United of Stockton University and the Asian Student Alliance.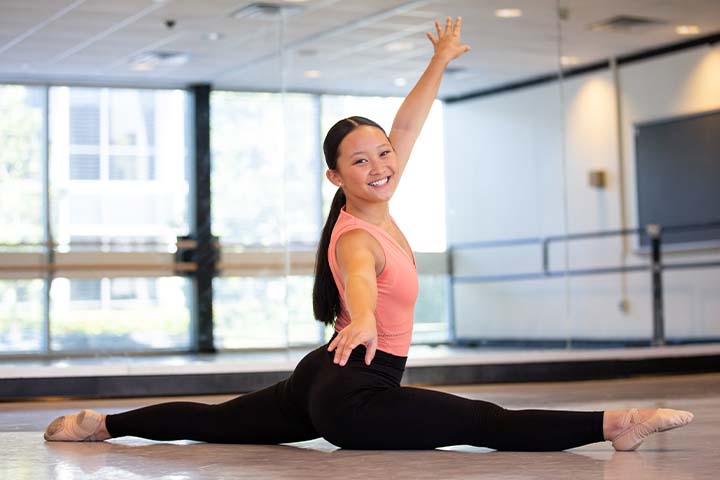 ---