Bao Pham - Choose Stockton
Bao Pham
Class of 2021

Major:Criminal Justice with a concentration in Homeland Security
Hometown: Atlantic City, NJ
Why did you choose Stockton University?
I chose Stockton because it offers advanced educational programs, numerous extracurricular activities, immense financial aid to its students, and a great community for connection and self-advancement. What I find unique about Stockton is the commitment and love coming from its past and current students. Every time I talk to a student from Stockton, I find myself hearing praises about how the community is kind and supportive of each other.
Why did you choose your major?
Inspired by my parents' generosity and care for both my families and strangers alike, I grew up in a household that views positively about giving back to the community and supporting those in need. It has always been my plan to venture into a career that would enable me to serve, support and protect people, especially those who are victims of crime. With many of the aspects of the criminal justice field mirroring my own ideals, I decided this major would set me on the right path.
How is Stockton preparing you for the next chapter of your life?
By providing me with interesting and thought-provoking classes, my growth and certainly love for the criminal justice field has broadened tremendously. The staff wants students to succeed and often will offer off-hour meetings to help any interested students, which I often take full advantage of. In addition, starting Fall 2020, I took a new leadership position within Stockton's Bonner Service-Learning program.
What are your career goals?
I have a few aspirations and goals for my path within the criminal justice field, including a career at the U.S. Department of Homeland Security. First, I want to find an internship opportunity that would enable me to get working experience and connections, especially for federal level jobs. I also wish to join Stockton's Master's in Criminal Justice program so I can better set myself up for the future and gain a deeper understanding of criminal justice issues, policies and programs.
How has earning the Engelberg Leadership Scholarship shaped your Stockton experience?
The Engelberg Scholarship has provided me with a wealth of support and assistance in my journey within Stockton University and my long-term career goals. Aside from granting me immense financial backing that helped me focus on my academic plans, it also offers me unique opportunities to meet various leaders from different paths of life and institutions. Because of that, I was able to make connections and friends with many types of great people.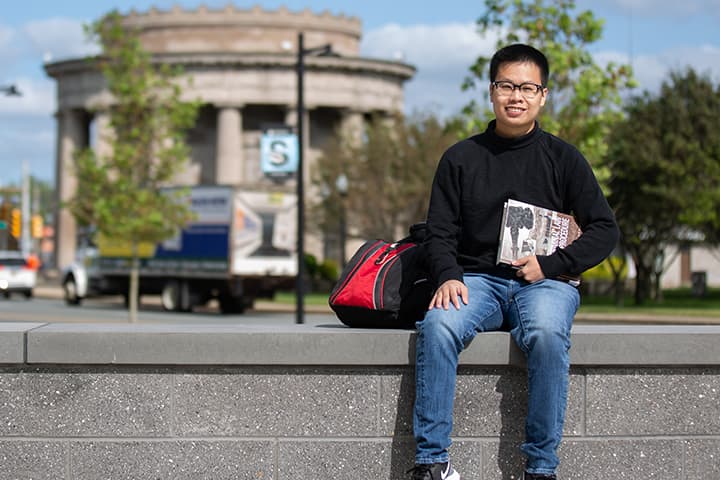 ---