Dontae McFadden - Choose Stockton
Dontae McFadden
Class of 2023
Why did you choose Stockton University?
I earned my associate degree from Mercer County Community College (MCCC), which participates in Stockton's Transfer Pathways program. Transfer Pathways is a dual admission option for students attending community college who are looking to transfer to the University level. Through the program, I was conditionally accepted to Stockton while I completed my studies at MCCC. I also chose to enroll in Stockton because it has a great Education program.
Why did you choose your major?
In community college I was always eager to enroll in history courses because I found them interesting and a very important part of anyone's education. I decided I wanted to be a teacher because I was inspired to assist communities of color that face economic and social challenges. Education is an institution that can help young generations overcome the conditions that they are born in. I hope as a teacher I can help young students and others in my community see their potential and achieve their career goals.
What have you gotten out of your academic program so far?
Stockton's education program has taught me important concepts needed to be a New Jersey teacher. I have learned how critical it is to create an inclusive learning environment for all students. I completed a course on web tools where I learned how technology can be used in my future classrooms. Also, the various history courses I enrolled in have provided me with more in-depth knowledge of events ranging from the 15th century to the present day. These historical events covered in my courses have empowered me to educate my future students on the events that have shaped the 21st century.
What unique opportunities have you had at Stockton?
I have been accepted in the Washington Center internship program in spring 2022. This is a 16-credit internship that allows me to work in Washington, D.C., and earn Stockton credits at the same time. I am hoping to work at one of the Smithsonian museums to learn more about history and the preparation needed to host exhibitions for the public.
How is Stockton preparing you for the next chapter of your life?
The courses I have taken at Stockton have provided the necessary tools and skills I need to teach in the classroom. Stockton's many services like the Career Education & Development office and Educational Opportunity Fund (EOF) have connected me to staff members who are assisting in my education and will help me achieve my goals after completing my studies.
What are your career goals?
I would like to teach history and literature at the middle and high school level.
Tell us about your experience transferring to Stockton.
I have had great teachers who have shown they not only care about my grades but me as an individual. I have teachers who have challenged me, which is preparing me for the challenging and often stressful career in teaching. I have seen the many clubs and organizations that help students feel included in the Stockton family. The biggest advice I would give to someone who is looking to attend Stockton is to get involved and reach out to the many organizations and services that are on campus. There is so much here to help a student be successful.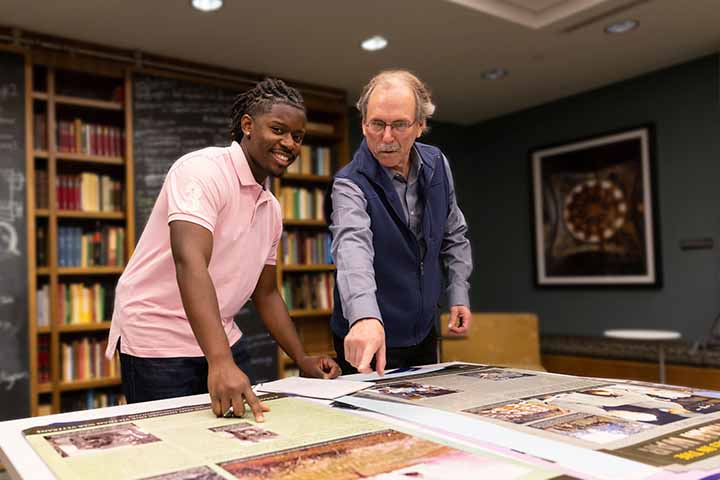 ---