Gracie Buondonno - Choose Stockton
Gracie Buondonno
Class of 2023
Why did you choose Stockton University?
I chose Stockton University for the close-knit community, intimate learning environment, caring professors that push you and know your name, Lake Fred and just the overall friendliness of everyone here.
Why did you choose your major?
I have played classical piano my whole life and always wanted to go and study music. Stockton seemed like a great place to do it. Once I was here I added the Physics and Math majors because the professors helped guide me in finding my passions.
What have you gotten out of your academic program so far?
The professors really push you in helping you understand what's going on. You're not just a number here, you're a person.
What unique opportunities have you had at Stockton?
I have had two great research opportunities so far at Stockton. I have been involved in astrophysics and acoustics research. I have gotten the opportunity to present my astrophysics research along with my research team at the American Physical Society meeting online in 2021. I also have been able to be involved in rebuilding the observatory here on campus and will be helping install the new telescope we are getting as well as learning to operate it. I will also get to travel to Italy this coming June with the music program.
How is Stockton preparing you for the next chapter of your life?
I look forward to going to graduate school and becoming a physics professor. I am a teaching assistant for Professor Yitzhak. I also am a tutor in the tutoring center where I get to teach students and help them to understand several subjects. The professors and advisors also help me in preparing for grad school by offering advice and prepping me for what grad school will be like.
I hope that I can earn a Ph.D. in Astrophysics, Acoustics or Biophysics (I haven't quite decided yet!) and be able to be a physics professor and researcher at a university one day.
What organization and activities are you involved with at Stockton?
I am president of the Society of Physics Students, I am a member of the Stockton Women in Mathematics club (S.W.I.M) and I am a tutor in the tutoring center.
Tell us about your experience rebuilding the Harold E. Taylor Observatory.
Helping to rebuild the observatory has been an incredible experience. I started as a freshman and we cleaned out the observatory and repainted. It was really cool to see some of the old things that were left there. Learning to operate the dome and focus the big telescope was great. The night we re-opened the observatory we were able to look at the moon. It was an amazing experience to see the people come in and look at the moon through the big telescope in wonder. This semester we took measurements and I drew a schematic of the observatory to assist with the installation of a new telescope, and we are having public viewings again.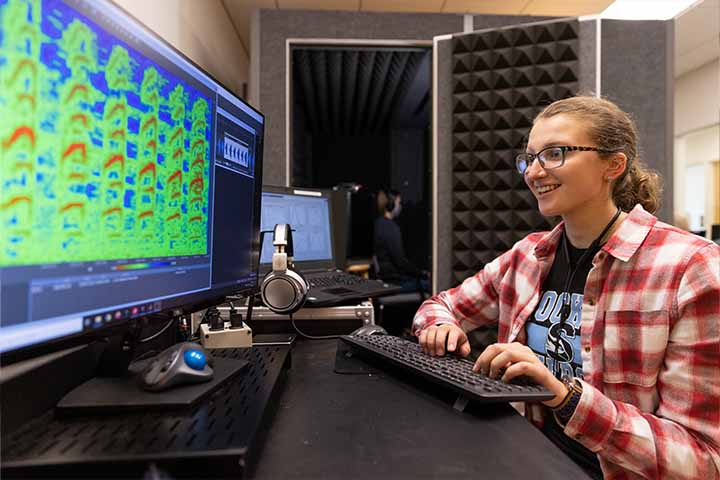 ---