M.S. in Occupational Therapy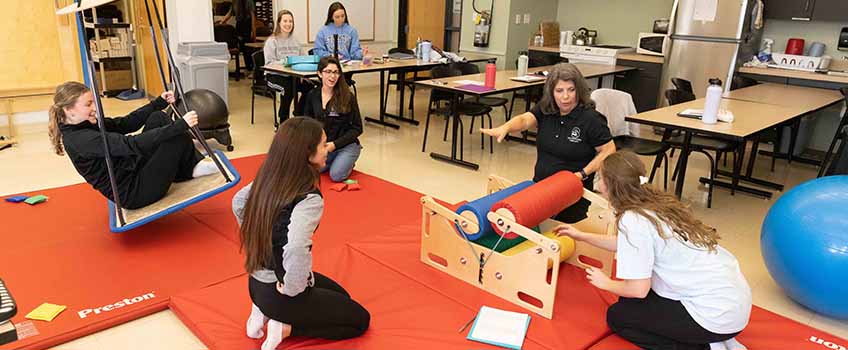 ---
About the Program
The Stockton University Master of Science in Occupational Therapy Program is a two and one-half year entry-level professional program. It includes four semesters of course work, one short summer session, and two three-month Level II fieldwork rotations that must be completed within 24 months following completion of academic work to comply with current New Jersey licensure regulation.
If you are interested in a career in occupational therapy, the Master of Science in Occupational Therapy Program at Stockton University has many distinct advantages.
Affordability

Highly Affordable Tuition
Graduate Assistantships & financial aid available

The Faculty and Curriculum

Dedicated faculty representing expertise in a variety of clinical practice areas
Faculty-student ratio provides individualized attention and learning opportunities
Innovative curriculum including case-based learning and service learning
Variety of clinical training experiences available

The Campus and the Resources

New, state-of-the-art electronic classroom facilities
Extensive collection of occupational therapy resources to enhance academic achievement
Beautiful, scenic campus
To view comprehensive information about the MSOT program, including applicant information, mission, philosophy, and goals, the curriculum, continuation in the program, and graduation please visit the Stockton Bulletin.
Graduation rate for Stockton's MSOT Program students
Graduation AY

(students typically receive their degrees in December, but participate in Spring commencement after their degree is conferred.)

Number of Students Entering Program
Number of Program Graduates
Graduation Rate

Fall 2022/ Spring 2023

30
30
100%

Fall 2021/ Spring 2022

27
28
93%

Fall 2020/ Spring 2021

30
30
100%

3-year Rate

87
88
97.8%
Mission of the Occupational Therapy Program
The mission of the Occupational Therapy Program at Stockton University is to help our students become competent and caring practitioners and lifelong learners. We are committed to helping our students develop the capacity for continuous learning based on the belief that human beings learn and acquire knowledge as unique individuals who engage in the educational process through personally held values, interests, and beliefs as well as individual drives to participate in desired occupations.
Learning occurs in a variety of curricular and co-curricular contexts/environments and requires the integration of cognitive, motor, perceptual, social, and sensory skills so individuals are prepared to apply knowledge in the dynamic environments of a diverse and multicultural society. The Program recognizes the diverse needs of students and faculty in learning the process and utilizes various pedagogical methodologies, including the use of technology and interprofessional educational experiences, to develop critical thinking and problem-solving, resourcefulness, scholarship, creativity, and intellectual achievement. Students emerge with integrated knowledge and skills to provide client centered, occupation-based, holistic occupational therapy services and understand the need to engage in lifelong learning.
The Occupational Therapy Program at Stockton University is also committed to the development of southern New Jersey through research and community service.
---
Philosophy of the Occupational Therapy Program
The philosophy of the Occupational Therapy Program at Stockton University is based on the philosophy of the profession as well as an articulated approach to human beings and how they learn based on the philosophy of occupational therapy education (AOTA, 2014).
The Occupational Therapy Program at Stockton University is based on the philosophy of the profession that describes occupation as the uniquely personal and meaningful activities that provide clients with a sense of personal identity and support participation in a variety of contexts/environments. Occupation is expressed uniquely in clients across the lifespan, along a developmental continuum, and within varied contexts. Occupational therapy is a profession that understands the primary importance of occupation in allowing clients to be productive, satisfied, and contributing members of society. When clients are prevented from participating in occupations due to biological, psychological, societal, or other environmental factors, dysfunction may occur. Occupation is utilized by the occupational therapist for both intrinsic and therapeutic purposes. Occupational therapists' understanding of the restorative, normalizing, and life-enhancing role of occupation enable clients to engage in occupation to support participation in context(s) (AOTA, 2017).
American Occupational Therapy Association (2014). Philosophy of occupational therapy education. American Journal of Occupational Therapy, 69(Suppl. 3), 6913410052. http://dx.doi.org/10.5014/ajot.2015.696S17
American Occupational Therapy Association (2017). Philosophical base of occupational therapy. American Journal of Occupational Therapy, 71(Suppl. 2), 7112410045. https://doi.org/10.5014/ajot.2017.716S06
---
Diversity, Equity, and Inclusion
The Stockton MSOT Program respects all people, regardless of ability, color, cultural background, gender identity, sexual orientation, and socioeconomic status. We strive to create an equitable, inclusive, welcoming environment free from bias in our program, University, community and the occupational therapy profession. Threaded throughout the MSOT curriculum students are exposed to individuals of varying backgrounds and abilities. We invite guest lecturers from a variety of backgrounds for student enrichment and seek to provide the best representation of society. Cultural and social competence is addressed in assignments throughout the curriculum including case studies and reflections focusing on systemic issues related to disparity in healthcare. Students are immersed in resources and education to achieve the MSOT Program's mission of fostering competent and caring practitioners and lifelong learners to meet the occupational needs of diverse populations.
Accreditation
The Master of Science in Occupational Therapy Program is accredited by the Accreditation Council for Occupational Therapy Education (ACOTE) of the American Occupational Therapy Association (AOTA). ACOTE is located at 6116 Executive Boulevard, Suite 200, N. Bethesda, MD 20852-4929. ACOTE's telephone number (301) 652-2682. The ACTOE website can be found at: http://www.acoteonline.org. Graduates of the program are eligible to sit for the National Certification Examination for the Occupational Therapist administered by the National Board for Certification in Occupational Therapy (NBCOT). After successful completion of this exam, the individual will be an Occupational Therapist, Registered (OTR). In addition, most states require licensure in order to practice; however, state licenses are usually based on the results of the NBCOT Certification Examination. [Note that a felony conviction may affect a graduate's ability to sit for the NBCOT certification examination or attain state licensure.]
Curriculum Design
The process of learning is conceptualized in the curriculum as a sequential and developmental progression where learning occurs through a spiraling curriculum of knowledge construction and reconstruction. This involves learning about human occupation and development across the lifespan within the contexts following a developmental curriculum. Students learn foundational concepts and continue to build upon this knowledge to develop more advanced and complex skills.
Threads in Curriculum
Foundational Knowledge
Practice Skills
Research
OT Evaluation Across the Lifespan
OT Intervention Across the Lifespan
Professional Skills
Levels of the Curriculum
Entrance with undergraduate knowledge and life experiences
Understanding the foundational knowledge of occupational therapy
Competency in clinical reasoning, evidence-based practice, research and interprofessional practice
Advanced problem-solving skills
Integration of knowledge and entry-level application to practice
Application of knowledge and skills to provide client-centered, occupation-based, culturally relevant occupational therapy services.
---
Stockton Occupational Therapy Student Learning Outcomes
Students graduating from Stockton University's Master of Science in Occupational Therapy Program will possess expected professional behaviors of an entry-level occupational therapist as demonstrated by the following learning outcomes (numbers in parentheses refer to threads listed above)
Demonstration of professional skills based on an understanding of the profession's ethics, practice framework, safety regulation, and standards of practice. (1,6)
Effective articulation and utilization of occupation with individuals across the lifespan. (2, 3, 4, 5)
Understanding of Occupational Therapy's history, philosophy, theoretical base, models of practice and frames of reference. (1)
The ability to evaluate a client's occupationally relevant strengths and needs in occupations, performance skills, performance patterns, contexts, activity demands, and client factors to achieve health, well-being, and participation in life through engagement in occupations. (4)
The ability to provide occupationally-based, evidence-based, and client-centered intervention. (2, 3, 5)
Utilization of clinical reasoning that demonstrates problem solving, critical thinking, ethical reasoning, integration of knowledge, evidence-based practice, self-initiative and independent thought. (3, 4, 5)
Understanding of the changing health care environment with a commitment to lifelong learning that will allow the provision of therapeutic and humanistic care to promote health and well-being as evidenced in the ability to organize and manage OT services. (3, 6)
Utilization of effective verbal, nonverbal and written communication skills. (1, 2, 3, 4, 5, 6)
Utilization of appropriate professional and interpersonal skills to establish and maintain effective relationships with clients, caregivers and colleagues. (1, 2, 3, 4, 5, 6)
Utilization of knowledge pertaining to cultural, political, and economic differences when working as a member of an interprofessional team, in the role of supervisor, and in the client-therapist relationship. (6)
Demonstration of entry-level research and presentation skills. (3)
Competent use of technology for gathering and processing information. (1, 2, 3, 4, 5, 6)
Success in achieving personal satisfaction as an employed entry-level occupational therapist. (6)
Satisfaction with educational experience gained at Stockton. (6)


MSOT Curriculum - 80 Credits
Year 1- Fall (16 credits total)

Year 1- Spring (20 credits total)

OCTH 5101 Foundations of Occupational Therapy (4 credits)

OCTH 5110 Foundations of Motor Performance (4 credits)

OCTH 5115 Clinical Conditions Across the Lifespan (4 credits)

OCTH 5125 Professional Issues 1 (2 credits)

OCTH 5130 OT Group Process & Leadership (2 credits)

OCTH 5135 Advanced Motor Performance (4 credits)

OCTH 5140 Evaluation of Occupational Performance in Pediatrics (3 credits)

OCTH 5141 Pediatric Occupational Therapy intervention (4 credits)

OCTH 5145 Fieldwork Level 1 Concepts 1 (4 credits)

OCTH 5150 OT in Mental Health (4 credits)

OCTH 5160 Evidence Based Practice (4 credits)

Year 1- Summer (4 credits total)

OCTH 5165 Application of OT Theory (2 credits)

OCTH 5175 Professional Issues II (2 Credits)

Year 2- Fall (18 credits total)

Year 2- Spring (16 credits total)

OCTH 6100 Evaluation of Occupation Performance in Adults (3 credits)

OCTH 6110 Adult OT Intervention (4 credits)

OCTH 6115 Fieldwork Level 1 Concept 1 (1 credit)

OCTH 6120 Advanced Adaptations & Assistive Technology (4 credits)

OCTH 6130 Foundations of General Practice (4 credits)

OCTH 6160 Clinical Research 1 (2 credits)

OCTH 6140 Evaluation of Occupational Performance in Older Adults (3 credits)

OCTH 6141 Older Adult OT Intervention (4 credits)

OCTH 6145 Fieldwork Level 1 Concepts II (1 credit)

OCTH 6155 Management of Upper Extremity Dysfunction (4 credits)

OCTH 6161 Clinical Research II (2 credits)

OCTH 6175 Professional Issues III (5 credits)

Year 2- Summer (3 credits total)

OCTH 6910 Level II Fieldwork (3 credits)
Year 3- Fall (3 credits total)
OCTH 6920 Level II Fieldwork (3 credits)
---
To remain in the program, students are expected to complete every course and maintain a GPA of 3.2 or above. If a student's cumulative GPA falls below a 3.2, the student will be notified of academic probationary status. The student will be granted no more than one probationary semester throughout the graduate program. Any student earning a D+ or below in a class will be required to repeat the class or will be dismissed from the program (GPA and potential to raise GPA in probationary semester will dictate this). Repeating a class will alter the sequence of the duration of the program. Depending on the timeline necessary for completing probationary requirements, graduation may be delayed. There may be the instance when a student cannot mathematically improve their GPA to 3.2 in one semester (i.e. probationary semester is during fieldwork level II semester when 3 credit FW experience occurs and GPA is too low to recover). In this instance, the student will be dismissed from the program. Also, a grade below a B- for three courses will warrant a dismissal from the program. Successful completion of all fieldwork experiences is a requirement for graduation. If a student fails 2 FW II experiences, they will be dismissed from the program.
MSOT Program Fieldwork
The American Occupational Therapy Association's document entitled The Standards for an Accredited Educational Program for the Occupational Therapist governs the length and type of clinical training required of students to receive the appropriate amount and type of clinical experiences needed to meet these Standards. These clinical training experiences may also be referred to as clinical affiliations and fieldwork and will occur in varied locations where occupational therapy services are provided or in community settings where an occupational therapy role is not yet established. In some cases, students will have the opportunity to learn in role-emerging practice areas to help identify where occupational therapists can improve health and well-being of a wider-range of people. The two different types of mandated fieldwork integrated into your academic experience at Stockton are level I and level II fieldwork. During level I fieldwork, students observe and may participate in the delivery of the occupational therapy services. Level II fieldwork begins after completion of the academic portion of the MSOT program. In the level II fieldwork, students gradually assume responsibility for client services at their fieldwork site under the supervision or support of a licensed practitioner.
At Stockton, level I fieldwork occurs in conjunction with specified courses and begins in the second semester of study. Level I fieldwork involves weekly experiences at a fieldwork site that relates to the course of study emphasized each semester. As an example, when studying occupational therapy as applied to children, students will go once a week to various locations where occupational therapy is provided to children or is being developed for children. In this manner, level I fieldwork provides students with the opportunity to correlate academic learning with practice-based experience.
At Stockton, level II fieldwork occurs after successful completion of all required academic coursework. Each student will be assigned two different level II fieldwork experiences. The length of each level II fieldwork affiliation is typically 12 weeks of full-time clinical experience. Participation in level II fieldwork is contingent upon sever factors including, but not limited to, student preparation, clinical site availability and suitability for clinical skill development. The general intent of level II fieldwork is to provide the broadest exposure to the field of occupational therapy with experiences across the lifespan and in a variety of settings or treatment models. Participation in level II fieldwork is designed to include experience in a traditional medical setting and a community-based setting where psychosocial, developmental, and physical disability evaluation and intervention occur. In addition, to the mandated level I and II fieldwork experiences, the Stockton MSOT program provides additional clinical experiences and community-based student learning experiences throughout the academic program. Given usual circumstances, failure to complete all Level II Fieldwork requirements with 24 months of completing academic coursework will result in dismissal from the program, except in circumstances including military deployment or other circumstances that are permitted by the NJ Division of Consumer Affairs.
Admissions Criteria
Application Deadline
Fall 2024: Verified in OTCAS by November 20, 2023
Prerequisite Requirements:
Completion of a baccalaureate degree
Cumulative 3.2 GPA or higher
Completion of prerequisite coursework with a grade "B-" or better
Prerequisite Courses- Must be completed with a "B-" or better. The Stockton course acronym and number that corresponds with the pre-requisite is provided for Stockton students. To view a list of all acceptable courses from New Jersey institutions of Higher Education, please click here.
Anatomy & Physiology: Two semesters are required; at least one semester must have a lab. The B- must be obtained in the lecture portion if the lecture and lab are given separate grades. Choose an option.
Option 1: Anatomy and Physiology I for Health Sciences with a lab: BIOL1260 and Anatomy and Physiology II for Health Sciences with a lab BIOL 2260
Option 2: Human Anatomy with Lab (BIOL 2180/2185) and Principles of Physiology (BIOL 2150/2151)
***Beginning in the Fall 2020 application cycle (deadline in November of 2019), the anatomy courses MUST be completed within 4 years of application to the program.
Introduction to Psychology/ General Psychology (PSYC 1100)- MUST BE THE INTRODUCTION TO PSYCHOLOGY COURSE. We WILL NOT accept higher level courses as substitutions.
Psychopathology (PSYC 2211)
Life Span Development (Human Development or Development Psychology across the Life Span) or Human Behavior in the Social Environment (PSYCH 3322 or SOWK 1103). To meet this requirement, the course (or courses) must cover all stages of life span (infants through geriatrics) and various areas of development (cognitive, physical, and social).
Introduction to Anthropology or Introduction to Sociology (ANTH 1100 or SOCY 1100)- MUST BE THE INTRODUCTION TO ANTHROPOLOGY OR SOCIOLOGY COURSE. We WILL NOT accept higher level courses as substitutions.
Statistics or Applied Biostatistics (CSIS 1206 or HLTH 2305 or PSYC 2241 or PUBH 2330 or PUBH 2310) To meet this requirement, the course must cover statistical methods primarily and not research methods or simple math.
Please note that we no longer accept CLEP scores for pre-requisites for the MSOT program.
For course descriptions, please visit The University's Course Catalog.
Application Process
You must submit an application through the Occupational Therapy Centralized Application System (OTCAS) Your OTCAS application must be verified by or prior to November 20th.
Your application to OTCAS must include:
Official Transcripts from all schools attended (including Stockton)
Three letters of recommendation required: One must be from a professor with whom you have taken a course, and the other two must be professional/academic references (no personal references accepted).
Essay, resume, and any other additional information
Documentation of 40 hours on the

Volunteer/Work Hours Form (uploaded in the Documents section of CAS)

For more details about this process, visit the OTCAS Instructions and FAQ page.
Frequently Asked Questions
---
Apply today. If you have further questions or would like to Request More Information please call the Office of Graduate Admissions at (609) 626-3640 or E-mail gradschool@stockton.edu.
Mary Kientz, OTD
Associate Professor of Occupational Therapy
Chair of the M.S. in Occupational Therapy Program
OTD., M.S., University of Kansas; B.S., Elizabethtown College: developmental disabilities with focus on autism spectrum disorders, positive behavioral supports, community-based interventions, advocacy