Rapper Talib Kweli Featured at Hip Hop Summit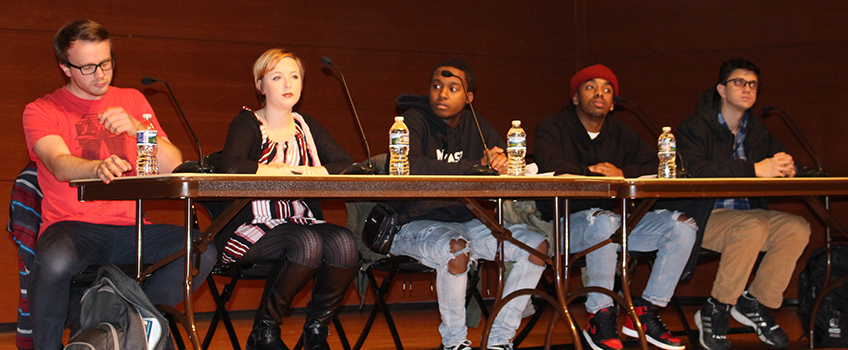 Galloway, NJ – From student presentations to a keynote address by Rapper Talib Kweli, the Hip Hop Summit at Stockton University on Dec. 7 offered a multitude of reasons why Hip Hop deserves academic study and respect as both a social and music movement.
"My generation wore our identities on our sleeves," Kweli said in a talk that referenced artists and historical figures ranging from Harry Belafonte to Martin Luther King, Jr. and Tupac Shakur. "It is more nuanced now, but that is good."
The theme of the day-long summit was "Stay Woke: Using Hip Hop as a Tool for Raising Consciousness." It was organized by Professor of Communications and Africana Studies Donnetrice Allison and students in her Introduction to Hip Hop Culture class.
The day began with a panel of five students who spoke and took questions on topics ranging from women in hip hop to violence, ghostwriting and competition. Their topics looked at historic examples, but also their modern relevance.
Student Cordell Irving argued that hip hop does not promote violence, but represents the experiences of the artists.
"Look into their backgrounds and they are talking about themselves, like anyone talking about their story," he said.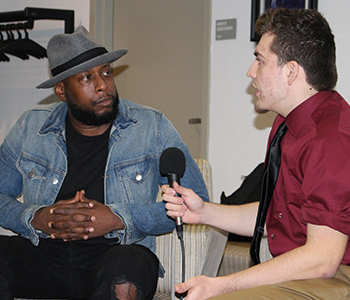 Morganna Hodge talked about the social impact of the over-sexualization of women in Hip Hop which, in an era of concerns about sexual harassment, can appear as an endorsement of bad behavior.
Haashim Smith-Johnson touched on the hyper-masculinity of the genre, with lyrics than can be homophobic. He touched on white rappers and whether they were appropriating or appreciating the music.
Brandon Mariano talked about "beefs" in the industry, and if they contributed to creativity by pushing the artists to be more creative. He addressed the deaths of Tupac and Biggie Smalls, and whether their deaths set boundaries for hip hop rivalries.
Area hip hop aficionados Ray Tyler, Ryan Terrell and Zach Katzen talked about the history of hip hop in the Atlantic City and Philadelphia areas, with Katzen remembering when Jay Z performed at Stockton in 1996 as an opening act.
A panel of professors talked about hip hop as an academic subject with historical and social ramifications.
Timothy Welbeck, an attorney and hip-hop artist, who also teaches at Temple University, said hip hop represents the African American experience.
"And, it's fun to listen to," he said.
James Peterson, Director of Africana Studies and Professor of English at Lehigh University said he can come up with a playlist that can address any academic issue. He is developing a book on Playlist Pedagogy for educators.
Lissa Skitolsky, Associate Professor of Philosophy at Susquehanna University said Hip Hop is testimony of lived violence. She called sampling and scratching a disruption of a melody, not unlike a flashback after traumatic violence.
Ethnomusicologist Patrick Rivers, and Assistant Professor of Music at the University of New Haven, talked about the technology of hip hop and how it has allowed the sound and beat to evolve over time.
"Sampling is used to create something new," he said, citing Kanye West as one of the most creative modern users of technology.
Allison asked how they integrate hip hop into academics and if they face challenges in making it a legitimate subject.
"We need academic studies to understand just how powerful hip hop is," Peterson said.
Skitolsky said it does sometimes need to be translated, and academics can take the empathy out of the music.
"When you hear hip-hop testimony it moves you to do something," she said.
Peterson said the best artists don't just tell stories, but demonstrate the process of how to tell an effective story.
Kweli quoted hip hop as being "intellectual movement." Artists are ambassadors of black culture, he said. He talked of his personal support for the Black Lives Matter movement and its founders.
"If Martin Luther King, Jr. were alive today, he would be with them," he said.
He stopped short of saying artists should be role models, saying some are too young to know enough.
"Our job is to curate what we take in, and uplift the people we think are doing right," he said. "That is our responsibility as members of the community. The artist's responsibility is making art. Many artists are just babies, but as they grow up, I like to see evolution."
At 42, Kweli has been in the business for two decades, and just released an album "Radio Silence." When asked how he stays relevant and successful he said it's love and dedication.
"I've dedicated my whole life to doing it," he said. But he also said success does not mean being rich.
"If you can support your family, and do rap, that's success," he said.
He told potential rappers to develop their art, then market it and develop a local following that will help them get known, and not wait for someone like him to make them famous.
"If I come to your city, people should be talking about you," he said. "I should be looking for you, not you looking for me."
The summit also featured Stockton student Chris Barnes performing freestyle, using words suggested by the audience. It ended with performances by area hip-hop artists.
To see a gallery of photos of the event click Hip Hop Summit.
Watch a Snapchat story on the Hip Hop Summit Performances here.
Contact:
Diane D'Amico
Director of News and Media Relations
Galloway, N.J. 08205
Diane.D'Amico@stockton.edu
609-652-4593
stockton.edu/media