Stockton Senior Jade Fleming Earns Fulbright Award to Teach English in Malaysia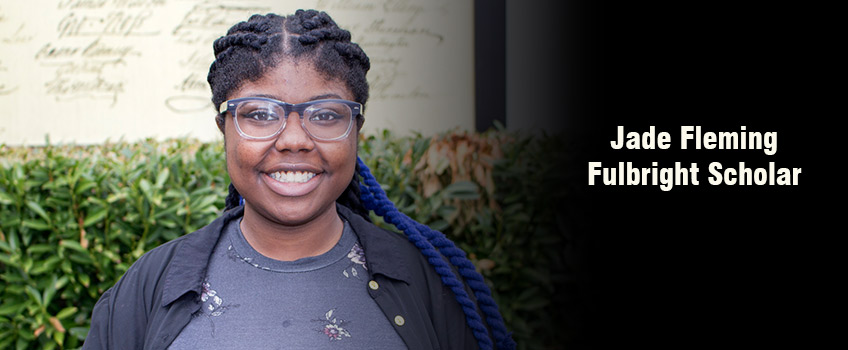 For Immediate Release
Contact: Maryjane Briant
News and Media Relations Director
Galloway, N.J. 08205
Maryjane.Briant@stockton.edu
(609) 652-4593
stockton.edu/media
Galloway, N.J. - Jade Fleming, a Stockton University student who will graduate in May with a B.A. in Literature, has earned a grant from the Fulbright U.S. Student Program, one of the academic world's most prestigious awards.
Fleming has received a Fulbright English Teaching Assistantship and will be teaching English in Malaysia for a year beginning in January 2018. The location where she will be stationed will be assigned during the two-week orientation in Kuala Lumpur.
The 21-year-old is a resident of Egg Harbor City, N.J., and has also lived in Florida, as well as Ventnor and Pleasantville in New Jersey. She is a graduate of Atlantic City High School and notes, "I moved a lot as a kid. It's probably why I'm so eager to travel, there's always somewhere else to be."
"People like me, marginalized and very much overlooked in society, don't often get opportunities to go to other countries and other continents," she said. "This wasn't just a chance I've been given, but an opportunity that I didn't back away from. It could have been easy for me to say there's no way that a black kid like me from Pleasantville, from North Lauderdale, from A.C. High, could be qualified for something as big a Fulbright. And yet, I went for it anyway. Now, I'm a Fulbright Scholar who gets to teach English in Malaysia."
Fleming said several members of the Stockton community have provided support and guidance throughout her career here.
Ciara Barrick, an Ocean City resident who earned a Fulbright English Teaching Assistantship in Cyprus in 2015 and went on to set up a new cultural exchange program with European University Cyprus (EUC) for Stockton students, "helped me with the essay portion of the Fulbright application," Fleming said. "We did eight or so revisions and she critiqued it and also encouraged me."
When she first came to Stockton, Fleming said Gail Rosenthal, director of the Sara and Sam Schoffer Holocaust Resource Center, "took me under her wing and helped me out. Gail connected me to the right people to help with financial issues and was one of the biggest supporters in my transition from high school to college." Alongside Rosenthal, Susan Lang, a family friend and coincidentally a close friend of Gail's, also was a major supporter during that transition, she said.
Judy Copeland, associate professor of Writing, alerted her to the Fulbright program and then David Roussel, professor of Greek Language and Literature, explained the process and "convinced me that I could do it."
"Emari DiGiorgio [associate professor of Writing and an award-winning poet] inspired me to try poetry," she said, and Cynthia King, associate professor of Creative Writing, "basically told me, 'you have talent and you should work on your writing.'"
Since coming to Stockton, she has been able to travel to Italy and Greece with Roessel through a School of Arts and Humanities program, and she has visited Grenada, where her parents were born.
"I am a first-generation American and the first college student in my family," she said.
She has twin siblings, a brother, Justin, and a sister, Jennin, who are juniors at Cedar Creek High School in Galloway. "They are going to be heartbroken when it's time for me to go," she said. "But they're also really excited.
"They are my biggest inspiration and a big motivator for me to excel," she continued. "I want them to see what they can do, too."
The Fulbright Program is the flagship international educational exchange program sponsored by the U.S. government and is designed to increase mutual understanding between the people of the United States and the people of other countries.
Sponsored by the United States Department of State's Bureau of Educational and Cultural Affairs, the Fulbright Program was founded by the late U.S. Sen. J. William Fulbright in 1946 and now operates in over 150 countries. The program has provided funding for approximately 360,000 students, scholars, teachers, and professionals for graduate study, advanced research, university teaching, and teaching in elementary and secondary schools. The Fulbright U.S. Student Program is administered by the Institute of International Education.
Fleming joins two other previous Stockton graduates who won Fulbrights in addition to Barrick: Kaidesha Pinkney of East Windsor, N.J., who also taught English in Malaysia in 2015, and Barbara Fisher, a 2013 Honors Physics graduate from Westville, N.J., who taught English in the Czech Republic in 2014.
Faculty members Roessel, Mary Lou Galantino, professor of Physical Therapy, Joseph Lema, associate professor of Hospitality and Tourism Management Studies, and Robert Nichols, professor of History, are all previous Fulbright recipients.
Faculty and staff should direct interested students who are juniors to the Office of Global Engagement to learn more about the Fulbright program and the campus procedures and deadlines. The new program cycle recently opened and students will be matched with a campus adviser for guidance on completing the application. The on-campus deadline for completing the application is Sept. 1, 2017. Successful applicants would begin their Fulbright year abroad beginning January 2019.