Stockton and Friends to Perform Handel's 'Messiah' at Borgata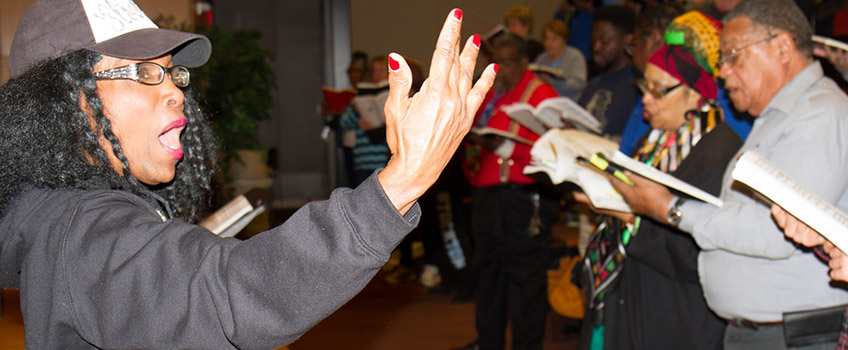 Galloway, NJ - Tenor W. Bruce Grant of Mays Landing sang in the very first Stockton University production of Handel's Messiah in the mid-1980s, and even had a solo.
He is back again this year for the 14th biennial performance at 7 p.m. Dec. 10 performance at Borgata's Event Center in Atlantic City.
"I love the energy, and the quality of the singing," Grant said at a recent rehearsal.
Generating that energy is Stockton Professor of Music Beverly Vaughn, who organizes the biennial University event, which welcomes singers from the community to join Stockton students to create a choir of some 200 voices.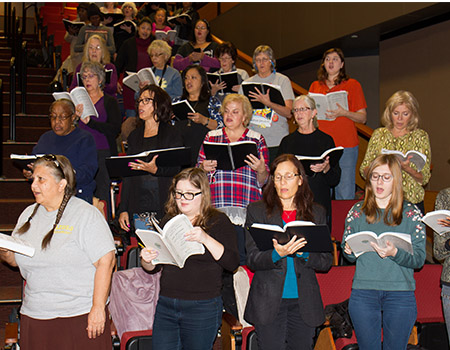 "Rise up now, rise ­UP­­­," Vaughn yells as she encourages the singers to stand and feel the words they are singing. Pianist Dorothy Garrison sets the pace and Vaughn's hands fly with the music as she leads a rehearsal. At one point she climbs up into the aisles of the Alton Auditorium to get the most from her singers.
"She is just so amazing that it makes every rehearsal fun," said Dr. Melissa Hutchison, of Northfield, a family physician who also loves to sing.
"I've sung in choirs my whole life," Hutchison said. "And I've always loved this piece. I come just for the joy of singing in a group together and meeting new people."
Robin DeMarsico of Galloway Township, a music teacher in Toms River, participated in her first performance as a student at Stockton in the 1980s and is returning for her eighth performance this year.
"I love to sing," she said. "But a big reason I come is Beverly's enthusiasm and to sing with all the people who are here. It's thrilling to have everyone sing together."
DeMarsico said part of the joy for her is watching the choir improve with each rehearsal.
"It starts with rough spots, then it just all comes together," she said.
And it will all come together for the performance, which Vaughn says is not just about the music, but also about community and the coming together of people of all different ages and professions to share their love of singing a holiday classic.
"This is all about the joy," she said.
Tickets for the performance are available online through the Borgata box office at www.theborgata.com, or by calling 1-866-900-4849. The cost is $14 for general admission, $8 for Stockton students, and $12 for those over 64 and under 12 years of age. Handicapped accessible seating is available.
A portion of the ticket proceeds support the Stockton Scholarship Program. The event is sponsored by Stockton University Academic Affairs, School of Arts and Humanities and the Office of the President.
# # #
Contact:
Diane D'Amico
Director of News and Media Relations
Galloway, N.J. 08205
Diane.D'Amico@Stockton.edu
609-652-4593
stockton.edu/media