Dave Sholler scores V.P. of Communications role for Philadelphia 76ers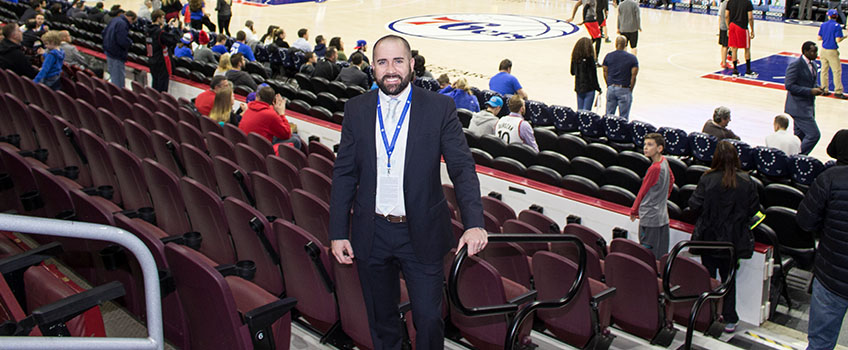 The glitz and glamour of the Vegas lifestyle dazzled Dave Sholler '06, who grew up modestly in Egg Harbor Township, New Jeresy.
As a kid, Sholler watched professional boxing on television live from Las Vegas and cheered for the Philadelphia 76ers while his mom worked multiple jobs to support Sholler and his siblings.
Sholler's passion took him from the small living room to the college classroom and beyond.
He transferred to Stockton from LaSalle University in his sophomore year. "I started my education at LaSalle, but it wasn't the right fit, it didn't feel like the right connection. There wasn't that thing – the connection that I got at Stockton," he said. "Stockton professors looked out for me and helped me succeed."
As a sophomore, he crafted a résumé to apply for internships with the support of Professor of Communications James Shen. Sholler then researched the general managers for 100 professional sports teams and mailed "big envelopes" with personalized notes to each. He interviewed and received an internship with the Philadelphia 76ers for the 2004-05 NBA season.
"The internship showed me I belonged and that I could work in pro sports," he said.
Following the internship, Sholler honed his skills as sports director for Stockton's WLFR 91.7 and writing for The Argo, Stockton's weekly paper. He later worked as a paid stringer for The Press of Atlantic City, covering Stockton sports.
Sholler graduated in 2006 and landed a job working special events for Harrah's Entertainment in Atlantic City, where he caught the "boxing bug." The position led to an employment opportunity at Ultimate Fighting Championship (UFC), a mixed martial arts promotion company, headquartered in Las Vegas.
Sholler climbed the corporate ladder as a communications professional for the UFC in the city that captivated him as a young boy. He rose to vice president of public relations, athletic marketing and development at UFC before accepting a position as vice president of communications for the Philadelphia 76ers.
"I came home to serve a team that is near and dear to my heart," he said. "This opportunity allows me to oversee communications for both the Sixers business and basketball operations, and marries my love for communications and sports."
Despite four consecutive losing seasons, Sholler still describes the Sixers as an "iconic franchise" that Philadelphia "lives and breathes."
"The team's struggles on the court have been felt by the city, but with the emergence of some of our young players, the future looks very bright and our fans have responded accordingly," Sholler said. "This is a blue-collar city, and the team recognizes that and works hard to represent the Philadelphia area proudly. The 76ers are a source of hope, strength, and inspiration for the city, and it's a responsibility we take seriously. I truly believe the next few years are going to be really special for 76ers fans."
Sholler likened the Sixers to Stockton, the two entities similarly serving as beacons of the region.
"The 76ers are to Philadelphia as Stockton is to South Jersey--both are turning out really, really successful people," he said. "I think we forget how many people are being churned out of this area. It's symbolic of the University and the franchise. I'm honored to be able to stand alongside so many Stockton graduates who have had success in their professional careers."
"When the Sixers trained in Big Blue – that was really cool for me, especially when I was back in Vegas," he said. "Everything has come full circle, and now I'm working for the team where I got my first start in professional sports. I never stopped being a Sixers fan, and I never stopped being a Stockton fan."
--Reported by Christina Butterfield