Two Artists Featured in Stockton Art Gallery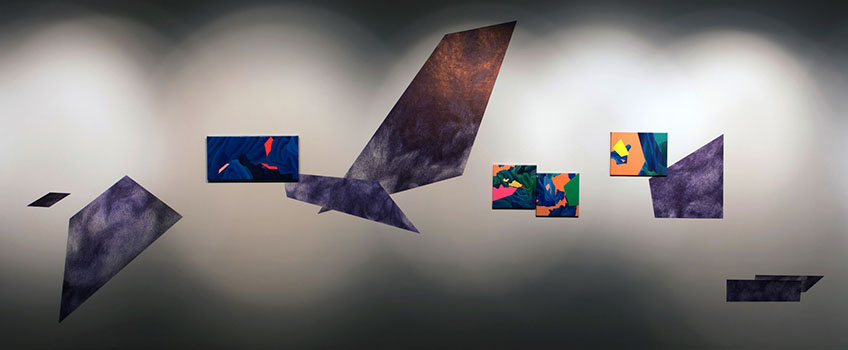 Galloway, N.J. – Exhibitions by artists Bruce Garrity and Chung-Fan Chang will be on display in the Stockton University Art Galleries from September 5 through November 14th.
Stationed in the upper art gallery, Garrity's recent piece of work, Projected Memory, includes thirty paintings and six drawings focused on the studio and landscape.
Stationed in the lower art gallery, Chung-Fan's installation, KITE XI includes landscape painting, works on paper, wall installation (ink drawing directly on the drywall), tape paintings and a video. Visitors are invited to draw on a dedicated wall as part of the exhibition.
The two artists will give walking gallery talks on different days. Both the exhibitions and talks are free and open to the public. Garrity's will be on Thursday, October 4th at 2:30pm, and Chang's on Wednesday, October 17th at 2:30pm
Bruce Garrity's paintings of the studio and landscape are poetic explorations of pictorial inventions. He utilizes a broad vocabulary of painterly means in the pursuit of visual pictorial drama, often in dialog with earlier artists (recently Cezanne, Matisse, Bonnard). Garrity worked as an Art Director and Illustrator before taking up teaching, being an adjunct faculty member of Rutgers University since 1997, and receiving the Sybil Cohen Award for Excellence in Teaching in 2010.
In addition, Garrity has also curated a number of exhibitions and symposia at the Stedman Gallery including: "To Be or Not to Be" a Painter and Seeing Voices: The Visual Voice (in collaboration with Prof. Margery Amdur), Working Drawing, and Dark Eye Glances: Romantic Impulse in Landscape (with Noreen Scott-Garrity).
In Chang's piece, KITE XI, "Kite" refers to the vivid color fields in the abstract compositions that imply as intruders to the surroundings. The work draws inspirations from life experience, formal Chinese ink landscape and identifies the visual simile of color and its significance in culture in the East and the West. Chang's Kite series of work has been exhibited in galleries and museums nationally and internationally since 2009.
Museumswhere her work has been featured include Liu Haisu Art Museum in Changzhou, China, The Contemporary Art Center in New Orleans, LA, and The Museum of Contemporary Art of Georgia in Atlanta, GA. Chang's recent curatorial project Shifting Momentum – Abstract Art in Taiwan and the Noyes Collection, exhibited at the Taipei Cultural Center in New York in March 2018 followed by The Noyes Museum of Art at Kramer Hall in Hammonton, NJ from April to June 2018.
The Art Gallery is free and open to the public daily: Monday – Saturday 12-730 and Sunday 12-4pm.
# # #
Contact:
Denise McGarvey,
Exhibition Coordinator for the School of Arts & Humanities
609-652-4566.
Stockton.edu/artgallery
denise.mcgarvey@stockton.edu