Stockton Dance Team Headed to National Competition
For Immediate Release
January 10, 2018
Galloway, NJ – After qualifying in August, the Stockton University Dance Team is headed to Florida to compete in the Universal Dance Association's national championship from Jan. 12-14.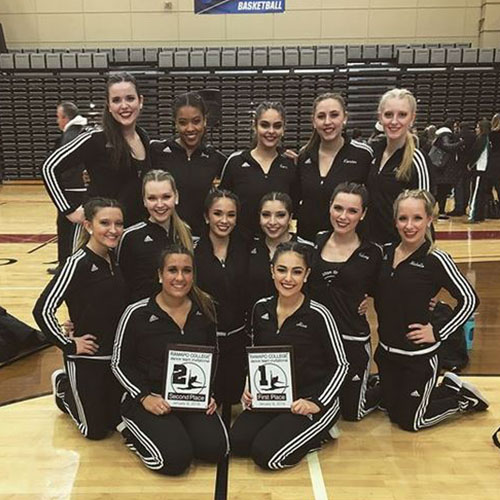 The team, led by President Alisa Iacovelli will perform two Jazz and Hip Hop dance numbers at the competition. Iacovelli and the team are very excited to participate in the competition for the second year.
"Being a part of the dance team has provided me so many opportunities," Iacovelli said. "I've been able to do so much and have so many wonderful experiences because of it."
In addition to their participation in the national competition, the 13 members of the dance team are also active on campus and within the community. The team regularly performs at halftime during Stockton University basketball games and recently performed at the Nov. 20 Philadelphia 76ers game. All Stockton students are invited to audition for the team, which meets regularly during the semester.
The public can watch the Dance Team perform at 9:45 a.m. and again at 4:54 p.m. on Saturday, Jan. 13, using the following link: https://tv.varsity.com//events/6031374-2018-uca-uda-college-cheerleading-and-dance-team-national-championship.
For more information on the Stockton University Dance Team, visit their Instagram page at https://www.instagram.com/stocktonuniversitydt/.
--Reported by Marielena Dottoli.
# # #
Contact:
Diane D'Amico
Director of News and Media Relations
Galloway, N.J. 08205
Diane.D'Amico@stockton.edu
609-652-4593
stockton.edu/media