Artist James Razko Shares His Vision of War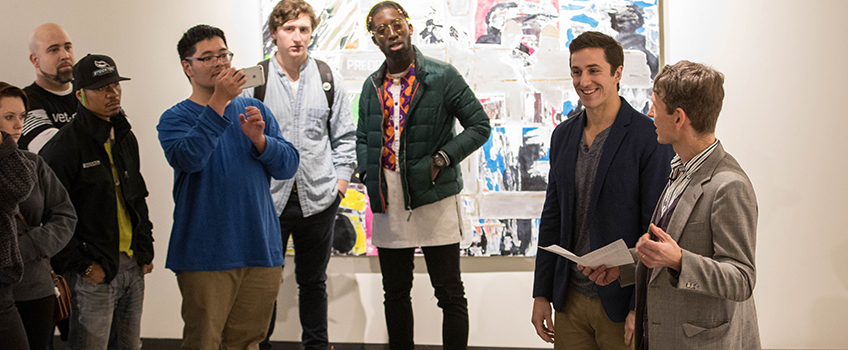 Galloway, N.J. - James Razko could never find the words to describe his experiences in Iraq.
Instead, he created a series of art works that show both beauty and destruction through the eyes of a soldier.
"This is an inner exploration of my own decisions as a kid," Razko said during a talk on his works at the Stockton University Art Gallery.
A native of South Jersey who attended Atlantic City High School, Razko, who shortened his professional name from Raczkowski, joined the military at 17, right out of high school. He trained as a tanker and infantryman and also received specialized security training for missions in Iraq.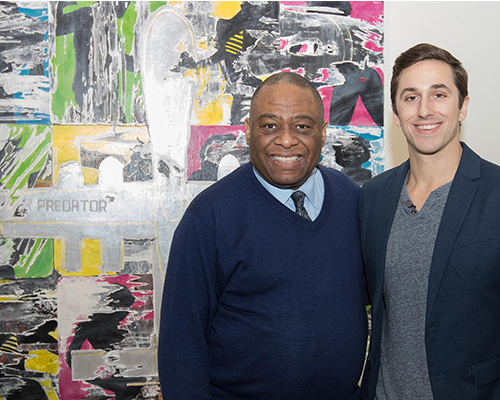 His series "Night Visions" is composed in bright green and reflect what a soldier sees though night vision goggles. Some pieces are very small and round, while others are huge. All depict flashes of light.
"I've used night vision goggles, and I've been through explosions," he said.
Another large series looks like an intricate tile floor, old and chipped. But the chips represent bullet holes and bomb fragments.
"This one is more subtle," he said. "The 'Night Vision' are more in your face."
Razko, said he is not sure he would have become an artist had he not been in the military.
"After the military I felt I had something to say," he said.
He attended Stockton, earning a bachelor of fine arts degree in 2011, then a master of fine arts degree in 2015 from the New York Academy of Art. He was previously commissioned to paint the portraits of Stockton's previous four presidents, which hang in the Campus Center and are a much different style than the current works in the Art Gallery.
The largest series is just called Walls and are collages of different aspects of war. One incudes a huge photo of George Washington next to soldier. Others have pits and pieces of newspapers, photos of presidents, Saddam Hussein, a predator drone, civilians and slogans.
He said he did not give them more specific names because he wants them to be open to interpretation. He said the collages are like walls with graffiti and posters that have been partially ripped off.
Razko's talk, led by associate professor of art Jacob Feige and attended by almost 100 students and staff, also led to questions about his habits and themes.
He said he paints eight to 10 hours a day, almost every day, and is always learning. He Googled images on the internet for his collages.
He said at 17 he had no conception of war at all, but overall considers the military a positive experience which gave him a lot to think about.
"Each piece is born of what I'd done and what the experience had meant to me," he said.
His favorite piece?
"Usually the one I've just started," he said.
James Razko talks about his work on Twitter.
# # #
Contact:
Diane D'Amico
Director of News and Media Relations
Galloway, N.J. 08205
Diane.D'Amico@stockton.edu
609-652-4593
stockton.edu/media