Three Students Present at Yale University Bouchet Conference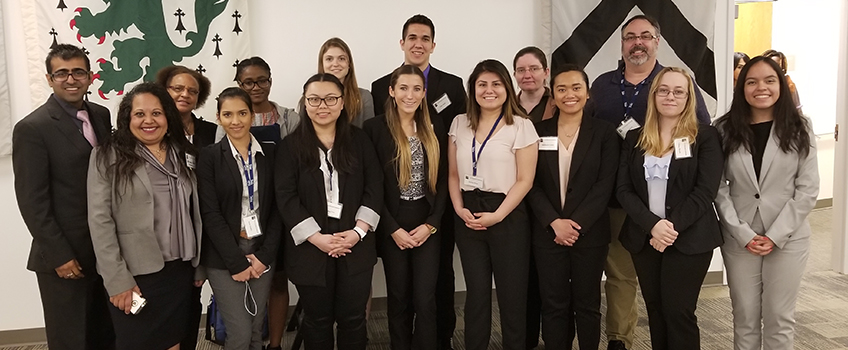 Galloway, N.J. - Three Stockton University undergraduate students presented their research posters at the 2018 Yale Bouchet Conference on Diversity and Graduate Education held at Yale University on April 26-28.
Valerie Hayes, chief officer for Institutional Diversity and Equity, said it was a great honor for Stockton and the students since it is unusual for undergraduate students to be chosen to present at the conference.
Hayes, a co-founder of the Bouchet Graduate Honor Society, said the conference provides an opportunity for Stockton undergraduate students to experience and connect with accomplished doctoral candidates and Society institutional member representatives from Research I institutions.
The three participating Stockton students were Tiffany Roach, Emily Descano and Jessica Perez.
Descano and Perez worked with Associate Professor of Health Science Amee Shah, director of the Cross-Cultural Speech, Language and Acoustics Lab at Stockton. The two students are part of the SMARTS (Student Mentoring in Achievement in Research and Technological Skillset) program organized by Shah to give undergraduate students the opportunity to do research.
Shah said her students not only learned how to prepare a competitive conference proposal, but also applied for their own grant funding from the Provost's office to attend the conference.
"It is a testimonial to the fact that with the right tools, mentoring, and funding support, we can prepare even sophomore and junior students to present at the most scholarly venues and hold their own with doctoral students, administrators, and faculty," Shah said.
Another seven students also attended the conference through diversity grant funding provided by the Provost's office and contributions provided by NAMS Dean Peter Straub. The principals on the diversity grant are Assistant Professor of Health Science Luis Garcia, Assistant Professor of Criminal Justice Manish Madan, Associate Professor of Chemistry Elizabeth Pollock and Assistant Dean of Education John Gray.
The seven students who attended were Tyler Black, MelissaJo Cortez, Rosheka Faulkner, Catherine Rojas, Irene Stanley, Julia Trafton, and Trang Tran.
The three presenting students said the experience was memorable. Below are their projects and comments about the experience:
"Synthesis of Nickel Catalysts for Transfer Hydrogenation"
Authors: Tiffany Roach, Marcus Miller, Michelle Schmitz, Valkyrie Leach, and Steven Kalman.
Presenter: Tiffany Roach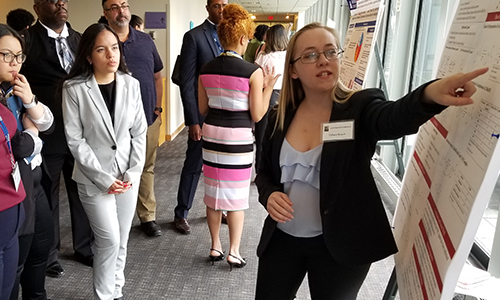 "The opportunity to attend the Bouchet Conference, which brought numerous remarkable individuals together, offered an extraordinary networking experience. It was reassuring and inspiring to learn that many of them were in our shoes once, and they have moved onto achieving such amazing work.
While presenting, it was interesting not knowing who you were talking to as they came over. After going through my poster with one gentleman, he asked if I was interested in Chemical Engineering; after replying yes, he explained: "Well, I am a starting professor at Stanford in the Chemical Engineering department. I'd like to write down some labs you may be interested in."
I exclaimed, saying I didn't even think to apply. With a confident look, he told me that after seeing how I performed and what I have accomplished at Stockton, I would be a strong candidate.
Without this experience, I would have never considered Stanford for graduate school, but this interaction definitely encouraged me not to be afraid to reach high."
"Quasi-Ethnographic Interviews and Experiences of the South Jersey Hispanic Community"
Authors: Jessica Perez and Amee Shah
Presenter: Jessica Perez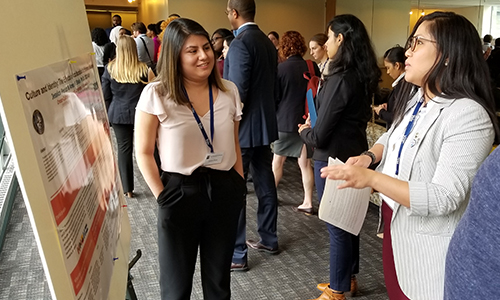 "When attending the Yale Bouchet Conference, there were many 'firsts' for me. This was my first time doing research, presenting research and even being at an Ivy League school.
During the (Honor Society) Induction Ceremony, they called down the students who were getting inducted and listed all of their accomplishments. Sitting in the audience, I was very intimidated. I was afraid I would not be able to hold a conversation with these very intellectual people at my poster presentation.
Once my presentation came around, I presented my research and also got some insight on how the inductees got to where they are now in their academic careers. Not only did I gain skills in presenting to a wide range of people, I also gained confidence in pursuing a PhD or Doctorate.
No matter where you start, from a small community college, or an Ivy League school, if you put in the work and effort you can reach great heights in your academics."
"Interactive Globalization Practice: A New Portal to Improving Race Relations"
Authors: Emily Descano and Amee Shah
Presenter: Emily Descano
"I want readers to understand the importance of such a conference. It was pivotal for me to experience the academic success and motivation that was present at the Yale Conference. It opened my eyes to a whole new world of possibilities and encouraged me to set even higher academic goals.
Being immersed in such an environment made me realize that research is how you change the world, and that there are many individuals who will support and encourage your intellectual curiosity. This conference made me realize that I am capable of tremendous things.
I would like to mention the support and the opportunities that Professor Shah's SMARTS research mentoring program provided. This program guided me through the application process for my attendance and funding for this professional conference, and additionally allowed me to become involved in innovative research in the field of diversity and inclusion. The support I received helped me to present at such a prestigious location as Yale University, and this program should be promoted to allow many more students to become involved with research at the undergraduate level."
For a video of students talking about their experience click Yale Bouchet Conference.
# # #
Contact:
Diane D'Amico
Director of News and Media Relations
Galloway, N.J. 08205
Diane.D'Amico@stockton.edu
609-652-4593stockton.edu/media