South Jersey Culture & History Center Publishes 'Blogging 40'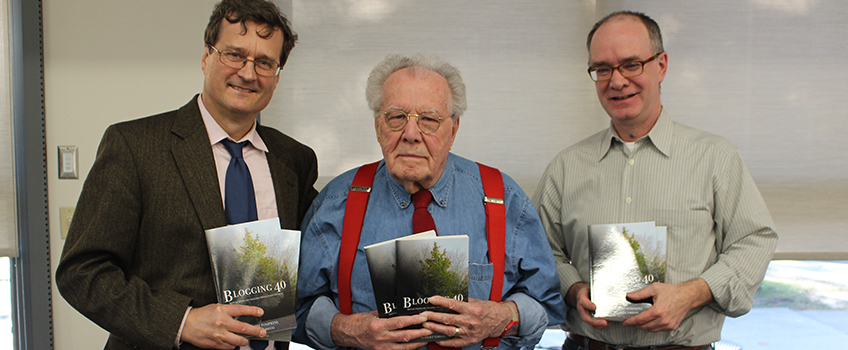 Galloway, N.J. – The South Jersey Culture and History Center (SJCHC), an affiliate organization of Stockton University, has released another publication titled Blogging 40, authored by Stockton Professor Emeritus of Literature Ken Tompkins and Stockton Dean of General Studies Robert Gregg.
Blogging 40 is a memoir composed of 44 candid essays about Tompkins' and Gregg's experiences while editing and producing the SJCHC publication Reaching 40, published in 2011. Reaching 40 chronicles the history of Stockton University through essays penned by faculty and staff ranging in dates from 1970 to 2010.
During their process, Tompkins and Gregg came across many obstacles, such as tracking down historical Stockton figures and accessing old photographs. Both felt these obstacles, and the ways they overcame them, should be documented for future research and archival purposes, and thus Blogging 40 was born, on Blogspot.
"My basic approach was that we needed a place to describe and discuss what we were doing and why we were doing it," said Tompkins. "We were also sure to run into problems, and the blog was a good place to confront them. I had no idea then that the essays would be as good and interesting as they turned out to be, nor did I plan on printing them ... that came later."
It was SJCHC Director Thomas Kinsella that felt that a book format might be more easily accessible for interested readers, particularly those that are not so tech-savvy.
"I brought up the idea to turn the blog into a book because I knew it needed to become one," he said. "I knew that if Blogging 40 never became a book, that it could have been lost forever somewhere on the ever-growing Internet. That information is invaluable Stockton history, and it should be easily accessible for the future."
Having a tangible book also poses opportunities for student interns to become involved and receive many resume-building experiences. Blogging 40 was edited during the fall 2017 and spring 2018 semesters by SJCHC interns Taylor Cills, Diondra Meningall-Burney, and Margaret Simek. Kinsella supervised the publication.
Blogging 40 can be purchased on Amazon for $9.95. Reaching 40 can be purchased on Amazon or on the Reaching 40 website for $31.95. Both will be available in Stockton bookstores soon.
"I hope people get [from Blogging 40] that Stockton as an institution is not static and unchanging," said Gregg. "This comes through, I feel, in the fact that Blogging 40 has two different authors with different relationships to the college writing from differing perspectives; there is Ken, one of the founders and visionaries who helped create Stockton, and me, someone who arrived in Galloway about 25 years after the establishment of the college. Certainly at the beginning of the writing of the blogs, I think, Ken was more likely to see Stockton through the lens of disappointment, that it hadn't lived up to the original dream. My own sense at this time was that, in spite of what might have been intended, the institution had come a long way, and its uniqueness was really quite significant. By the end of Blogging 40 production, I think we had both been impressed by what the university had been accomplishing up to that time."
For more information about either publication or the SJCHC, contact Kinsella at Thomas.Kinsella@stockton.edu.
Reported by Kat H. Wentzell
# # #
Contact:
Diane D'Amico
Director of News and Media Relations
Stockton University
Galloway, N.J. 08205
Diane.DAmico@stockton.edu
609-652-4593
609-412-8069
stockton.edu/media