Students Exhibit Art Inspired by Cyprus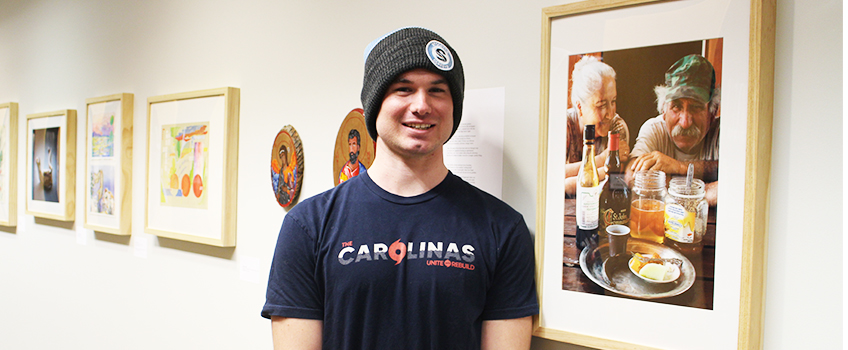 Galloway, NJ – Stockton University's Hellenic Studies program has opened a student-based art exhibit outside of the Constantelos Hellenic Collection and Reading Room on the second floor of the Bjork Library.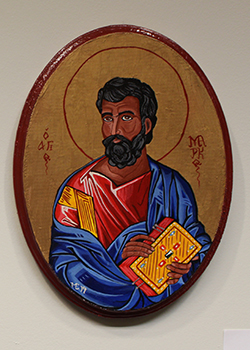 "We are here today to visually celebrate the Greek world – made of body, mind and spirit," said Professor of History Tom Papademetriou, Director of Hellenic Studies, at the opening reception Feb. 21.
Over the summer for the last four years, Associate Professor of Art History Amy Papalexandrou has invited interested students to go with her on tours to study art and archeology in the southern portion of the island of Cyprus, primarily in the city Polis. The trips are sponsored by the Dean C. and Zoe S. Pappas Interdisciplinary Center for Hellenic Studies and private donors. In Summer 2018, Associate Professor of Art Jacob Feige also travelled with students.
"The students were influenced by antiques around them and they made art from it," said Papalexandrou.
While touring the island the students participated in archeology projects, such as organizing and documenting objects the group found. These projects and tours influenced the students to create the artwork that is on display.
Stockton Art Education student Andrew Baumgartel from Egg Harbor Township has three photographs in the exhibit.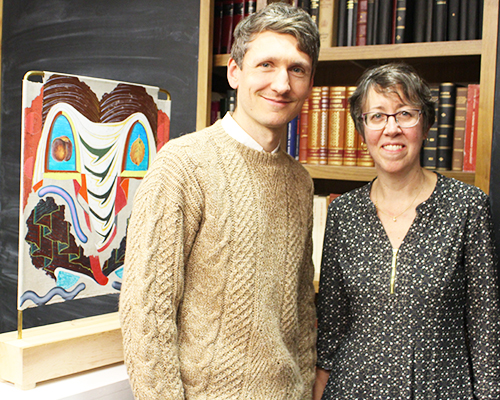 "I went on the trip for the experience," said Baumgartel. "It was everything I expected and more."
One of his photographs is of an older couple the group met in Cyprus who lived about 15-20 minutes away. The photo shows them surrounded by food that demonstrates their warmth and hospitality.
"They are my two favorite people," he said. "They were very hospitable and familiar with American culture which made it easy to communicate with them."
Literature major Julie Scully from Manahawkin said she did not know what kind of art she wanted to produce when she went. She has three poems in the exhibit.
"I went on the trip because I took Amy's classes and she makes learning fun," Scully said. "It was fun drawing inspiration on the trip. Exploring this country definitely exceeded my expectations."
The Hellenic Studies program will host a Spring 2020 faculty-led program to Italy with Associate Professor of Classics Katherine Panagakos and Professor of History Laura Zucconi.
Reported by Julia Sus
# # #
Contact:
Diane D'Amico
Director of News and Media Relations
Stockton University
Galloway, N.J. 08205
Diane.DAmico@stockton.edu
609-652-4593
609-412-8069
stockton.edu/media