Successful Aging Festival Gets Older Adults Involved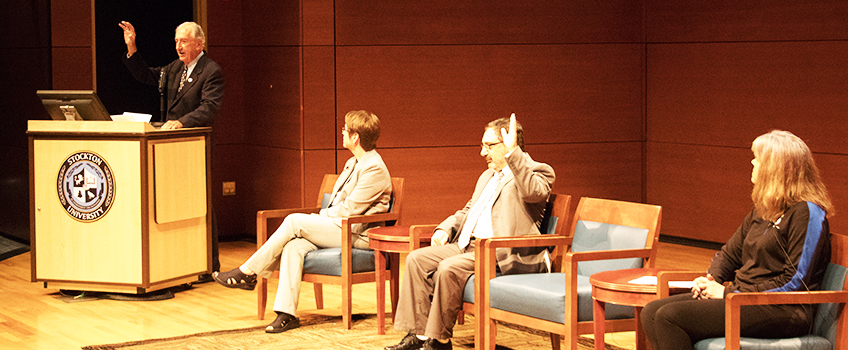 Galloway, N.J.– What does it mean to age successfully?
"Successful aging is simple," said former Congressman Ambassador to Panama William J. Hughes. "You just have to stay involved."
Hughes was among the speakers and programs at the annual Successful Aging Festival, sponsored by the Stockton Center on Successful Aging, or SCOSA, at Stockton's Campus Center on May 16.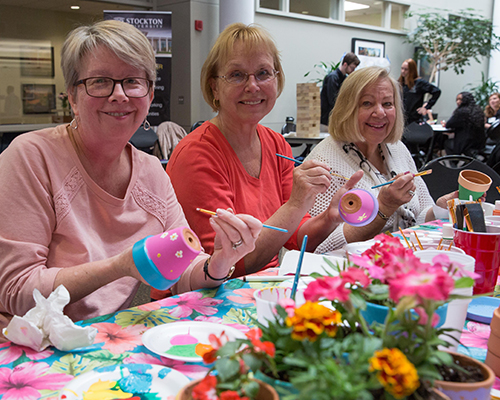 Speakers said today's older adults are working longer, living longer and staying active longer and have needs and interests that businesses, universities and society as a whole should address.
"There are changing consumer markets for travel, entertaining, education and housing," keynote speaker Carrie Andreoletti, Coordinator of Gerontology at Central Connecticut State University said.
She said older adults today may start new careers, or take up new interests, and colleges, through initiatives like the Age Friendly University Global Network, can play a role in helping them succeed by providing opportunities to participate in activities where they will interact with a younger generation.
"We need an integrated approach that moves older adults into the mainstream," Andreoletti said, noting that many young people don't often interact with older adults and each group has misconceptions of what the other is like.
Hughes poked a little fun at the public image of "older adults" by noting that he was going to be 87 at his next birthday.
"And I hope one day to be an older adult," he said to laughs from the audience. He said he recently spoke to some local high school students, and loved it.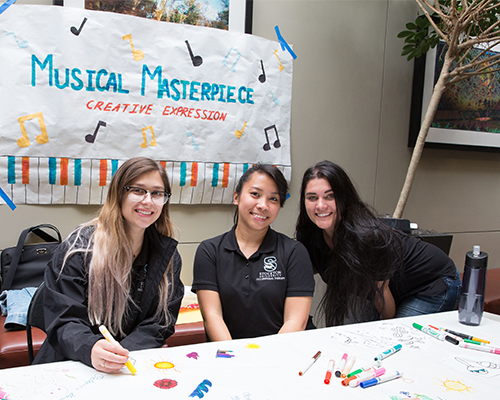 "You have to look ahead, look for your next goal and have the hope that tomorrow will be another day. I'm looking for my next career adjustment."
John Froonjian, interim executive director of the William J. Hughes Center for Public Policy at Stockton, shared data showing how the population of people over 65 has increased in New Jersey, making up 15 percent of the total state population in 2017. He said some 75 percent are registered to vote, and 65 percent had recently voted, showing they remain interested in public policy.
The festival also featured vendors in the Event Center and workshops on veterans aging issues, storytelling and writing, internet security, and chair yoga. Students in Associate Professor of Occupational Therapy Megan Foti's Occupation-Based Activity Analysis class created activities for the participants that ranged from testing their physical fitness and balance to telling stories and painting flowerpots.
"We had a woman who talked about hiking in Nepal," said student Alondra Guzman. "She said aging well is about keeping moving."
Debbie Chandler of Little Egg Harbor kept moving in the chair yoga class with Luanne Anton.
"If you fall all out of a pose, you just get back in, just like in life," Anton told the participants. "The more you practice, the better you get."
Chandler said it was her first time at the festival and she had a wonderful time.
"I've just enjoyed talking to people and doing the yoga," she said. "The students are adorable and they are so happy to be helping and participating. It made you want to be here. And the vendors are very good."
# # #
Contact:
Diane D'Amico
Director of News and Media Relations
Stockton University
Galloway, N.J. 08205
Diane.DAmico@stockton.edu
609-652-4593
609-412-8069
stockton.edu/media